WMTW 028: Jim Stewart on SEO – ProTip, Your Missing Piece, Facebook Ads
Podcast: Play in new window | Download
Subscribe: RSS
Updated on June 15th, 2016
I knew that Jim Stewart knew the internet, but I didn't realise he'd been consulting around it since 1995! He was the senior consultant behind some of Australia's first corporate websites including the RACV (Royal Automobile Club Victoria for those not familiar with it) and the 1995 TV Week Logie Awards. He also spent years working on the streaming of music events – a ton of them in fact with the likes of Gene Simmons from KISS, Black Eye Peas, Melissa Etheridge, just to name a couple.
StewArt Media started in 1998 so I was keen to hear more about Jim's journey.
Show Notes:
StewArt Media:
Web Marketing philosophy: Publishing Content
Major Ah-ha moments: Facebook ad products, fell into video because it was easier to talk than write.
Heaps of BS in the market place. Simple concepts.
Will I be giving away the farm?
Pop ups have worked.
Don't chase the algorithm
What is Google doing to improve the user experience? Then we need to be doing this.
Do you optimise for search engines other than Google? Not really.
First step of the puzzle for SEO:
Google WebMaster tools.
Find out what google thinks of your site.
It will highlight the errors, and performance issues.
Search query section – will show you which phrases you're ranking for
Crawl section
First step of improvement:
remove things from the index that shouldn't be there.
Protip for SEO advanced users:
Write a 3 post series
Upload the first post optimized for keywords etc.
5 minutes later upload the second post and link to the first and update the first to link to the second.
Repeat this process with the 3rd.
Anything you should avoid:
Learning from others:
Facebook Ads:
Custom audiences – target those that have
90% conversions through mobiles
Don't pay to boost your post
Just advertise directly to your audience
Final thoughts:
Connect:
Did you like this podcast?
If you liked this podcast, please click to tweet this show >>
Review & Subscribe>
We would love you to subscribe to Web Marketing That Works and please leave your honest reviews via:
Bonus 33 Free Templates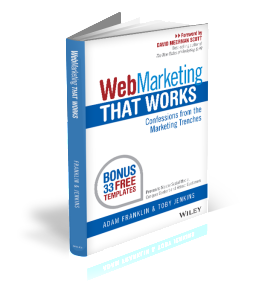 Download the 33 free templates (11.2 MB – zip file) from our new book.
Or order the book online: Web Marketing That Works: Confessions from the Marketing Trenches (Wiley 2014).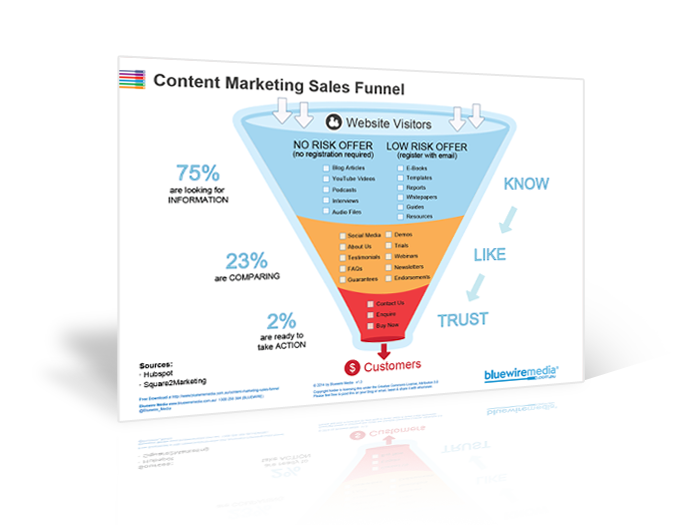 Content Marketing Sales Funnel
Your content marketing sales funnel is all about getting people to know, like and trust you by nurturing them with the right information at the right time.