WMTW 088: Ramsay Taplin of Blog Tyrant [podcast]
Podcast: Play in new window | Download
Subscribe: RSS
"Every post that I write has a role." Ramsay Taplin (Tweet this)
Adam Franklin chats to Ramsay Taplin from Blog Tyrant about blogging, email marketing, traffic, SEO, autoresponders and keyword research.
Show-notes:
Key points
Ramsay is the owner of BlogTyrant and has written for several well regarded blogs too.
He is the host of the podcast Blog Tyrant XPeriments: Experiments in Blogging and Internet Marketing.
90% of his revenue comes from affiliate marketing.
The biggest mistake to avoid with email marketing is assuming that a large open rate is the same as a large sign up rate.
Ramsay's way of cleaning his email list.

Delete those who unsubscribe
Delete those who do not open an email for 60 days

Ramsay says brands need to be distinctive – blogging or otherwise.
His approach to SEO is to focus on long form content and solve very specific problems.
The key points to research before writing a blog;

Know what your content strategy is, and how the blog fits
Look at your competitors
Look at the results Google is showing
Use an analysis tool for your chosen keyword(s)

Social media reviews are a great way to boost your rankings
Facebook ads are useful for re-targeting and re-marketing
A well written landing page is essential
People mentioned
Links mentioned
Get in touch with Ramsay
Did you like this podcast?
If you liked this podcast, please click to tweet this show >>
Subscribe
We would love you to subscribe to Web Marketing That Works and please leave your honest reviews via:
Stitcher radio
iTunes
SoundCloud
Bonus 33 Free Templates
Download the 33 free templates from our new book.
Or order the book online: Web Marketing That Works: Confessions from the Marketing Trenches (Wiley 2014).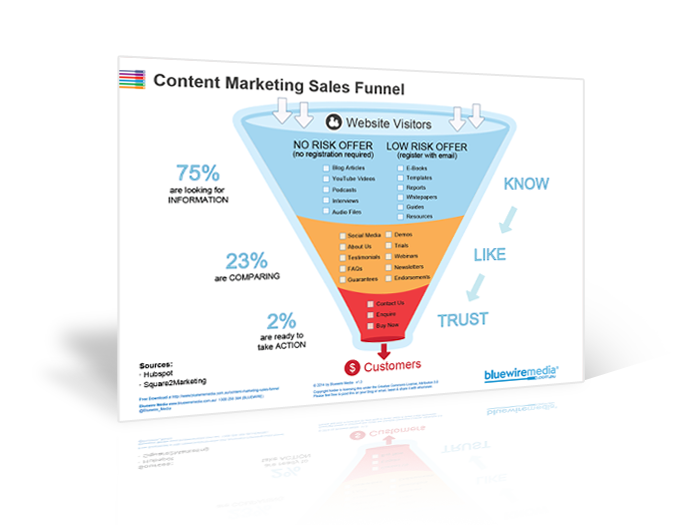 Content Marketing Sales Funnel
Your content marketing sales funnel is all about getting people to know, like and trust you by nurturing them with the right information at the right time.