10 Content Repurposing Strategies That Generate Regular Traffic
Updated on November 5th, 2020
Creating high-quality content is important for making users and readers happy and for gaining high ranks. Yet, content marketers know that consistently coming with valuable content is a difficult and resource-consuming process. That content needs to be distributed across multiple channels, with the list ever-growing.
The pressure is further amplified when you have limited time and a small team.
What happens here is that we have different preferences when it comes to consuming content. Some are visual learners, others prefer consuming audio content and many (like me) prefer reading.
That doesn't mean that you have to create new content every time to satisfy the reader's need. Instead, you can repurpose the same content in different formats that can be promoted across various channels.
Is it hard to believe? Let me share content examples from brands that are repurposing content so that more people can enjoy their content. Along with each example, I'll cover actionable tips to replicate the success of repurposing content for yourself.
10 Examples of content repurposing: To make the most of your marketing
Let's dig in.
#1. Turning blog posts into infographics
Did you know that visuals increase people's willingness to read a piece of content by 80%? No wonder, 65% of people are visual learners. Lots of marketers and businesses are converting their blog posts into infographics due to its high demand.
A good case in point is Bluewire Media's LinkedIn Connection guide. They presented statistics and data in the form of an infographic instead of plain text.
You can either hire a designer or use DIY tools to create infographics. Venngage has ready-made templates to choose from, which saves you a ton of time.
Tips to remember while repurposing your blog post into an infographic:
Use Google Analytics to find out the blog posts that have received the maximum views or social media shares.
Then, pick out interesting takeaways. If it's a data-driven post, convert each finding into a visual.
Write a copy to go along with the infographic that summarises the topic.
Design an easy-to-understand infographic.
See, infographics are not too hard to prepare.
#2. Converting a Twitter chat into a blog post
Not only does this help you save time that otherwise goes into writing a blog post but it also helps attract more readers to your content.
You can think of two ways to repurpose content from Twitter. Firstly, if you are participating in a Twitter chat, convert your answers into a blog post. You can either create a new blog answering those questions in detail or list down your tweet answers in addition to explaining the chat topic.
Here's how you can do it:
Find a Twitter chat that gets a lot of traction. (Think of #AgencyChat by Agorapulse or #CMWorld by Content Marketing Institute.)
Gather your answers. Consider including valuable answers from other participants.
Create a blog post.
For inspiration, you can refer to the #SEMrushchat posted on SEMrush's blog.
Secondly, you can search for a hashtag on the topic that you want to write about. For example, #SEOtips or #bloggingtips.
A word of caution, ask for the tweeter's permission before including their content in your article. Give credit when creating a tweet-round up.
#3. Turning your podcast/webinar into a blog post
Although 83% of the Australian population is aware of podcasts, there are lots of people who prefer reading content as compared to consuming audio information.
You can either convert your podcast episode into a video and list the key takeaways in the form of a blog post like Remote Marketing does.
Alternatively, you can convert the transcript into a blog post to make this content more accessible for folks who love written-content. The upside of repurposing podcasts and publishing them as blog posts is that you can include keywords and make it a long-form content piece. You can do the same for a webinar.
This works as a great customer retention strategy for eCommerce as well as other industries.
Freshworks converted their webinar about creating sales proposals into a detailed article along with adding statistics from their study.
Here's how you can get started if you are the host:
Highlight the quotes or main points.
Convert the audio into a blog post. Add statistics and keywords so that even the long-form piece ranks for the related terms.
#4. Convert statistics or informational takeaways from a long-form blog into social media content
Xoxoday is the best example of repurposing content here.
They take statistics from their long-form content (blogs) and create visuals for Twitter.
Remember, this content can also be findings from a survey, case study, or statistics mentioned in a blog post. The idea is to convert value-packed statistics or interesting facts into a video, graphic, or carousel for social media.
If you are convinced about their usefulness, here's how you can replicate it:
Highlight findings from your long-form content (blog post, e-book, or whitepaper).
Write the copy supporting or explaining the statistic.
Prepare a video or graphic (using DIY tools).
#5. Transform a blog post into a video
Ahrefs' YouTube channel is a well-known example of repurposing blog posts into videos. They have gone a step ahead and embedded videos into blog posts.
Video SEO not only brings traffic from YouTube views on Google. It can attract more traffic to your website from organic search.
The action plan you can follow is:
Find out the most popular blog posts. Well-performing posts are popular and worth repurposing.
Write an engaging introduction and description of the video. Add a thumbnail to the video. Don't forget to add primary, secondary and long-tail keywords in the description.
Shoot the video, add captions and you are good to go.
#6. Convert internal data into an infographic
If your company fleshes out original research, this example of repurposing content is for you. Convert your findings from an elaborate report into an infographic.
Vidyard's 2019 Video in Business Benchmark report has interesting statistics and findings that are presented in the form of an infographic.
The process of repurposing content into an infographic includes:
Highlight the data from your research.
Explain the findings briefly.
Convert the text into an infographic.
#7. Compile blog posts on a similar theme into an e-book
if you are pressed to create content for an e-book, you can repurpose your blog content into a book.
If you are wondering why the reason is that not all your book readers have read your blog. Also, you can put the e-book as a gated content piece to build your newsletter subscriber list. Why not squeeze out value from every penny that you invest in creating blog posts! Why not use content marketing to generate leads!
You can group similarly themed topics into the e-book.
Follow these steps to repurpose your blog content:
Select posts that are written on a similar theme, that talk about different aspects of the same topic.
Create an outline of the book and arrange the blog posts in a sequence.
Compile and publish.
#8. Convert the blog content into snippets for LinkedIn
Repurpose blog content to reduce the time and efforts you spend on platforms such as LinkedIn.
Having regularly followed this process, I can vouch that it works.
Here's how you can do it. Afterall, repurposing content is not difficult:
Copy and paste a section from your blog, make it more engaging.
At the end of the post, give a link to your blog to let the readers know where they can get more information.
Regular engagement with your audience creates a brand presence and brand recall. When you are already creating content for your blog, don't miss out on amplifying the reach of this content through LinkedIn.
#9. Converting blog posts into checklists or PDFs
Adding a checklist can make your content actionable. In fact, Adam shares supplementary content pretty well. Here's a checklist from his LinkedIn Connection Guide on Bluewire Media.
If you want to add additional data, you can link to a Google Doc in the post itself. Or else, convert the doc into a PDF using an online PDF converter. You can also consider embedding an online survey maker such as JotForm in your blog posts. When readers answer the survey, it gives you fresh data that can be repurposed in multiple ways.
How can you repurpose content in the form of an actionable checklist?
Write the key takeaways or the action steps one can learn from the blog.
Arrange them into a checklist and pair them with a relevant blog post.
#10. Convert blog posts into slide deck
For those who prefer consuming visual content instead of reading long articles or guides, slide decks make your content easily digestible.
A well-known example is a yearly Budget, Benchmarks and Trends in Content Marketing Report by Content Marketing Institute.
You can do this by:
Picking out interesting facts, research, or statistics from your data.
Converting each takeaway into a slide and uploading the complete presentation on SlideShare.
Repurposing content isn't rocket science.
These examples of content repurposing prove that you can easily convert your best performing content into multiple formats. Make the most of the time and money you invest in content creation to gain more readers, leads and ultimately new customers.
The important thing to remember is that you don't need to create new content all the time.
Rather, update and repurpose existing content into new formats.
I'd love to know the content repurposing strategies that worked for you. Do share them with me on Twitter.
About Priyanka Desai
Priyanka Desai is the founder of iScribblers, a content writing and guest posting agency for B2B, technology, SaaS and marketing companies.
You can reach out to her on LinkedIn or Twitter.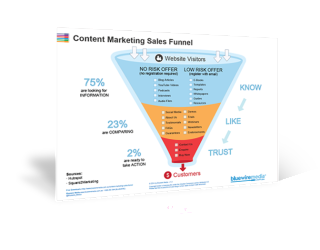 Content Marketing Sales Funnel
Your content marketing sales funnel is all about getting people to know, like and trust you by nurturing them with the right information at the right time.