10 Essentials For Understanding SEO As A New Business Owner
Updated on June 15th, 2016
Owning and running your own business, especially in the early days, is not a responsibility you take on for rest and relaxation. Owning a business is work, lots of it, and the success or failure of your venture is going to hang in the balance for a while.
The key to reducing the stress and risk associated with running your own business is understanding. Having a solid knowledge of the pitfalls and risks of the environment you're stepping into will help you recognise and dodge them when they inevitably crop up in your path.
Covering every possible risk associated with running a business would not only put this article into novel length territory, but we still wouldn't be able to give each the attention it deserves. So let's narrow our focus a little.
In the technological age, one of the biggest factors that will determine the success or failure for your business will be how you handle your online presence. Which brings us to the focus of this article: SEO.
Let's take a look at the things you need to know about SEO as a new business owner.
1. The Basics
What does SEO stand for? A basic question perhaps, but one well worth answering. You'd be shocked at how many people have no idea what SEO is, and even those that have some idea don't know how it works. Simply, SEO stands for Search Engine Optimisation, and in an online world it can make the difference between whether your business sinks or swims.
But why? Well, the simple fact is that Google, like it or not, runs the internet. It's the most popular site on the web and most people use it every day to help them find the things they're looking for. People would be lost without it. Search engine optimisation is all about making your business perform better on Google and other search engines. The better your SEO, the higher your rankings will be and the more people will come into contact with you.
You can probably already see how crucial this is. If you're selling party balloons, but your website isn't even on the first page of Google when people search that term, then you're going to get a lot less traffic, and therefore business, than the companies in the number 1 – 10 positions. SEO is all about getting your business onto the first page of Google results for the search terms most relevant to what it is you do.
SEO is split into two main parts: onsite and offsite optimisation. Onsite is all to do with making your website attractive to Google robots and users. This includes ensuring that you have the right keywords sprinkled throughout your site's content, the correct pages that Google values, an easy to use, intuitive interface, and clear, concise content without spelling or grammar mistakes. Don't forget how critical it is to have unique content at this stage; ripping off other sites will only hurt you. Come up with your own way to engage your users. Onsite optimisation can be entirely controlled by you, and whether Google likes or dislikes your site is down to how well you design it.
2. Link Building
Offsite optimisation on the other hand, depends on other people as much as it does you and for this reason it can be more difficult. Or at least, more difficult to achieve results. The biggest aspect of offsite SEO is link building. This is the practice of getting your site linked to by other reputable sites on the net, thus building a network. If Google, Bing, Yahoo etc sees that lots of good quality sites are linking to you, then it will make the connection that your site must also have something to offer users and it will increase your rankings accordingly. Remember what other people say about you is more important that what you say about yourself.
Since link building requires you to build a relationship with another site it can be time consuming and difficult, and many sites don't devote enough time to it, if any. Large sites will probably gain backlinks without even trying as smaller sites link to their content or quote their information, but smaller companies with less online presence will find it much harder to organically gain these links. They're going to have to work for it…
3. Outreach
Link building is a manual process which requires you to talk to and create a relationship with other sites. This can take a number of forms, but the most common and most effective is to provide these fellow sites with something they want, and then ask for a link back to your own site in return. In this way, both sites get something they need and a relationship is formed that you can further capitalise on down the road. This relationship building process is known as outreach, and though it can be difficult it's effective for good reason.
4. SEO is Fluid and Constantly Changing
Once upon a time, link building was a much simpler process. Google simply looked at the number of backlinks a site had and raised its ranking accordingly. It didn't matter where these links were from, whether they were relevant to the business's content or useful to the user: it was all about numbers baby.
That is no longer the case. The types of links a site now has is just as important as how many, and links from disreputable sites can actually hurt rankings. Spammy, paid for or mass produced links aren't going to help a business make it to the front page anymore.
The algorithms Google and others use to determine rankings are constantly being updated. Search engines are forever looking for loopholes that might be exploited and allow a disreputable site to rise up the rankings unjustly, without providing content that is useful to the user. When these loopholes are found they are dealt with and a dodgy form of SEO is removed. To retain its dominance in the marketplace, Google is committed to providing results that the user will find most useful, and this means changing their practices as required. Keeping pace with these changes is critical to effective SEO as staying with the same old practices mean your results become less effective as time goes on.
We talked earlier about onsite optimisation, but we didn't go into a lot of detail. Let's do that now. Having a website that helps your business rank is critical, because without it you'll be missing out on traffic. Less traffic means fewer conversions, fewer conversions means fewer customers and fewer customers means less revenue. Having a good website has a trickle down effect on your entire business and getting it right the first time around will mean you won't have to muck around trying to fix it down the track. Don't skimp on your site.
5. Design
Design your site to not only appeal to Google's algorithm but also to turn visitors into conversions as quickly as possible. Be sure to:
Have a clear call to action in a prominent place on the home page

Make sure your visitors know what you do within 6 seconds

Have at least 10-15 pages on your site

Include the following pages: terms and conditions, contact us, disclaimer, privacy policy, FAQs and about us

For local businesses include a name, address and phone number at the bottom of every page

Clear menus breaking up your site's content into related products and categories
6. Mobile Friendly
A site that looks fantastic on a desktop computer, but which loads sporadically, slowly, or with errors on a mobile device will hurt your business far more than a mobile-friendly site which works effectively on all devices.
A huge amount of internet traffic, approaching 50%, is conducted on mobile devices, yet many websites fail to optimise their content for this enormous market share. If your site is slow or less functional on mobile, you will inevitably miss out on traffic and conversions, especially if you market products that people frequently search on the go.
The industry you're involved in will have some determining effect on how much of your traffic comes from desktops and how much from mobile, but no matter what, it's important to have both working effectively.
Making your site itself as good as it can possibly be is important, but there are behind the scene aspects to onsite optimisation that won't be seen by the user. They won't affect user experience so much but they can be crucial towards helping the site rank. Google provides a range of services to improve your website's profile and you'd be wise to take advantage of them.
Let's take a look at the major ones that you definitely shouldn't be neglecting.  
7. Google Analytics
Analytics is an essential tool for any website owner to make use of. In simple terms, it tells you everything you need to know about how your website is performing.
You can track users and their behaviour to see how they're interacting with the site, including whether they're accessing from a mobile or desktop device, what the conversion rate is like, whether people are filling out the provided forms and if they are, what led to that. You can also see your site's bounce rate. If this is too high it means people are being repelled by some aspect of your website, and you can take steps to rectify the problem.
8. Webmaster Tools
Webmaster Tools will also help you examine the health of your site, but instead of focusing primarily on user data, here you can see physical problems with the site itself.
Errors such as 404's will be shown here, allowing you to quickly and easily discover any problems with your site, even if they're in more obscure areas than a manual check might not uncover.
Webmaster Tools also allows you to upload sitemaps. These are used by Google to better find its way around your site. Uploading site maps will aid Google's indexing. Webmaster Tools also identifies the primary keywords on your site and how often they appear. If you believe there is a keyword important to your business that isn't being shown by Webmaster Tools then it probably means there isn't enough density of that word or phrase throughout your site, and you can take steps to rectify it.
9. AdWords
If you're going to be advertising your business online, then Google adwords is an essential tool for managing those ads. Here you can manage your budget, see exactly how each ad is performing, how much it's costing you per click and enable and disable ads depending on your budget and their performance.
Plus, when it comes to SEO you can use the AdWords Keyword Tool to discover search term opportunities.
10. Google My Business
Setting up a Google My Business listing will help you rank for general search terms. If for example your business is a music store in Brisbane, when people search the term 'music store Brisbane' Google will display several relevant companies from the Google My Business listings at the top of the page.
Google only shows three of these listings at the top of the page, with the rest displayed in descending order of relevance at the side or via a clickable expansion. Because there are only three opportunities to get into this 'three pack' for each term, having a well set up Google My Business listing is critical to improving your traffic flow. Make sure you've filled out every section and that your listing contains exactly the same information as any listing you have in directories such as the Yellow Pages.
Having a well set up Google My Business listing will also help you convert mobile traffic. The smaller screens of mobile devices means less information is displayed, making a good ranking that places you in the top results even more important. Sorting out your listing and getting yourself into the three pack is all the more important on mobile.
Sum up
If you're starting a business and want to make sure you get everything right the first time around, rather than looking back and seeing the mistakes you could have avoided in hindsight, then having a plan in place for good online strategy is going to be critical.
Our goal is to provide you with the basic information you need to understand what SEO is and what it can do for your business. Not to mention how it can hurt your business if done incorrectly. There is plenty more to learn on the matter as we've really only scratched the surface in this article, but this is about starting your journey: mastery will come with time.
If all of this is confusing, visit my business Matter Solutions, we are a company that specialises in SEO and have helped many new businesses get found online.
About Ben
Ben Maden founded Matter Solutions, a Brisbane SEO company, in April 2000 and remains the lead web consultant today. While Matter Solutions originated in London, UK, the company took on Australian clients when Ben emigrated to Brisbane in November 2006.
Bonus 33 Free Templates
Download the 33 free templates from Toby and Adam's book.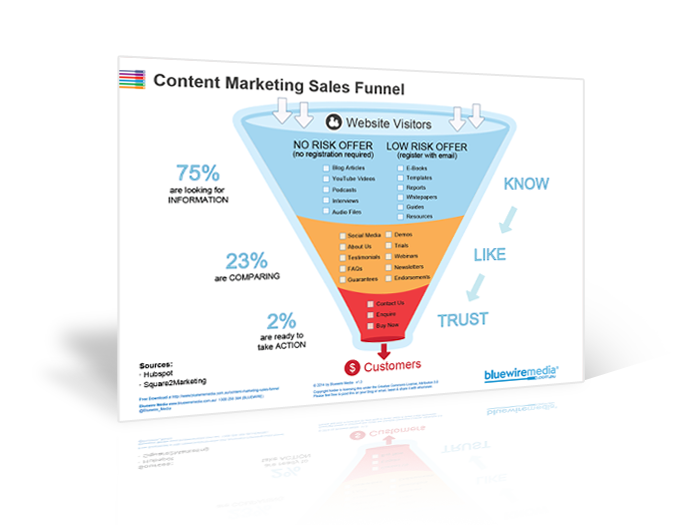 Content Marketing Sales Funnel
Your content marketing sales funnel is all about getting people to know, like and trust you by nurturing them with the right information at the right time.