10 Tips for Marketing Successfully on Facebook with a Small Budget
Updated on November 23rd, 2019
Marketing Successfully on Facebook
This is a guest post  – Alesia Hsiao has helped numerous businesses create social content strategies. When she is not doing this, you can find her blogging at FindVietnam.com.

Welcome Alesia…
Facebook has over a billion users. Reaching them by marketing successfully on Facebook, you could get the kind of attention your business has been dreaming of.
Unfortunately, Facebook makes it easy to spend a lot of money in a short space of time. In this post I will show you the secrets to making Facebook work for you with a small budget.
By the time you get to the end of this blog, you are going to be well on your way to mastering Facebook marketing and getting an edge over your competitors. Let's talk about marketing successfully on Facebook.
1. Know What You Want
When you have no budget, you have to have a firm goal in mind. Too many companies want to increase traffic, boost conversions, and up engagement levels. You cannot afford to do all this with a tiny budget.
Know what you want before you launch Facebook in your browser. It will also make the ad creation service easier to manage.
Your goal depends entirely on what type of company you are operating and how you make money.
Are you selling a product or relying on affiliate traffic numbers?
2. Use the Power Editor
Power Editor is only available on the Google Chrome browser and gives you access to the single most powerful advertising platform on the network. You can expect to find everything you need to create ads and target them towards the appropriate audience.
The interface takes some getting used to, but it's well worth your time and is available for free to anyone with a Facebook advertising account.
3. Set a Small Daily Budget
As we mentioned in the introduction, Facebook makes it easy to spend a lot of money in a short space of time. During the testing phase of any ad or offer, set a small daily budget. It will mean getting a small number of clicks back, but it will also mean getting an insight into how successful or unsuccessful the ad will be.
Only when you see the returns for an ad you are hoping for should you increase the budget. I recommend $5 as a good amount to spend per day during the testing stage.
4. Turn Ads Off Fast
Ads will run until you tell them not to, or until Facebook eats up the remainder of your budget. The key to testing on Facebook and obtaining the right marketing combination is to turn off ads as soon as you realise they are not doing well.
During peak hours, you can normally see whether an ad is working or not half way through your budget. Do not let Facebook have the rest of your budget. Kill them early and kill them often. The data you have collected will be enough.
5. Focus on Mobile
Half of all traffic on Facebook now comes through mobile devices. This split means it is a good idea to market some ads specifically to mobiles.
Some businesses will find this works better than others. For example, if you are selling mobile apps it is worthwhile to completely cut out desktop users. This can save your budget and give you a more concentrated field to work with.
6. Engagement Doesn't Matter (Clicks Do)
Boosting a Facebook post may seem like a good idea, but it's not. It's a way to chew through your budget at a rapid pace and all for a few likes.
Remember that you are marketing on Facebook to get a return on investment. It's impossible to measure ROI via engagement metrics alone – such as likes.
Boosting a post does nothing but spike engagement – it doesn't guarantee clicks.
7. Split Test Your Images
When it comes to Facebook exposure and ROI, images perform far better than just text-based shares. However, to test them on a low budget is difficult, especially if you are working with a range of image options.
Look to test each image against your original ad as early as possible and take them down as soon as you notice they aren't working.
I recommend testing a number of images early in your campaign for the next reason…
8. Solve the Problem of Decaying Ads
Ads decay naturally over time. This is because your audience can only see the same ad so often before they stop engaging with it.
You can find out how often the average person sees your ad through the 'Frequency' column in your Facebook dashboard.
Once an ad decays and is beyond reviving, refresh it by changing the image. If you followed the advice above, you should already have a couple of images that will return good results.
Swap out the images and watch your results rise again!
9. Create Lookalike Audiences
Rather than creating an audience to target with your marketing efforts directly, you can create what is known as a lookalike audience.
A lookalike audience can be built from a number of sources, including your Mailchimp newsletter list and the people who have engaged with your page. They sometimes take an hour or so to build, but when they are ready, you can target this lookalike audience directly.
You need a minimum of 100 test subjects from your target country to create a lookalike audience.
10. Deal with Other Pages
Associate yourself with other pages by creating collaborations.
This free way of marketing involves reaching out to other pages and promotions. Ask them if you can post your latest offer. If they say yes, you have a completely new set of eyes on your offer.
Take note, you may have to return the favour. If this is the case, make sure you don't make the mistake of posting too many offers in a short space of time and spamming your audience.
Conclusion on marketing successfully on Facebook
You've probably noticed that a huge number of these tips revolve around Facebook ads. This is simply because it's undoubtedly the best option. Facebook has destroyed organic page reach and, for reclaiming your investment, boosted posts are near useless these days.
It does take time to get right and you'll likely make a lot of mistakes along the way, but there's no better way to reach a large audience with a minimal ad spend.
By regularly monitoring your Facebook ad results and bailing at the first sign of trouble, you can preserve your low marketing budget, whilst getting the results you want.
If you need some help you could consider hiring a Facebook agency to help manage your efforts.
About Alesia Hsiao
Alesia Hsiao has helped numerous businesses create social content strategies. When she is not doing this, you can find her blogging at FindVietnam.com.
Bonus 33 Free Templates
Download the 33 free templates from Toby and Adam's book.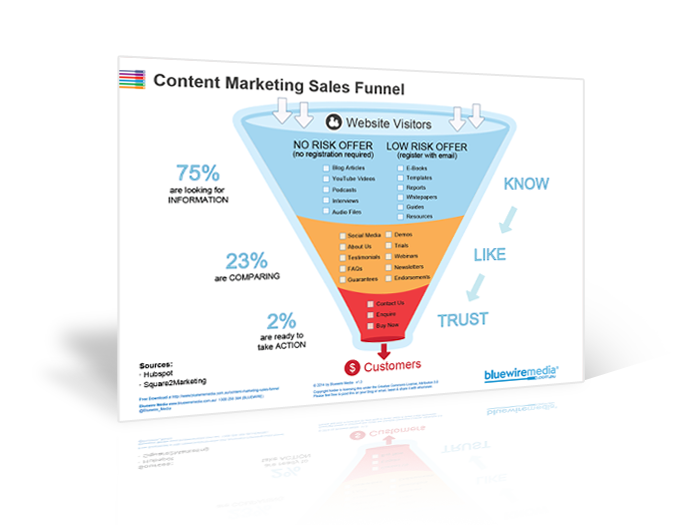 Content Marketing Sales Funnel
Your content marketing sales funnel is all about getting people to know, like and trust you by nurturing them with the right information at the right time.