10 Tips for Posting Consistent Blog Content
Updated on October 14th, 2019
"I give up. Blogging is just too hard to maintain."
Have you ever thought about uttering those words?
We might not admit it publicly, but no doubt all of us have felt close to that moment before. Blogging has a way of sucking the life out of you at times.
Maybe you're stuck in writer's block, or you can't come up with new ideas. Or perhaps you have 100 other things on your to-do list and blogging feels like it shouldn't be a priority at this very moment. After all you have bills to pay, clients to keep happy and a business to grow.
On the flip side, blogging has delivered you great results in the past. More traffic, more leads and the type of brand awareness that most people would happily pay for.
Looks like you have a conundrum.
You know blogging is worth it, but still face an ongoing challenge of creating consistent blog content.
The interesting thing I have noticed is that some people confuse consistency with quantity. They make an assumption that the more content that is out there, the better the results they will see.
Yes consistency is important, but the word 'consistency' is dependant on your capacity. Committing to an achievable blog schedule that sets expectations for your audience, and delivers on those expectations, is far more important than pumping out 3 or 4 blogs a week.
Look to publish better quality content at consistent intervals – and don't budge on your schedule. With consistency and quality being the key, not regularity and quantity.
"Consistency and quality are the key, not regularity and quantity" – ClicktoTweet
Lets have a look at 10 tips for maintaining a consistent stream of content, that won't leave you feeling anxious and burnt out;
1. Link blogging back to meaningful business outcomes
One big challenge with blogging is that it often feels like the wheels are spinning.
You are dedicating lots of time to content creation, then burning your tires by promoting that content – but nothing.
Traffic is growing steadily but the metrics you care about don't seem to be hitting the mark.
Where are all the leads? How is this contributing to our bottom line?
This is why it is extremely important to create a direct line of sight between your business outcomes and the incremental gains of blogging.
For example, let's say your desire is to get more sales. Ask yourself these questions;
How do you define a lead? Perhaps you consider a lead someone that has downloaded a premium piece of content on your site.
How many leads do you typically need to land a sale?
How many leads would your average blog post attract?
Have you optimized your blog posts to capture these leads?
Is your blog content solving similar problems for your readers that your premium offering is?
What happens after you get a lead, how do you nurture them into becoming a customer?
The point of these types of questions is to map out the sales funnel. From traffic all the way through to sale, as it coincides with blogging.
If you can create a distinct connection between blogging activity and desired business outcomes, people will start to understand WHY they are doing it. Knowing why will result in a greater desire to contribute.
2. Use performance reviews to create ownership within your team
Much like the goals of your company, the goals of your team and the individuals within that team can positively influence your efforts for writing consistent blog content.
By painting a bigger picture for your team about how blogging can contribute to their personal goals, and then adding activity measures to their performance reviews, you start to build a culture of content creation.
2. Share your editorial calendar and content schedule with more people
Sharing your editorial calendar with your team, or anyone you respect, increases your chance of following through with it.
By sharing your commitments you are increasing accountability, this becomes a virtuous cycle as everyone feeds off the contributions of others and commits to more and more over time.
CoSchedule is a helpful tool we use here at Bluewire to schedule upcoming content and create accountability, see a screenshot below;
4. Batch idea generation
To make the most of a shared editorial calendar you need to fill it with blog ideas. Blog ideas that are deliberate, interconnected and aligned to your greater goals.
The best way to fill an editorial calendar with ideas is to batch the task of coming up with them. Setting aside a specific time, every month for example, and brainstorming a string of topics that you and your team will write about. Of course these topics may change and pivot over time, but the ritual of scheduling them into a calendar for everyone to see is significant in helping you maintain consistent blog content.
5. Conduct expert interviews with people in your industry
Interviewing experts from your industry is a great way to fill the content calendar.
Not only are you producing fresh and interesting content, but you are connecting with people that have significant influence over your target audience. Plus when it comes to promoting that content, you can tap into their audience as well.
An expert interview can take many forms – a video, skype call or as simple as an email transcript.
Adam is a master at interviewing industry experts, here he is interviewing Pat Flynn;
6. Improve on already validated blog topics
What makes for a good blog post idea?
You may have come up with something YOU think is engaging and helpful, but does your audience agree with you?
Here are four ways to pick topics to write about that are already validated;
Type your topic of choice into Google Trends and see if people are searching for it (I have used the term 'social proof' as an example in the screenshot below)
Check what your competitors are writing about – Is there an opportunity to improve on the content they have written? SEMRush is a helpful tool for analysing your competitors.   As a side note, here's an interesting interview with SEMRush's Eugene Levin.
Jump onto BuzzSumo to check for social proof. BuzzSumo is a search engine that allows you to rank content by the number of social shares it has recieved.
Discover relevant conversations on social media and in forums. Using Twitter advanced search to research your blog topics is a one way of figuring out if anyone is already talking about it.
7. Write a list post and explore each component in future blog posts
List posts are effective because people know they can skim read them. This makes the headline automatically interesting to most people.
But there is another benefit to writing a list post, and it's got to do with creating consistent blog content.
Once you have done all the work to come up with each component of the list, dive deeper on each of them. This will not only take your readers on a journey but also give you lots of ideas for your content calendar.
The funny thing is this post is a list within a list post, that all started when I wrote the 30 Factors to Launch and Run a Successful Business Blog.
8. Get guest contributors to write for your blog
If you are just starting out, attracting guest contributors may be a hard task.
But if you already have an established audience, and are getting some regular traffic to your blog, the task becomes much easier.
You are getting content that you didn't have to create, and they are getting exposure to a new audience – it's a win-win.
To attract guest contributors to your blog there are a few things you will need;
Guest posting page – this is where people can read about contributing to your blog, understand your expectations and contact the relevant person to submit a guest contribution (probably your marketing manager or a blog editor)
Guest posting process and guidelines document – you want to be clear about the process you will use for guest blogging and stick to it. Do you want people to submit a whole post up front, or a topic first? How will contributors send the blog to you? (We use Google Docs at Bluewire)
Outreach strategy – initially, just by having a contributors page you may not get a lot of people asking to write for you. Therefore you need to be proactive in finding guest contributors if you want to have a steady stream of quality content that doesn't require the man hours from you. To do this, research a list of bloggers that regularly contribute to other blogs in your industry, and then conduct an email or social outreach program to get them to contribute to your blog.
9. Encourage employees to boost their personal brand on your blog
Who would've thought your blog could be an opportunity to motivate your staff?
It's one thing that a lot of businesses don't recognise, but a blog can be the perfect opportunity for employees to nurture their personal brands.
These days your personal brand is perhaps the single most important factor in progressing your career, regardless of your goals. And blogging is the perfect way to standout from your peers as a thought leader and industry expert.
Kevan Lee from Buffer is a great example of this. He has had a meteoric rise in the online marketing space from leading the blogging efforts at Buffer.
10. Research long-tail keywords
The last tip for posting consistent blog content is to conduct keyword research.
If you have a list of general topics you will blog about, a quick way to fill your content calendar with some blog post ideas is to find long-tail keywords (or phrases) that are associated to those words.
Here are three ways to discover long-tail phrases;
Drop your keyword topic into the Google keyword planner
Leverage Google related search
Conclusion
Creating consistent blog content is hard – there is no questioning that.
But don't get consistency confused with quantity – set some expectations for how often you will post, and stick to that schedule.
Hopefully the 10 tips in this post will help you fill your content calendar with more ideas – one of the things stopping us from creating consistent content.
What are some other ways you come up with ideas, or break down writer's block?
'Post consistently' is one of the 30 Factors to Launch and Run a Successful Business Blog in this eBook.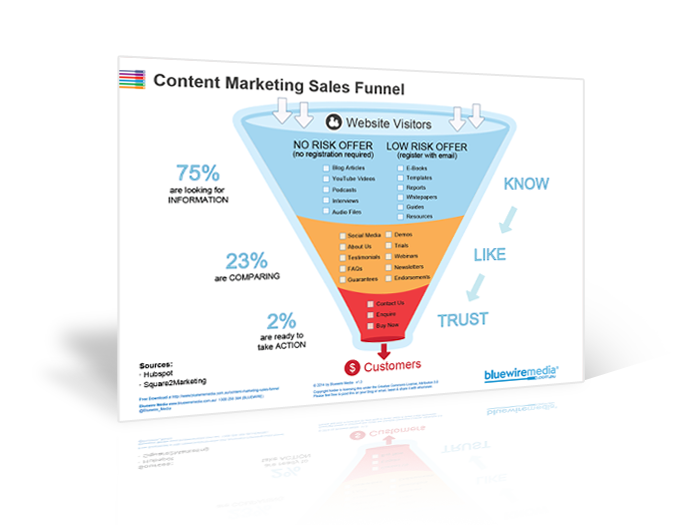 Content Marketing Sales Funnel
Your content marketing sales funnel is all about getting people to know, like and trust you by nurturing them with the right information at the right time.