10 tips for Project Management using Basecamp
Bluewire Media made the switch from Netsuite to Basecamp for project management over 3 years ago and we're loving it. I've written about it a few times here but the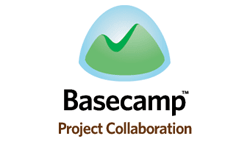 crux is that it's a easy-to-use, quick and affordable solution.  I recently came across a Software Advice article that shares what they learned during an interview with Ryan Singer, co-designer of the original version of Basecamp. In the article, they cover how 37signals uses Basecamp to manage its projects, and how the creators envisioned that users would utilize their program.
I thought Singer offered some great tips and tricks for getting the most out of Basecamp, my favourite was number 5 – to manage scope not time.
Here is a brief overview of the article.
1. Identify key areas of customer concern. Teams at 37signals start a project by identifying all the individual items that need to be completed in order to deliver a finished product to their client. The team then approaches each item one at a time, in order of what is most important and what will move the project closer to the finish line.
2. Divide your Basecamp by projects. Singer mentioned that many companies divide their Basecamp projects by role, creating separate to-do lists for each individual department. But teams at 37signals divide their work by project, and integrate all the departments' task lists in a single place. This approach allows managers to stay updated easily and track progress for the entire project.
3. Define to-dos one area at a time. Instead of trying to define all of a project's to-dos right off the bat, Singer ranks the areas of concern in terms of what's most important to the client. He then creates to-dos for these areas one at a time, in order of priority. This helps focus their team on the most important tasks before moving on to something else.
4.  Use Basecamp to communicate. Singer points out that at 37signals, they use Basecamp to have discussions, share files and collaborate on specific to-dos, rather than to create detailed plans. They purposely omitted planning features like Gantt charts when designing Basecamp, since they prefer to the let the design and development process unfold naturally.
5. Manage the scope of your projects. Basecamp has a "Dates" feature, but the team at 37signals never uses it. They prefer to manage the scope of a project, rather than control the amount of time people spend on specific tasks. They ensure they hit their deadlines by auditing outstanding to-dos when a deadline approaches, assigning hourly estimates to each remaining task and eliminating any that are unnecessary.
6. Identify unnecessary items. Singer points out that 37signals physically identifies items that are not essential to the project's completion, so the team can easily distinguish between "unecessary" and "necessary" action items. This gives them the ability to cut any non-essential tasks if they are short on time.
7. Create a "master list." Singer suggested that project managers should keep a master to-do list which includes all of the teams' task lists for any project lasting more than three months. He feels this helps managers see the big picture and ensure that nothing gets lost in the shuffle.
8. Develop a daily "status update" thread. 37signals uses daily status updates to keep project managers informed and help them address any outstanding problems and questions. The first team member to finish working for the day posts a message to the current Basecamp project titled "status update." The message is a set of bullet points listing what they worked on that day. As the rest of the collaborators finish working, they respond with their own lists of what they worked on–creating a live feed that replaces stand-up meetings.
9. Hold off on feedback. Singer often keeps projects private during their development, until they have enough momentum that he is no longer worried about team members getting sidetracked by outside feedback. Once ready, he shares the project with the whole team, opening the floor to comments and feedback.
10. Collaborate. Singer suggests that you will get the most out of Basecamp when you are using it to collaborate and communicate, not to track issues. If you keep this in mind, you can use Basecamp to its full potential as a project management solution.
While Singer has some great tips and tricks based on how his team at 37signals uses Basecamp, he still encourages every company to experiment and find what works best for its team.
What your best Project Management tip? What tools do you use? Leave your thoughts in the comments below.