How to get 10X traction on LinkedIn content by bring a good guest [#79]
Updated on October 23rd, 2019
[Waterfront Place, Brisbane CBD, Queensland, Australia]
Type "good guest" in the comments for my new PDF guide on 'How to 10X Your Content Results by Being a Good Guest on LinkedIn'. **No opt-in req'd, I'll just email it to you.**
VIDEO: 10X better results come from being a good guest on LinkedIn
10X RESULTS
This approach has seen my videos go from 1,000 views with a dozen comments to videos that consistently get 10k, 20k, 50k and sometimes 100k+ views — with 1,000s of comments from ideal clients.
Getting 10X higher traction on LinkedIn, all comes down to being a good guest! Imagine you were invited to a business function — for free– and all your ideal clients were in the room. (Hint: this is LinkedIn)
Imagine if every time you spoke to a fellow guest, you tried to recruit them away from the event to your office . (Hint: this is like linking off to your own website)… The host (aka LinkedIn) probably wouldn't be that pleased, nor in a rush to invite you back.
However, if you stay at the function and start good conversations, add value and connect with new people, your fellow guests will have a good experience, stay longer and enjoy it.
The host will love you, invite you back and be delighted to introduce you to everyone else. In my PDF guide, I'll show you exactly how to do it. Type "good guest" and you'll get it.
TRANSCRIPT
G'day, it's Adam Franklin and today I want to talk to you about the concept of being a good guest on social media. Now the word social should give it away, but chances are, you have seen people treat social media not very socially.
Let's draw the analogy of attending a big party, or a business function. Imagine that you're invited by the host add the host is paying for the entire thing, and they're also inviting a whole bunch of other interesting guests that could be potential business partners or clients further down the track.
Being a bad guest
Imagine that you actually turn up to that party, and you meet a new person, and all of a sudden you throw your business card at them, and you try and steal them back to your party or your business event. Now it's not going to go down that well with the host.
They're not going to be in a rush to invite you back, and they're probably not going to be in a rush to introduce you to a whole bunch of new people either. Yet that's how we often behave on social media.
Being a good guest
Compare that to turning up to the business function, and engaging in conversations, staying at the party, having a chat, being generous, and basically having a good time and facilitating meaningful discussions with other guests at the party.
How's the host going to respond then?
Well, chances are they're going to be wrapped. They're going to invite you back and seat you at a good table. They're going to introduce you to other guests, because you've behaved well, you've been polite, and been generous.
You've been a good guest.
LinkedIn will reward you with more introductions
I have observed on social media stuff that works well, and stuff that doesn't. If you're a good guest, and you're generous, and you stay on the platform, and have conversations in the comments, and don't try and steal people away too soon, then you're going to get rewarded.
LinkedIn in particular is going to show your content to people outside your immediate first degree context, which means more people are going to see your content. You're going to be essentially introduced to new people, and if you link off your own site too quickly and try and steal people away, well understandably LinkedIn's not going to be as wrapped with that, so they're going to decrease your visibility.
Be a good guest on LinkedIn.
I've written a short guide with a few pointers that you can download. Just leave a comment saying something along the lines of good guest, and I shall send it over to you. That's it from me. Have a good one.
MY MARKETING METHODOLOGY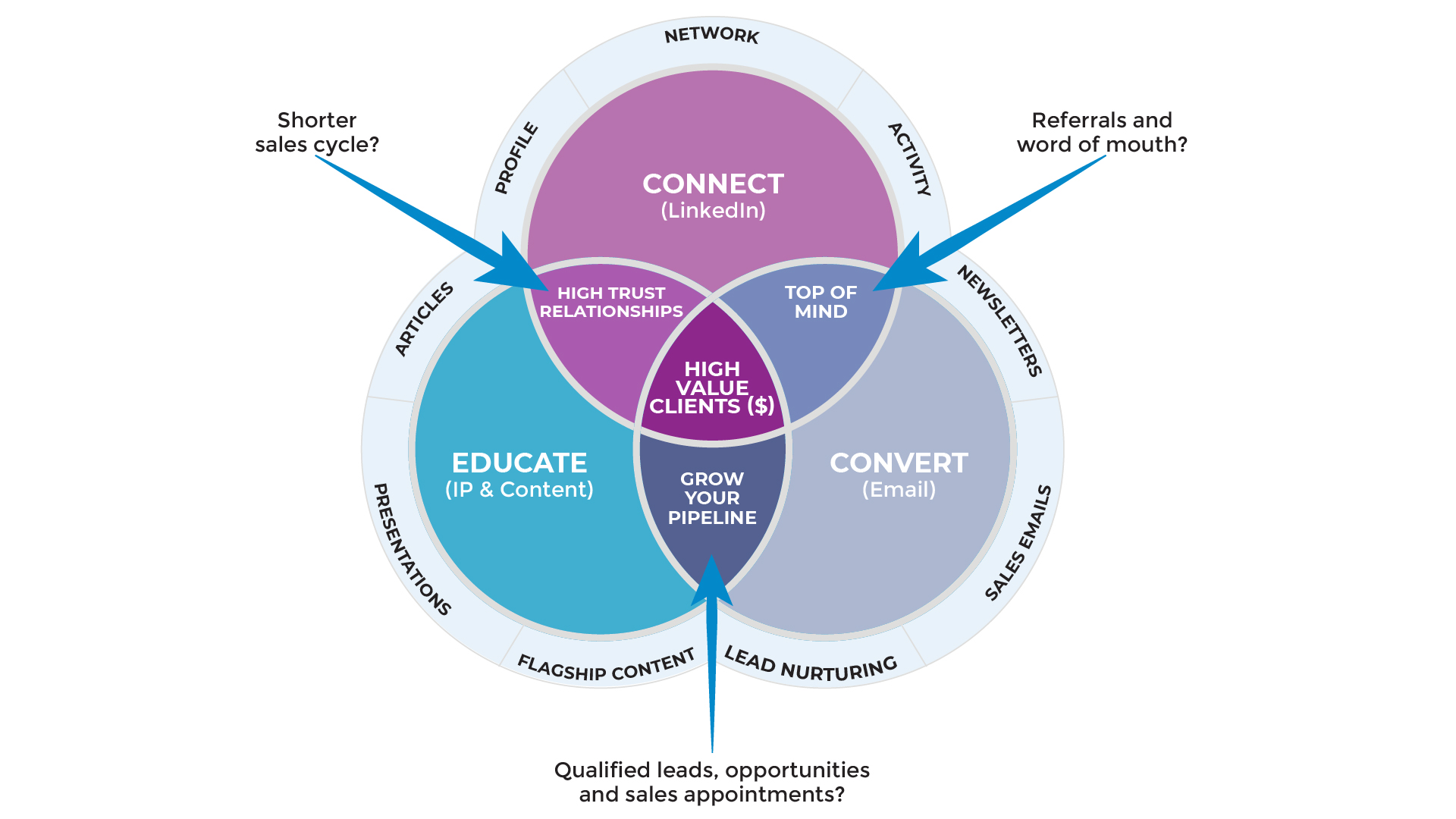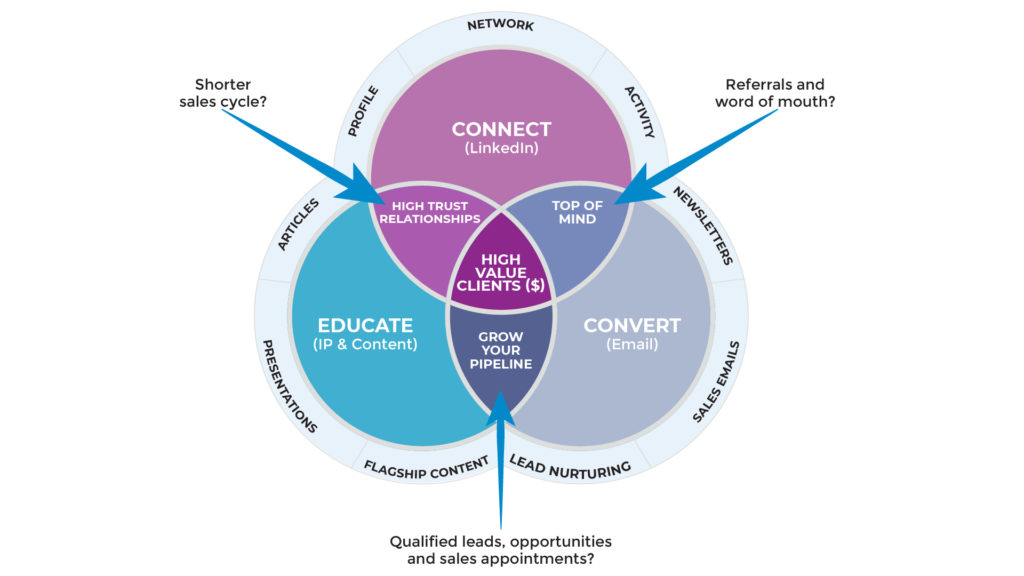 PS. When you're ready, here are 6 ways we help
consultants & advisors

grow:

1. Web Strategy Planning Template (PDF). Our flagship 1-page tool we co-created with David Meerman Scott. It's been downloaded over 1 million times and featured on Forbes.

2. Read a free chapter from our book. Web Marketing That Works --- an Amazon #1 best seller.

3. Join the private group on Facebook. Access free training resources, and hang out with 2,300+ peers.

4. Discover your marketing score. Take the 40 point Marketing Scorecard (in < 6mins) and get a customised report.

5. DIY for $7. Get the Complete 50+ Script Library for connecting with people to winning clients.

6. Let's brainstorm how to fill your marketing funnel.

DM the word "INTERESTED"

via Messenger

 or 

book a 20 min slot to talk

 on Zoom.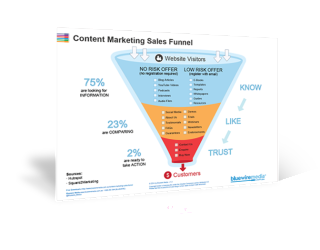 Content Marketing Sales Funnel
Your content marketing sales funnel is all about getting people to know, like and trust you by nurturing them with the right information at the right time.