14 Tools to Optimise Your Content Marketing
Updated on May 30th, 2019
This is a guest post  – Robert Morris is a freelance editor, content manager and avid traveler from NYC. Follow Robert on Google+!
Welcome Robert…
If you want sustainable website traffic, you have to focus on search engines.
They are the only traffic source that delivers you new visitors day-after-day on auto pilot.
But turning up in a relevant searches takes a lot of work, diligence and some savvy know-how.
You need to understand the type of information your customers are looking for online, how well your competitors are currently delivering content for that information and how you can go about bettering it.
An integral part of creating content that will communicate effectively with search engines is about optimisation. Understanding what Google is looking for, and making sure your content meets those criteria.
In this post I will share 14 tools to optimise your content for search engines and get more sustainable traffic to your website.
This software will give you insights into your competitors with in-depth analysis on the domain, keyword, or link you enter into the search bar. It reveals information about your competitor's search queries, high visibility pages and total traffic.
When you enter a keyword or landing page URL into the Adwords keyword planner, you get suggested a long list of related keywords you can use in your content. How does it work? It collects the as-you-type suggestions that appear when you search for something in Google.
Once you analyse other websites and get insights into which keywords you should target, Ninja Essays will help you create the content. It is an online service that has trained writers from all sorts of different niches, so you'll be able to find someone who knows exactly what you need.
This awesome online tool helps you compare competitors that achieve high rankings on Google with the same keyword. You can enter up to 10 links to get an analysis of pages, title optimization, domain score, page authority, and more.
PlagTracker is a plagiarism checker that gives you an opportunity to make sure that your content is unique. You'll get an easy to use, free plagiarism check. It also provides writing and editing assistance if you need help optimising your content.
EduBirdie is your one-stop-shop for editing and proofreading!
Once you write great content it's important to measure its performance! With this intuitive online marketing software, you can build interactive, automated marketing reports. It will help you track ongoing marketing activity as well as campaign metrics.
Internet Marketing Ninjas gives you a comparative "on-page" SEO analysis of up to 5 full URLs. The "On-Page Optimization Tool" is probably the most useful feature of the software since it enables you to see how the search engine spider perceives your site.
When you allow MarketMuse to crawl your website, it finds prominent keywords and shows you a comparative ranking analysis between your site and its competitors. The most important reason for using this tool is the ability to identify topical gaps across your website.
Backlinks are an important aspect of content optimisation. When you start an account at WebMeUp, you'll get access to SEO-significant backlinks for any site. Some of the most notable features include: the landing page tracker, competitor discovery function and great descriptions of the way each element of the report is useful for your SEO practices.
Here is another great tool that gives you free keyword suggestions for Google, Bing, the App Store, and YouTube. You'll get cost-per-clicks, search volume, and competitor data with a single click. KeywordTool also helps you discover keywords hidden in Google Keyword Planner, which you can't see without an AdWords account.
This is one of the most effective online tools when analysing your competitors pages. The "Site Comparison" function also enables you to compare that data to your own webpage. The tool gives you information about keywords, bold and italic texts, links, headers, page titles, meta data, and frequent phrases between two pages.
Yoast provides "on-the-go" SEO suggestions that will improve your on-page content optimisation. You can easily optimise your WordPress site with the Yoast SEO plugin. Their website also serves as a base of knowledge, so go through the posts when you want to boost your skills on general SEO, analytics, usability, conversion rate optimization, and more.
Long Tail Pro allows you to focus on profitable opportunities by discovering long tail keyword terms that you can use for targeting leads. The tool will launch up to 800 suggestions per seed keyword. You'll also find out how many people are searching for a certain word or phrase on a monthly basis.
Majestic offers 4 tools that will elevate the effectiveness of your website search performance. "Site Explorer" enables you to analyse a domain in great detail. You can search the index for a keyword, and see the URL and page title where it appears. Majestic also offers "Link Intelligence API" and an awesome "Backlink History Checker".
About Robert
Robert Morris is a freelance editor, content manager and avid traveler from NYC. Follow Robert on Google+!
Bonus 33 Free Templates
Download the 33 free templates from Toby and Adam's book.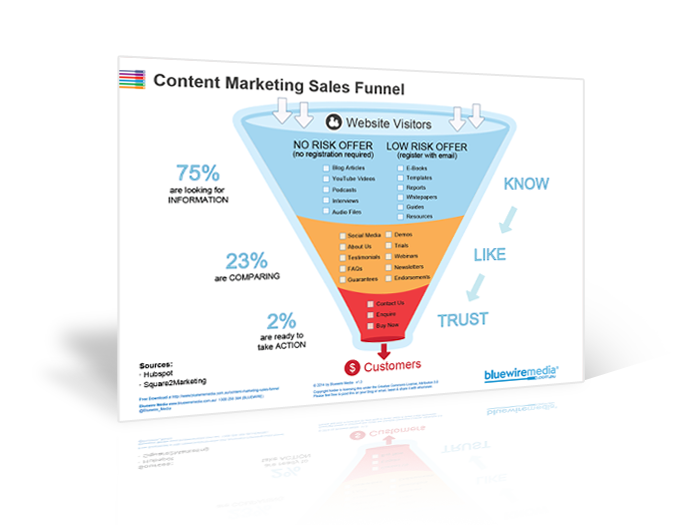 Content Marketing Sales Funnel
Your content marketing sales funnel is all about getting people to know, like and trust you by nurturing them with the right information at the right time.