15 Surefire Ways to Get More Impact From Your Blog Posts
Updated on December 3rd, 2019
Get more impact from your blog posts

This is a guest post  – Initially a self-taught social media enthusiast, turned Social Media Marketer, Amanda Chiu writes posts, shares news, seeks industry knowledge, and engages with online communities daily. Her attempts at clearing her ever-growing reading list continues to be unsuccessful, and she really does believe that sharing is caring.

Welcome Amanda Chiu…
The hard reality of being a writer is seeing your work not produce the impact you'd expected. The 329 million people who read blogs each month might be missing your articles because some crucial steps are absent in your writing process.
Great writing is just a portion of what is necessary to create a winning blog post. You also need to consider the relevancy of your topic, content optimisation, and a social media strategy. All gears need to be working together to establish a content machine that gets the most out of your blog.
Here are 15 surefire ways to get more impact from your blog posts.
1. Research your topic
Researching your topic is one of the most time-consuming aspects, if not continuously done. Try to allot between 15 minutes to an hour a day to catch up on the latest news. This way, you will always have an idea of relevant topics to write about, instead of trying to find something new every time.
2. Write about current events
If you're stuck looking for ideas with a lot of buzz, try writing about current events associated to your industry. This will you more impact from your blog posts.
For example: In the past week, "Facebook's new dislike button" was made official. If your business sells event tickets at a discount, you could write about "10 Ways Facebook's New Dislike Button is Your Key To A Bigger Discount To Burger Fest", and run a contest at the same time.
For more impact from your blog posts, give these tools a try to find trending topics:
BuzzSumo: "A platform for content marketing and SEO agencies to discover engaging content and outreach opportunities."
Feedly: A web app and mobile device news aggregator with a cloud-based service.
Foller.me: A Twitter analytics application showing you in depth insights about any public profile. It gathers real-time data about followers, topics, hashtags, mentions, location, and more.  These are all great tools to get more impact from your blog posts.
3. Find a familiar topic
Once you know the fundamentals, it becomes easier to understand the more technical language of your industry. The consequence of becoming more comfortable with technicalities, is learning how to write content that isn't too technical.
Your audience's knowledge of the industry can differ. If you have a concept that needs additional explanation, this is a great time to add a link to a blog that fully explains it.
When you need insights into who your audience is, AtomicInsights analyzes your social media, Google Analytics, and historical blog content, to present the stats in a comprehensive dashboard. You will be able to determine how complex future blog posts should be, and pinpoint the best topics to write based on past blog posts' performance.
4. Tap into the pain points
To get more substance out of what you research, try to figure out what the common issues or "pain points" are in your industry.
On the topic of blogging, common topics you'll see on Reddit, Quora, Faq Fox, and other forums will be about:
Getting started as a blogger
Getting paid as a freelance writer
How much to charge
Looking for writing opportunities
General perspectives about blogging
Sometimes looking through people's conversations are the best way to find inspiration for an interesting and eye-catching, must-read, blog topic.
5. Conduct keyword research
Finding relevant words and having the appropriate number of keywords in your blog will positively contribute to your blog's SEO.
A simple way to get started is simply input your topic into a Google search. Think of what people will actually search for when they think about your topic. If your topic is about the new IPad Mini 4, some search queries could relate to its release date, new accessories, tech specs, product reviews, and the price.
A more advanced method uses Google Keyword Planner. This tool suggests relevant keywords that was referenced from accumulated searches. You can also find out how popular the search is.
In case you don't feel like signing up for keyword planner, you could also try keyword.io, which gives you common phrases that were also searched along with the word. Although, the free version of this tool does not show you topics necessarily relevant to your blog's focus or its popularity.
6. Establish a specific goal for each blog post
Yes, you'd like to create more impact, but what does that actually mean? Throughout your blog, ask yourself if and how a statement relates to your goal.
Possible goals could be:
Increase traffic to your site to create leads
Increase awareness for your brand, product, or service
Gradually become affiliated with another niche
Increase your personal or company's social network
Rank higher in search engines
7. Organise your research
Organise your research by creating subheadings that you can later use in your blog. By listing the connecting research into bullets, or in a brainstorm web, you create visual connections between the main topic, subtopics, and the research. For SEO purposes, having subheadings helps to optimise your blog.
Bonus: Original content goes a long way! If you're able to conduct an interview with an influencer, this vastly increases your blog's impact. Better than getting research from a secondary source, primary sources create future blogging and networking opportunities, as well as gives Google new and original information, which is sure to add credit your blog.
Even conducting just one interview will enable you to create multiple blogs in addition to the initial Q&A of the interview.
Make a blog from your perspective of the interview, like a story
Create blogs that dive deeper into a subject that was mentioned during the interview
8. Have a personality
When you finally sit down to write, deliver content that stems from your personality. People enjoy reading blogs that they feel are addressing them directly. If you're able to write your content that is relatable and similar to the style of blogs you've read, you're on the right path.
9. Obsess over the headline
Usually the title of your blog is the most difficult to write. It is the number one aspect of your blog that will attract readers, help you rank in search engines, and get your blog post shared. In fact more than 80% of your readers, will never read past your headline.
It's common for many writers to leave it for last since it is the summation of your blog and therefore the most difficult to write with all aspects considered. Some key points to remember about title writing include:
Ensuring your topic is mentioned clearly
The phrasing has been proven to generate higher clicks, like "How to's" and "# Ways to"
An undertone of urgency and necessity that convinces people to read it
The ideal character length is 70 characters or less
Here's an example:
Topic: Making Healthy Food Taste Good
Rephrasing it: 13 Easy Ways You Can Make Healthy Food Actually Taste Good
13 – people love lists, and uneven numbered lists have higher clicks
Easy – great for people with busy lives and no time
You – humanizes the content, makes the reader identify with your topic
Actually – addresses a common perspective that healthy food is tasteless or not tasty
To learn how to implement these factors into your title, some great tools to inspire you include, Hubspot's Blog Topic Generator, Portent's Title Maker, and KingSumo Headlines.
To bridge the gap between title and content optimisation, AtomicWriter is the first smart editing tool that measures your blog post while still in your writing screen. With over 22 measures, your blog post is analysed for the audience you intend to write for, and then gives editing suggestions to boost your blog post for maximum impact. The full version offers insights that will further help you produce quality content specifically for your audience.
10. Make it evergreen
Your blog post may continue to generate traffic well after the publish date. Evergreen content, provides your sharers with content that others will be able to reference for the long term. Your blog post can ride a trend wave, be relevant for a long time, or a bit of both based on your goal.
Bonus: A neat trick to repurpose your old blogs and increase traffic if you aren't able to publish a new blog everyday, is to change the title of your old blog posts and change the time of publication.
11. Get visual
The body of your blog should be comprised of more than just text. Factor in where you can appropriately embed headers, blockquotes, links, and media. What's becoming more effective than images in attracting readers, are videos and gifs embedded into your content. It re-engages readers in providing a reading break.
12. Optimise for SEO
Increase the SEO of your content by adding tags to your blog post. Use the list of keywords that you've incorporated into your blog and fill the tag box with fitting words. If you're writing about Summer Activewear, some example tags could be summer, clothing, footwear, accessories, and sports.
13. Don't forget length for more impact from your blog
The ideal blog length continues to change every year. These changes depend on people's reading behaviours. It is becoming an outdated notion that 500 word blogs are the most appealing to readers. As people are becoming more accustomed to getting most of their information online, longer forms of content are in demand. Most blogs now recommend 1000 – 2000 words, it is an achievable middle range given the normal time constraints that come with being a busy blogger. Remember to fill your blog with valuable takeaways, and as little filler content as possible.
14. Focus on timing
Timing is crucial for both your blog post and proceeding social media efforts.
Use the most recent gathered data about the best times to post, like this infographic by kissmetrics, or take a look at your blog's activity feed. If you have published enough content in the past, you'll be able to identify when your blog had peaks and dips in traffic.
If you aim to publish around peak times you will get more visitors, comments, and engagement. Unfortunately, you will be competing with other posts, which could mean that your blog could get lost in the noise, and readers will spend even less time on your page.
These practices also apply to your social media accounts. All social media networks provide you with insights of the best days and times to promote your blog. Once your blog is public, let your networks know and contribute to discussions. If you were inspired by another blogger's post, let them know in their comments section.
15. Amplify your content with social media
A great way to get impact from your blog posts, it to use your social media channels to spread the word. Properly address those you've mentioned in your blog, and include your blog's feature image. If you have a Twitter account, and have mentioned kissmetrics in your blog, let them know in a tweet.
Include:
@kissmetrics
A greeting
What your blog is about
By using social media to let your networks and industry know that you wrote about them in your blog, you will grow your network, bring more traffic to your blog, and generate continuous impact from your blog posts.
Before anything else, the driving factor to creating an impactful blog post is being passionate about your topic. This will keep you motivated through the research, content writing and optimisation, and social media process. People will be able to see your enthusiasm for the topic by the way you write, and will want to share your blog with others.
Did this blog inspire you to reconsider your blogging strategy?
I'd love to hear any methods I'm sure I missed. Share this blog with someone looking to up their blogging game!
About Amanda Chiu
Initially a self-taught social media enthusiast, turned Social Media Marketer, Amanda Chiu writes posts, shares news, seeks industry knowledge, and engages with online communities daily. Her attempts at clearing her ever-growing reading list continues to be unsuccessful, and she really does believe that sharing is caring.
Bonus 33 Free Templates
Download the 33 free templates from Toby and Adam's book.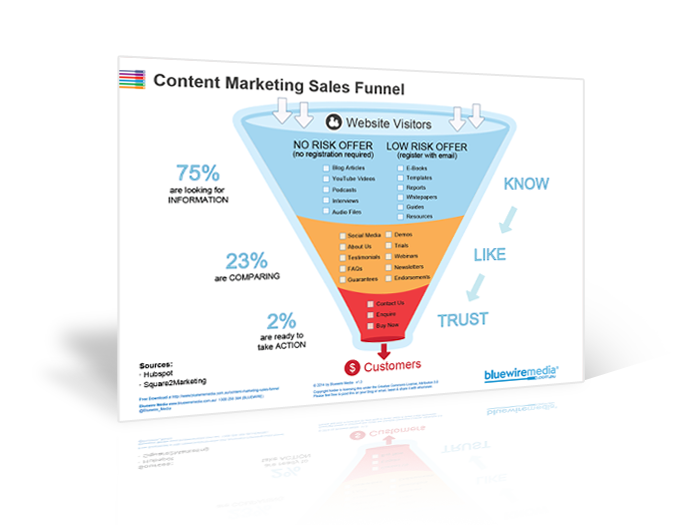 Content Marketing Sales Funnel
Your content marketing sales funnel is all about getting people to know, like and trust you by nurturing them with the right information at the right time.