16 Effective SEO Tips To Use In 2016 [Infographic]
Updated on August 14th, 2019
Good SEO is like baking the perfect cake – you need all the elements in the correct proportion and timing is everything.
Like every great recipe, Dilate Digital have compiled the ultimate list of SEO tips to supercharge your results and kick-start your 2016. From keyword research through to a fantastic content marketing strategy, let this Infographic be your guide to everything tasty when it comes to SEO in 2016.
If you have hit a plateau, try cross checking everything you are doing against this hit list, you could find the one missing ingredient in your ranking master piece.
For those thinking of starting Search Engine Optimisation (SEO) on their website, keep in mind that SEO is a longer term strategy because Google only crawls your website (on average) every 2 weeks.
On a side note be aware of anyone who can promise big results in a short period of time as they may be looking at black hat techniques that are not in line with Google Webmaster Guidelines and white hat SEO strategies. Black hat strategies can get quick results, but you run the risk of getting penalised and what goes up (fast) must come down in the SEO world.
Here is the " Top 16 Most Effective Search Engine Optimization Tips for 2016 " infographic – Don't forget to Share it.
This Infographic is Courtesy of  Dilate Digital  & Designed by SEO Perth
Bonus 33 Free Templates
Download the 33 free templates from Toby and Adam's book.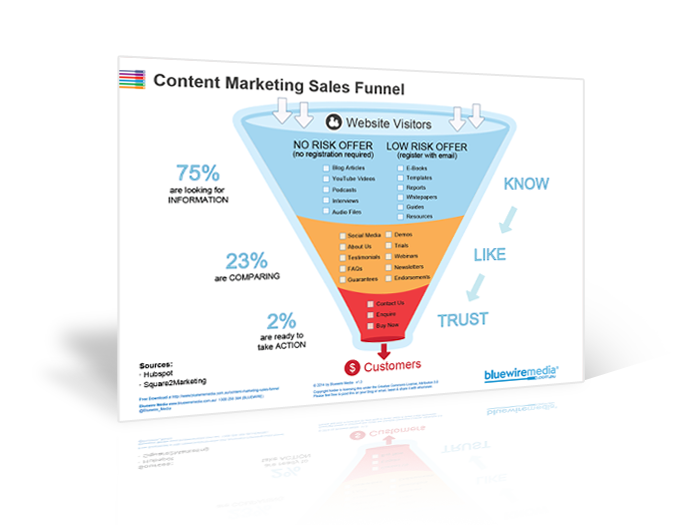 Content Marketing Sales Funnel
Your content marketing sales funnel is all about getting people to know, like and trust you by nurturing them with the right information at the right time.