2 Time-Saving Apps to Help You Master Google+
Updated on May 2nd, 2016
Have you ever asked yourself the question; how do I build an engaged Google+ following?
Perhaps you haven't, but here's why you should.
It's connected to everything else you do with Google (Gmail, Search, Hangouts, Drive etc)
It gets you found in search results under your Google+ profile
Its layout is more visual than Facebook, Twitter and LinkedIn. (If Facebook, Twitter, Pinterest and LinkedIn all had a baby together it would look just like Google+ – Click to Tweet)
It has targeted communities you can share content with (Similar to LinkedIn Groups but with users more open to content sharing rather than discussing topics)
It has a built in webinar/event feature called Google+ Hangouts (Think about Skype Vs. Webex Vs. Screenleap)
It is an untapped source of readers, customers and supporters that many people are missing out on (Click to Tweet)
Still not convinced? Have a read of these articles on why Google+ can be a great addition to your social media arsenal.
Why Google+ is Still Best For Business – Mike Elgan (Forbes)
Why Google+ Is An Inevitable Part of Your Content Marketing Strategy – Brian Clark (Copyblogger)
Awesome, so now you're ready to master the forgotten social network that is Google+. But how?
The tactics must be the same as Facebook, Twitter or LinkedIn right?
This very simple assumption is what left me dwindling on Google+ for months on end with no engagement. I would always tell myself;
'Google+ doesn't really matter, I'll just concentrate on the other stuff'.
I was missing out big time!
But if typical Facebook, Twitter and LinkedIn engagement tactics don't work, what does?
Let me first explain why those same tactics don't work.
People expect more depth in your Google+ posts. They should be somewhere in between a Tweet  and a blog post
Popular scheduling platforms like Buffer and Hootsuite don't allow you to schedule Google+ personal posts
Less people use Google+, so you have to be extra targeted to find the ones that matter to you
Engagement and two-way communication isn't an option, it's a necessity
To win at Google+ you need to pay close attention to these factors.
Here are two Google Chrome applications that are guaranteed to help you build an engaged Google+ following.
Circloscope
Circloscope is the only third party application (that I know of) that gives you the power to add and remove people from your Google+ circles with ease, based on a whole bunch of cool criteria! It offers a free version which will give you a taste of everything it has to offer, but if you want to upgrade it only costs US$47 a year.
Let's have a closer look at how it works. (Note: You have to download the Circloscope app from the Google Chrome store first)
Below you will see the Bluewire Blog open in my Google Chrome browser. The little red and black logo in the top right corner is the Circloscope logo, click on it to open a new tab. If you are logged into Google+, it will automatically log you into Circloscope.
This is what the Circloscope dashboard looks like as it opens, with a breakdown of my Google+ circles.
Once you have navigated your way to this dashboard, the fun begins! At the top of the page is a dropdown menu labelled 'Dashboard'. Here you can choose to view Google+ users based on a number of different factors such as; whether or not they are in your circles, whether or not you are in their circles, how relevant they are to your area of expertise… etc. One of my favourite tabs is the 'Engagers' tab highlighted in the screenshot below. Here you can discover users based on who has engaged with a specific Google+ post.
Picture the most admired thought leader in your field and then imagine being able to add all the people who engage with one of their posts into one of your circles with just one click? That is what Circloscope can do for you, awesome right! Super-targeted social connections at your fingertips.
Above is an example of what it looks like once you have run a search based on 'Engagers of specified Posts (Not in My Circles)'. I used one of Jay Baer's Google+ posts as an example and it returned 21 results for people that weren't currently featured in my circles.
The next step is to choose the people you want to add to your circles by highlighting them. Circloscope makes this easy with a 'Select All' function that is only available to premium subscribers. (But don't worry it is pretty easy to do it manually in the free version) Once you've chosen all the people you want to add, simply click the 'Action' dropdown menu, as you can see in the image above.
Easy, you just added 20 like-minded people to your circles.
Another great thing about this feature within Circloscope is you can also search and add people based on other criteria. An example is the 'Community' function. If you are active in a community on Google+ in your field, for me that may be 'Content Marketing World', you can easily view, select and add all of the community members to your Google+ circles.
What is the value of adding like-minded people to your circles?
Much like any social network the more you engage with other users, the more people see your profile, the further your reach becomes. If you can optimize your profile with great content and a catchy bio, they will add you back.
Here is a nice blog post about optimizing your Google+ Profile for search by James Thomas on Social Media Examiner.
Warning: Don't just go adding everything and everyone to your circles!! This is a bad practice and won't get you a following that means anything. The key to connecting on Google+ is creating a two-way dialogue, so make sure you have the time and discipline to follow up with people you add, or don't add them at all.
If you want to find out more about Circloscope I recommend watching some of the videos on their YouTube channel, or reading this blog post; '10 Brilliant Things You Can Do With Circloscope' by Christine DeGraff.
Ok so now you can grow your reach with Circloscope, but how do you nurture your new followers? It's such a hassle always going into Google+ separately from other networks and engaging in a conversation right? That's where 'Do Share' comes in.
Do Share
I would find myself reading all of these great articles every morning and wanting to share them with my network. Tools such as Buffer and Hootsuite made sharing to Twitter, LinkedIn and Facebook easy.
But then I fell in love with Google+.
After discovering how powerful Google+ was I went straight to my Buffer admin page and tried to add my Google+ profile, but it would only allow me to add a 'Business Page'. That's not really going to help me connect personally with this amazing network.
Enter Do Share.
Do Share is another Google Chrome app that makes it super easy to schedule and share great content with your Google+ community. After some growing frustration, a little research and some test runs I found a solution to my ongoing problem.
So how does Do Share work?
The Do Share icon is the little yellow one next to Circloscope in my chrome browser above. Once again you'll have to download the app from the chrome store.
As it happens I was reading 'How to Build Your Personal Brand in 8 Specific Steps' by Aaron Agius on the Bluewire blog when I was putting this post together. Let's have a look at how to share that on Google+.
By clicking on the little yellow logo, Do Share will open up in another chrome tab. It already has the article I was just reading from Aaron as a suggestion. Start to type your post into the 'Create new post' section of the page.
Above you can see the post I chose to share. The link shows up visually below my text and I have tagged Bluewire Media in the post. You can also add in whatever hashtags are relevant at this stage to get more reach with your post.
If you're wondering how to best use hashtags in a Google+ post, this article by Ann Smarty nails it; 'How To Use Google+ Hashtags for More Exposure'
Once you are happy with your post it is time to choose where to share it. One option is to make it 'Public' which will be posted straight to your Google+ personal page. What I have found is that sharing posts publicly gets less traction than when you share posts with targeted communities. Many people make this mistake on Google+ when they are first starting out. Of course if you already have a big Google+ following, sharing publicly will still get traction, but for those trying to find new people to connect with like me, the Google+ communities give you an already engaged group of like-minded people to target.
In the example above I have chosen to share this post with the 'Content Marketing World' community as a 'Discussion'.
If you're still unsure about your post you can save it as a draft, alternatively you can either schedule it for later or share it immediately. When you hit schedule the app gives you the option for choosing at what time you want to share the post. (Note: Unfortunately if you schedule a post at a time when chrome isn't active, it won't get posted. Keep this in mind.)
For me I only have about 30 minutes in the morning to focus on curating content for social media. So where tools like Buffer and Hootsuite have helped me fill my Twitter timeline with great content all day, Do Share does the same for Google+.
Google+ may not be for you, but if you're willing to give it a go it can be extremely rewarding.
Just remember that winning on Google+ is a little different to other social networks (Click to Tweet).
Make sure to have a little more depth in your posts, schedule consistent content (using Do Share), target your followers (using Circloscope) and create a two-way dialogue with people that care!
What other Google+ tactics have you found can boost your engagement and following?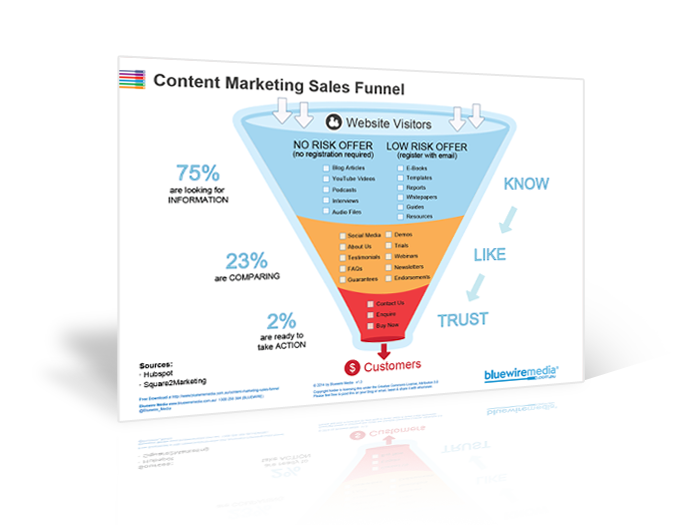 Content Marketing Sales Funnel
Your content marketing sales funnel is all about getting people to know, like and trust you by nurturing them with the right information at the right time.