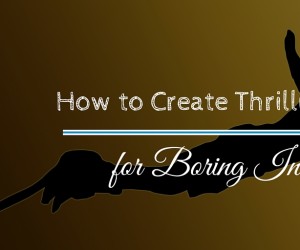 This is a guest post – Clement Lim is a freelance copywriter and content marketer specialising in B2B and legal niches. When he's not creating thrilling content he enjoys drinking green tea and doing handstand pushups. Find out more at limwriter.com.

Welcome Clement…
Some content marketers have it easy.
In "sexy" industries like food, fashion and travel, there's no end of interesting topics to get excited about.
But what if your industry is not quite so thrilling. What if it's a bit "boring". Like insurance, software, or engineering.
Now you really have your work cut out for you.…
Continue Reading