25 Content Marketing Tools That Will Rock Your World
This is a guest post  – Kenneth Waldman is a freelance writer and content creator. Get in touch with him on Linkedin.

Welcome Kenneth…
Before curating your online content, you must identify your audience, understand your viewers and aim to please their desires. Creating content for yourself is great, but pushing your content to the next level requires more than just a creative brain. It also requires an analytical influence.
From inception to distribution, technology has made support for your content marketing more accessible than ever before. Maybe you are lacking an understanding for your marketing analytics or possibly simple idea generation. Prioritise your needs and have no fear; help is here.
This list breaks down some of the most popular content marketing tools into 5 categories to help you with; Ideas, Organisation, Writing, Marketing and Analytics.
Research the options to find what suites you and your content best.
Ideas
This easy to use site allows the user to search a desired topic, develop unique perspectives and publish to social networks. They will match your specific needs and provide access to endless inspiration.
Buzzsumo is a great way to determine what content is performing best for any given topic. You can locate major influencers and spark your own ideas.
Dribble dubs itself "Show and Tell for Designers" and is an encouraging social network. Connect with other designers, promote your own content and gain access to limitless concepts.
This question and answer site is the ultimate idea generator. Find out what people are asking, writing and researching on the web. Form new ideas and figure out what people want.
The Daily Post (from the editors of WordPress) is a handy site for writing ideas. In addition to helpful blog posts, there are weekly photo challenges, blogging events, daily prompts and even access to an eBook library.
Organisation
Pocket is well designed to save inspiration and research from anywhere in one place, and integrates with over 1500 apps. Organise your photos, videos, articles and more from any mobile device or computer.
If you struggle at maintaining high quality content, Curata can help. The software is devised to organise and curate your site and content to the specific needs of your readers.
Trello is a free project management system that provides the user with a visual ideas board. From lists and schedules to assignments and meetings, share content and track performance for optimum results.
Similar to Pocket, but more suited for writers, this app connects on every device and allows you to not only pull information from various resources (videos, photos, online articles and more), but also to write new content as well.
This software uses a drag and drop design with extreme flexibility. It's an ideal way to organise your projects, ideas and collaboration in content creation and offers motivation via their blog.
Writing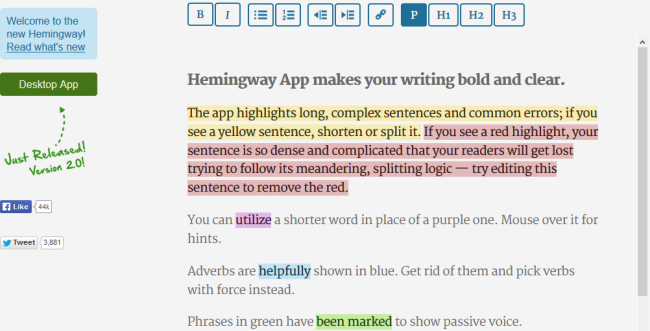 When writing for the web it's best to keep it simple. This app is perfect for boosting written online content and like Hemingway himself, it focuses on eliminating repetitive words and run-on sentences.
This essay writing service is composed of qualified professionals whom are at your disposal to help proofread, generate ideas and create correct structure.
This software is basically a fortune teller. It will predict your content's future performance and suggest new topics for your site. They literally hand you ideas that are most valuable to your success.
One of the most resourceful places for any a writer is Plagtracker. The easy to use site performs a unique checking algorithm to assure you always submit and publish original content.
Storify's editor is drag and drop based and easy to use. All of your work is embedded instantly and their research features help you build content rich articles.
Marketing
This site is a great place to begin if you want to boost your blog or site. Simply enter in your web address and quickly receive a consultation and recommendations to market your site accordingly.
Buzzstream is an outreach tool, but it's also the perfect way to gain quick access to beneficial URLs, contacts, social metrics and webstats for your site. They collect the data (and clearly present it) so you know what to do and where there are opportunities.
This social media management platform assists the user in scheduling, publishing and engaging their target audience. It's a smart, user-friendly way to streamline all of your social media marketing.
Outbrain will connect you with appropriate viewers and optimize your content by suggesting it to the web's most esteemed media channels (such as CNN, ESPN and People).
An online presentation platform that provides endless inspiration, support and information from fellow content creators and marketers. Learn what works and what doesn't and share your talents to gain exposure.
Analytics
This site and mobile app forms profiles for every viewer, curates analytics to suite your needs and even provides automated notifications and personalised content for your site.
With Sprinklr you will receive social media analytics that are displayed lucidly, making it easy to identify trends and report on key metrics.
Google has made tracking your online traffic fairly simple. With a provided code you can start viewing your sites helpful statistics within hours.
This all-in-one social media management tool offers analytics and the ability to schedule messages, assign posts and to engage your target audience.
Unmetric analytics lets you go beyond basic metrics and move towards understanding them. Measure your content against competitors to form a unique and successful brand.
Sum up
SEO is simply no longer the only way to enhance your content. There are a variety of content marketing tools that can optimise your process from the creation stage through to maximizing your marketing efforts. Recognising what works is key to creating an effective system.
Move your audience in the right direction and improve your skills by using what the web has to offer. To truly succeed in online content creation you need to constantly evolve, be persistent and remain educated. It can be overwhelming to manage alone. Find and use the offered support to increase your content quality.
About Kenneth
Kenneth Waldman is a freelance writer and content creator. Get in touch with him on Linkedin.
Bonus 33 Free Templates
Download the 33 free templates from Toby and Adam's book.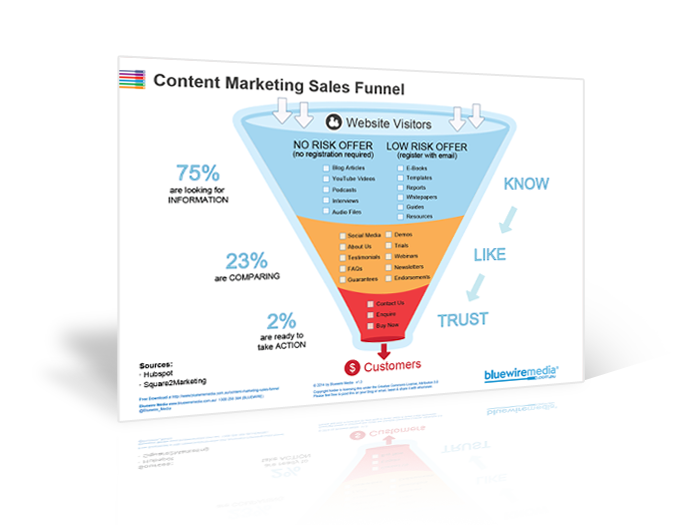 Content Marketing Sales Funnel
Your content marketing sales funnel is all about getting people to know, like and trust you by nurturing them with the right information at the right time.