3 Brutal Social Media Marketing Mistakes That Can Ruin Your Business
It's painful when your audience is passionately sharing that one social media mistake that you made. Especially when you've been sharing helpful and value-packed content for the longest of time.
The experience is incredibly traumatic, really.
This is particularly the case if the mistake you made can potentially lead to you losing a lot of business, or downright ruining the brand image that you've been carefully building up for years.
Allow me to share three real-life social media marketing mistakes that could ruin your business, and the lessons that you can learn from each.
Bashing your audience
If you haven't missed a single episode of Chef Gordon Ramsey's Kitchen Nightmares, then you'd agree hands down that one of their most memorable episodes was when they featured Amy's Baking Company.
Long story short: Gordon gave up on the restaurant because of how unreasonable the owners are (to say the least).
The drama didn't end there, however. Because the viewers saw how the owners acted towards Gordon and how they treated their very own staff and customers, they've had their fair share of bashing through social media channels.
Sadly, instead of the netizens getting an appropriate and a professional response from the owners, they've received boatloads of offensive posts instead.
Everything resulted in an epic brand meltdown.
Thousands of netizens became even more furious. Several of them even commented that they would never dine at Amy's restaurant.
The owner of Amy's Baking Company, however, insists that their social media accounts had been hacked, and they never posted the ill-natured posts on social media. They mentioned that their accounts have been accessed by IP addresses from California.
Valuable lessons:
It pays to invest in your business' online security. Things could turn out gruesome if your social media accounts get hacked.
While the replies were made by the hackers (according to the owner of the restaurant), the illustration above is still a classic example of what not to do when your audience are frustrated. Never talk trash to your audience.
Posting offensive content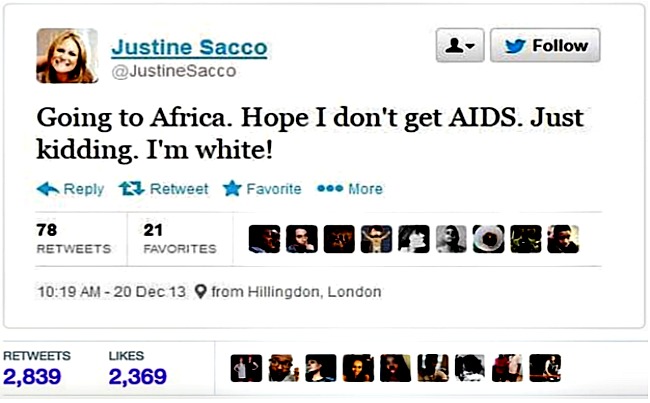 Justine Sacco had no idea what was headed her way while she was on a plane to South Africa to visit her family.
Before boarding the plane, she posted the tweet, "Going to Africa. Hope I don't get AIDS. Just kidding. I'm white!"
Thousands of people took offence to what she tweeted after it was picked up and retweeted by tech blogger Sam Biddle. She only realised what had happened when she landed the next day.
The whole fiasco led to her getting bashed and shamed publicly by thousands of netizens. She also lost her job, and it affected her overall well-being.
She didn't mean to offend anyone by her tweet, however. The tweet was just a joke that she intended to share with her small group of followers and friends. For those who know Justine personally, they would know that it's totally not like her to post something offensive like that.
In fact, Sam Biddle himself (yes, the guy who retweeted her post) was able to meet Justine personally about half a year after, and they both had a great time together.
Here's how Sam described Justine.
"And, as it turned out, Justine Sacco is not a racist monster. She is a kind and canny woman who threw back cocktails, ate delicately, and spoke expertly about software. She was friendly, very funny, instantly relatable, and very plainly not a cruel sicko. We talked about college, jobs, home, family, and work – she'd recently landed on her feet as the communications boss for a small New York startup, and seemed to be happily rebuilding her career."
Valuable lessons:
Be careful with what you post on social media. Even though you're genuinely nice like Justine, and you're just joking, your posts can easily be misconstrued by the netizens as something serious and offensive.
The internet users nowadays aren't kind enough to dig in for context or to do a background check on a person. They just bash right away.
Hiring an unqualified social media marketing manager
A social media marketer that lacks training – let alone character – can quickly commit the two blunders that I mentioned above (among other mistakes that can ruin a business' reputation).
If you are serious about safeguarding your business against the debilitating effects of committing any of the social marketing mistakes that I mentioned, then you need to hire a stellar marketer.
Of course, while hiring one won't guarantee that you'll never experience a social media meltdown, the chances of something like that happening drastically decrease in the hands of a capable marketer.
It's interesting how a lot of business owners tend to overlook the importance of having a competent social media manager, when they invest thousands of dollars in establishing their online reputation as an expert in their industry.
They seem to fail to realise how a single mistake committed by a social media manager can bring their business down to the gutters, considering how most netizens are spending a good portion of their time on social media sites.
When you think about Justine Sacco's situation, you'll have a clearer idea of how fast things can escalate when people make mistakes on social media platforms. I mean, she practically left the country with her reputation intact, and landed with it shattered into pieces – that's how crazy things can be on the internet.
Valuable lesson:
Do not lowball the value of social media marketers. Make no mistake, the way they run your social media pages tells your audience whether or not you are a business worth taking seriously, or you're not worth your salt.
If you want to be seen as credible and worthy of your audience's trust, then you need to have a social media manager who can convey that image.
What's next?
What are some of the most confronting social media meltdowns that you've personally experienced? Please share them in the comments section below. Cheers!
About Jimmy
Jimmy Rodela is Executive Boutique Call Center's Digital Marketing Manager. He was awarded Business.com's Market Expert of the Month. His articles have been published on reputable business websites like Yahoo, Business2Community, and SEMRush.
He is a writer and the owner of GuildofBloggers.com.
Bonus 33 Free Templates
Download the 33 free templates from Toby and Adam's book.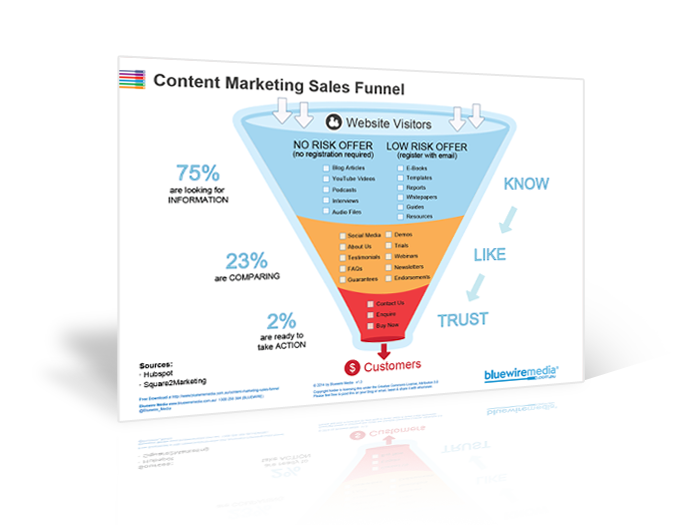 Content Marketing Sales Funnel
Your content marketing sales funnel is all about getting people to know, like and trust you by nurturing them with the right information at the right time.