3 Ways to Hyper-Target Using Facebook Ads
Updated on September 16th, 2015
This is a guest post  – Mike Bird is CEO of Australian revenue performance management agency, Social Garden. His specialties include data-driven lead generation and enterprise marketing automation.

Welcome Mike…
Since the launch of Facebook ads, this well-known social networking site has become a key marketing tool for many digital marketers.
When Facebook first launched its business and fan pages, marketers thought by posting and interacting with customers alone, they could grow their audience and encourage people to buy from them without having to pay for advertising.
That's not really the case any more. Your organic reach – how many people are shown your posts and updates without you paying for additional promotion – is limited and there's no way for you to segment your posts so that only certain groups of your followers can see them.
For example, let's say you're planning Facebook posts for your bakery. You want to promote your wedding cakes and birthday cakes.
How could you go about doing this? You could make two separate posts on your news feed, but how would you control who sees them?
Not all of your followers are getting married or celebrating a birthday anytime soon, and if you post constantly and clog up your followers' news feeds, they might un-follow you completely.
The truth is that there's a far better way to go about targeting your customers and delivering the exact message you want without annoying them. By hyper-targeting with Facebook ads, you can go after new customers, current customers and even customers who have just visited your website.
Sounds like a good deal, right? Here are the three best ways to hyper-target on Facebook.
1. Retarget lost website visitors
A person clicks onto your website. They scroll through a few pages; then the doorbell rings. The person closes his or her browser, and that's it, right? You've lost the visitor for good unless he or she comes back.
You're not down and out yet. With certain programmes, you can target visitors who land on certain pages of their website and follow them to Facebook where ads featuring your company will be displayed to them. This form of marketing – called conversion tracking – gives you a second chance with your website visitors and gently reminds them of what they were doing before they closed the browser.
To do this, log into your Facebook account and go to the Ads Manager section. Click on Tools then go to 'Conversion Tracking'. On the top right side, you'll see Create Pixel. Click it and choose what you'd like to track from the drop-down menu (Registrations, Leads, Key Page Views, ect.). Click the Create Pixel button and insert it into your preferred website pages. For Registrations, you might put the code into your blog pages.
Now you can create ads with this pixel coding intact. When someone comes to your pixel-coded page on your site, Facebook will automatically be told to show your ad to them the next time he or she comes to Facebook.
You can also track just how successful these ads are and see how many direct sales you've got as a result of someone clicking on your ad.
2. Create Custom Audiences
Your database is filled with names and email addresses, but not all of those same people are following you on Facebook. What's more, those same followers are not coming to your website every day.
That's okay; they don't have to have liked your fan page in order to see your ads. You can still target them with Facebook's Custom Audience.
Custom Audience allows you to upload your email address lists directly into your Facebook account and create different ad groups with those email addresses based on the different demographics you cater to. Facebook will then match those email addresses with the ones they have connected with their user accounts and will display your ads to them when they're online.
This is a great way for you to distinguish who sees your message. If you have your customers' birthday information, you can target them on their birthdays and offer a personal discount or deal. The bakery we mentioned earlier might offer $2 off a birthday cake for those that come in for a cake.
To do this, go to Ads Manager and scroll down to Audiences. From there, you can click on Create Audiences and choose Data File Custom Audience. There you can choose which email addresses you would like to upload for this specific list. If you have a group of customers who have birthdays within the month, then you might target all of them with an ad for birthday cake discounts.
You can segment your email list any way you'd like to get the best results. Custom Audiences will let you experiment with your segmentation so that you can be sure you'll send the right person the right message.
3. Target new customers with Lookalike Audiences
So you know how to target visitors to your website and those who have given you their email addresses, but how do you go after other people on Facebook?
There are so many people out there who could be great customers for your business if they know about you. Spread the work and reach out to all-new consumers with Facebook's Lookalike Audiences.
To get the most out of Lookalike Audiences, it is best that you mess around with Custom Audiences first. You will be targeting people who don't know anything about your business, so it's best to see which ad tactics work well with your current audience (free trials, discount offers). Once you get a good idea on how to advertise successfully on Facebook, you'll be ready to start using the Lookalike Audiences function.
Go back to Ads Manager and Audiences. Create your audience, but this time, go to Power Editor and choose Ad Tools. Select one of the audiences that you have already created and choose the Create Lookalike Audience function. This will get you started on your audience.
From here, you have two options to further define your audience. You can choose to target by similarity or reach. With the similarity option, your Lookalike Audience will look as close as possible to the Custom Audience it's based off, but the number of people targeted will be low. With the reach option, your ads will go out to many more people, but they won't look quite as similar to the similarity audience.
Both audience types have their pros and cons. Experiment with both types of audiences and see which one works best for your purposes.
So tell us: which hyper-target option will you use first?
About Mike
Mike Bird is CEO of Australian revenue performance management agency, Social Garden. His specialties include data-driven lead generation and enterprise marketing automation.
Bonus 33 Free Templates
Download the 33 free templates from Toby and Adam's book.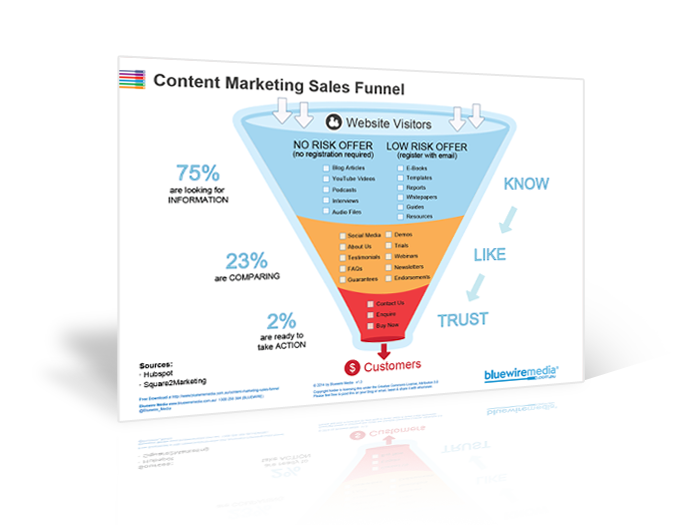 Content Marketing Sales Funnel
Your content marketing sales funnel is all about getting people to know, like and trust you by nurturing them with the right information at the right time.