4 Elements To Make or Break Your Next Content Marketing Campaign
Updated on November 9th, 2019
Content Marketing Campaign
­­­­You are now your own ad agency.
This is how you have to think of yourself if you are going to create and deploy a content marketing campaign. The "big boys" have ad agencies or departments, and they pay those agencies/employees huge amounts of money for TV and other media advertising.
They also have separate agencies/departments to run their content marketing campaigns. They pay those agencies/employees big bucks too. Unless you are Coca-Cola or Geico, you don't have that kind of money available to you.
You and your team (if you have one) have to develop the best marketing campaign possible within your budget and human resources that will take a very specific and sequential set of elements – 4 in total.
Element 1: Clear Objectives
It's a good idea to review exactly what content marketing is before you set any objectives for your campaign. Remember that it is a strategy for the following:
        Producing information and other content that will build trust in you as an expert in your niche
        Building relationships, so that your target customers are loyal to you and to your brand
        Driving sales without using any of the outdated and pushy sales tactics
If you are having troubling coming up with very specific objectives, that's okay for now. But you should at least prioritise what you want your content marketing to do. Here are some thoughts:
        Generate leads for later follow-up
        Produce actual sales
        Create interest in what you offer
        Generate a good reputation for your brand and your products/services
        Develop a community of fans/friends who will interact with you on social media
        Build your reputation as a brand/service expert in your niche
Ultimately, all of these objectives may come into play, but you will want to prioritise them at first. You will also ultimately have different objectives for different platforms on which you publish content.
Element 2: Identification of Target Audience Online
You should not produce any type of content until you know who you want to see it. If you simply produce lots of content related to your business niche and throw it out everywhere, you will do nothing well.
Define your niche market and narrow it as much as possible For example: millennials – millennial females – college educated millennial females – college educated millennial females who live and work in urban areas.
Make sure that your niche is large enough to target and that it will want the content you will be providing. A simple way to do this is to conduct a Google AdWords search using some keywords related to content you are considering and see how many people are searching for that content each month
Find out where your niche goes online and what they read. (Tip: There might be email lists that you can rent)
Once you have the niche defined, create an avatar (persona) for your target audience. By doing this, when you create content, you will be speaking to that avatar personally – it will help your style and tone.
Typical avatar characteristics will be age, gender, location, income range, level of education, married or single, occupation, values, lifestyle, hobbies, and so forth. Give your avatar a name and a face (a photo you find), and post it up on a wall. All content you produce is going to him/her.
Locating Your Avatar Online for your next content marketing campaign
There is a lot of research out there about where specific groups hang out online, and you can begin with that – a Google search with specifics will give you some information. e.g. "What are the most popular social media sites for urban millennial females?" will get you several results from reputable sources.
If you have a little money to spend, you can use Research.ly which will filter conversations by your criteria for the past 1000 days. Another paid source is Forrester – it will give you insights into your customers' online behaviours.
Element 3: Strategy – Channels, Content Types, Publication Schedule
Before you begin to construct the three aspects of your strategy, you need to develop your core message. Only one question needs to be answered here – what is the benefit of using your product or service?
Now, this core message will not appear in most of your content. You just want to keep it in mind, because some of your content will relate to "pain points" of your target customers that you can address.
Channels for Content
A business blog goes without saying. This is where you are going to provide the deep content that visitors will want to read in order to get information and solve their problems.
Select social media platforms based on what you now know about your avatar's online behaviour.
Select social media platforms based on where your competitors are and how much "play" they are getting on those platforms. How much engagement are they getting on Facebook? How many followers do they have on Twitter? Is their Instagram account getting a lot of followers and comments?
If you are a B2B company, obviously join a couple of groups that relate to your niche.
Be very selective about social media presence. You can't be everywhere unless you have a staff large enough to monitor the activity on each platform every day, sometimes several times a day. Pick two that you know you can maintain well.
Content Types for Next Content Marketing Campaign
(Source: Pixabay)
The type of content you publish will be based upon the channel, but you should also create content that, of itself, will not appear in its entirety on any channel. These can be used as content upgrades which are offered in exchange for an email address.
You have an almost unlimited array of options for content – blog posts, videos, podcasts, webinars, interviews, slides, tutorials, e-guides, infographics, white papers, etc.
Develop a spreadsheet, list your channels, and then plug in the types of content that will best fit that channel. And this can get a bit complex. Some content will only be teasers to a larger piece of content that is housed on your website or on your blog. And as mentioned above, some of your content will not be published anywhere, because you are holding it back as a link so that you can get an email address in exchange.
You also need to match content type to your niche and to our avatar. Obviously, you will not be creating a white paper or an e-guide if you are a retailer selling shoes. On the other hand, if you are selling products for deck refinishing, a how-to video will be perfect; and if you are selling a service, such as financial planning, white papers and podcasts are good.
Publication Schedule
If you don't set a publication schedule and stick to it, you are sunk. Develop a schedule for every channel you have selected.
For a blog, aim for 1-3 times a week; with Twitter and Instagram, daily, sometimes several times daily; on Facebook, every few days. This is a lot of content to produce, but if you work smartly, you will be able to save time and effort.
A great hack for effective content creation is to take one piece of content and turn it into several other content types. A blog post becomes an infographic or a slide presentation; a podcast becomes an e-guide.
Stick to the publication schedule you have set. Viewers come to expect it and don't like to be disappointed. If you should ever have to miss publishing for a period of time, inform and indicate when it will resume.
Tip: Prepare as much content as possible in advance and set up automatic publishing.
Element 4: Content Management
Each channel you use will have its own individual position in your larger marketing strategy.
There are 7 goals you should think about, and choose one of these for each channel:
Drive traffic to your site, blog, or another piece of content (teasers, offers)
Build a community (social media posts)
Engage people actively – polls, surveys, conversations
Educate or Inform – blogs, podcasts, e-guides, videos, etc.
Entertain or Inspire – have fun with followers and show your human side
Generate Leads – gated offers or content upgrades
Foster Trust and Relationships – content that will engage and foster conversations
Promote Yourself as an Expert – all channels
Each of your content platforms will be used in unique ways. Insert those ways into your spreadsheet. To help you decide from among the 7 purposes, ask yourself:
Which of our followers use each platform?
What do our followers expect to find on each platform?
Conclusion on your Next Content Marketing Campaign
If you have developed a content marketing strategy using these 4 elements, you are a member of an elite group – that 30% of content marketers who have actually developed a strategy at all.
In developing this strategy, you have actually performed the tasks that any ad agency would perform before it began its work for you. If you experience difficulty in your development, there is no shame – the learning curve can be long and hard. But you have an initial plan that can be tweaked as you learn.
About Kerry Creaswood
Kerry Creaswood – a young and ambitious writer from Savannah, GA. She is fond of various forms of art and thinks that everything we can imagine is real. To find more about Kerry – check her Twitter.
Bonus 33 Free Templates
Download the 33 free templates from Toby and Adam's book.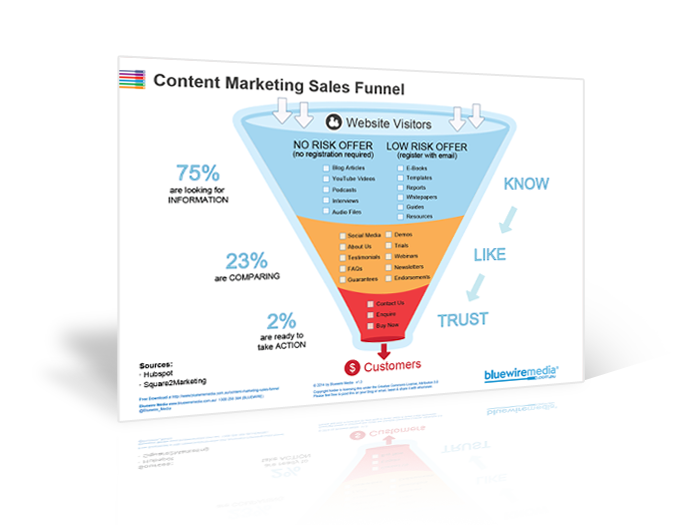 Content Marketing Sales Funnel
Your content marketing sales funnel is all about getting people to know, like and trust you by nurturing them with the right information at the right time.