4 Ways To Increase Your Revenue With Social Media
Facebook and Twitter are not only great for checking in with friends and sharing photos. Social media is a very low-cost way for companies to start a two-way dialogue with their customers and engage in a deep relationship.
From a marketer's point of view it is an opportunity to incrementally increase the revenue from existing customers and acquire new ones.
This article will give you four detailed solutions on boosting revenues for your business with social media.
1. Build relationships
We're starting with the tricky one. Remember that you can't sell directly via social media, it doesn't work like that. First and foremost is about building a loyal audience by providing them with interesting content. It doesn't have to be a funny meme, it's even better if it's something that is slightly connected with the brand.
The golden rule states that to maintain a balance between engaging and "selling posts", max. 20% of your content on social networks should be self-promoting. A channel full of special deals and product presentations doesn't work that well.
But how to find the right balance?
Do you know Volvo? Of course, you do. It's a Swedish brand of luxury cars and heavy trucks. They created this video:
Volvo's latest FMX truck is said to be the company's best yet, the promotional material doesn't say it directly – rather proves it … with the help of a 4-year-old girl causing immense destruction.
2. Move to a personalised relationship
Make every one of your customers feel extraordinary by providing a personalised experience. Start a conversation and be ready to answer all of the questions.
Online customer service has to operate immediately with 42% of customers complaining on social media expecting a 60 minute or less response time.
It's also more comfortable from the point of view of your users, so many companies cut off on telephone or e-mail consultants to concentrate only on social media. On Facebook or Twitter companies can take care of brand reputation and handle poor reviews, which are circulating really quickly around the web and can cause a lot of damage, not only to the brand itself but also to sales.
Treat your customers like friends and try to discover and meet their needs. You can discover more about your customers by running a survey. Nowadays it's really easy to just create (with Engageform or SurveyMonkey) and share a survey so you can use the insights in your social media marketing.
To prove the importance of customer care in social media I should quote major clothing retailer J.Crew. They reported that customers who engaged with their brand on social media were likely to spend up to twice as much as non-socially engaged consumers.
3. Give incentives for frequent purchases
Customers should benefit from a relationship with a brand, because that makes the connection stronger. You can offer loyalty cards or invite people into special programs, where buyers can get exclusive deals.
One example of a great incentive strategy is from the transportation company Lux Express. Every passenger can get a PINS card. It guarantees 15% discount after 11 rides, 30% discount after 26 rides, and 40% discount after 40 rides with the same company.
There are a couple of ways to spread information about loyalty programs, for example through social media or newsletters. But there is another way that is gaining a lot of momentum online – the use of quizzes.
You can share quizzes all around the web – on associated websites or in the comments under popular articles. Quizzes don't have a straight commercial character therefore they attract attention.
Check the quiz below to see how to share information about a promotion:
The tactic behind this quiz works like this. First, grab the attention of readers with an attractive title and glamorous visuals to engage them in answering questions, then ask to share personal details before revealing the outcomes.
4. Tap into user-generated content
In many cases you'll be able to use photos or posts written by your fans in your social media activity. Things like reviews, testimonials or experiences.
By reposting you'll appreciate publicly content generated by your user, and improve the brand image of your company. A great way to collect user generated content is a Social hub.
A Social Hub is a place where you pull together all your posts from various social networks in one place: blogs, Facebook, Twitter, SlideShare, Instagram etc.
Here are case scenarios of the most effective Social Hubs:
Hashtag contest
Start a contest where you ask your fans to share their photos with a special tag. Capture all the posts in one place to present crowdsourced content and pick the winners.
Create new revenue streams
Think about a Social Hub as a new, special place on your website. It will lure the eye of your audience making them spend more time scrolling the Hub. This creates the opportunity to sell a part of the Hub as an advertisement.
Increase traffic
Unfortunately, the life-time of a single post on social media is rather short. On Twitter, it's just a couple of minutes, on Facebook maybe hours. Fortunately, you can easily re-use all your content in the form of a social hub. It gathers all your social streams (accounts and hashtags) in one place, and presents them in an engaging way.
Link to products
Social Hubs are an interesting option when considering the monetization of Instagram, because there are no clickable links on Instagram at all! Only one link can appear on your profile page, so the best solution is to put a link to your Social Hub and encourage purchases from there.
Link on Instagram;
Link to special product from a Social Hub;
From the Social Hub you can direct users to any place on the Internet or around your website. It doesn't have to be a product in your store but a landing page to register for a newsletter or an online tool. It can be a YouTube video or an article. Creativity is your only boundary.
To sum it up
Social media is an incredibly reliable and effective tool for marketers and business owners who want to improve their revenue. And you don't have to pour a lot of money into social media campaigns to see good results results.
If you have any questions please leave your thoughts in the comments section.
About Karol
Karol Kopańko is Quiz Master at 4screens, the company that developed Engageform – an easy to use tool to engage customers on every screen with quizzes, surveys and polls. Follow him at @kkopanko or @4Screens.
Bonus 33 Free Templates
Download the 33 free templates from Toby and Adam's book.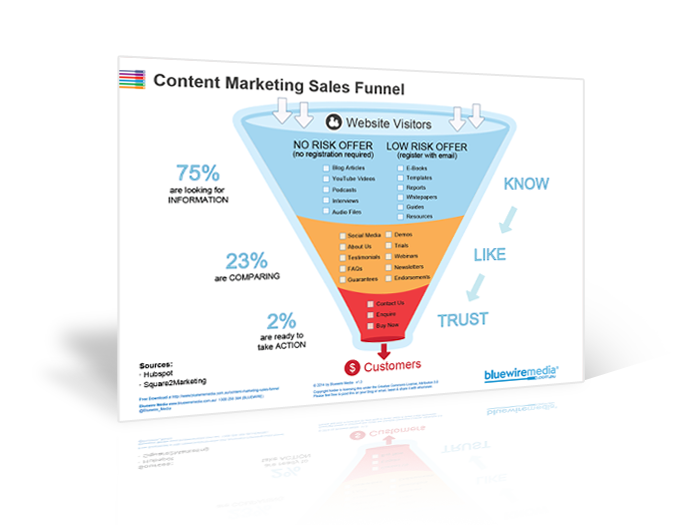 Content Marketing Sales Funnel
Your content marketing sales funnel is all about getting people to know, like and trust you by nurturing them with the right information at the right time.