5 Actionable Ways to Get More Shares For Your Content
Updated on May 2nd, 2016
Top digital marketers just keep on telling us that content is king. I don't question the idea behind these words, but I don't agree with the word "king". Kings are not chosen. And what you get with your content strongly depends on the number of people, who chose it. So I would say that content is the "elect" of today's online marketing.
But how can people choose your content among thousands of similar pieces if they don't even know it exists? You have to devote a lot of effort to promoting it in order to get decent results.
There is a number of ways to promote your content: email marketing, PPC, paid promotion on social networks, etc. But one of the most effective ways is to use your readers to share your content. When people share your content on social media, it becomes instantly visible to their audience on social networks.
Sounds easy, right? But far from every content piece gets people's recognition. In this post I want to share with you 5 effective ways to get your content shared by your readers.
Let's roll!
1. Select a Proven Topic for Your Content
Your article can be top-quality, exciting and simply awesome, but still this may not be enough to get a lot of social shares. Is there a way to make sure that you've chosen a good topic for your content before you publish it? In fact, there is!
A very simple way to find out which topics tend to be shared on different social media networks is to use a cool tool by Ahrefs, called Content Explorer. With it you can find the most popular content, based on the number of its shares.
Just use the keywords and phrases related to your topic ideas, and play with some variations.
You will see that some topics get shared like crazy, while others don't resonate at all. Hundreds and thousands of Social shares is exactly what you're looking for.
Now you can always find a good idea for your content, which is likely to get popular.
In no way am I questioning your ability to come up with a kick-ass topic for your content, which will be shared a lot. But it's almost impossible to generate such ideas time and time again. And content marketing requires consistency.
2. Put Your Sharing Buttons in the Right Place
You know, once I came upon an incredibly awesome blog post. It was so great that I read it word by word and was eager to share it immediately after. Can you imagine my surprise, when it took me like 10 seconds to find the sharing buttons?!
10 seconds can be nothing in our daily life, but for online content with all the competition, it's a huge timespan. That's why your sharing buttons must have a proper place and catch your reader's eye immediately.
Coschedule recommends placing your sharing buttons on the top or the left of your content body.
My personal opinion is to have your buttons "floating" on the left side so that your post can be shared at any time of reading.
For my social buttons I've been using the DiggDigg plugin for a while and was totally happy with it. A bit later I discovered SumoMe Share app. These icons really look great. And who told you that you can't combine plugins and place your buttons in several places (as long as they look neat and don't make your readers scratch out their eyes)?
3. Add More Ways to Share
Your social sharing buttons must not be the only way to share your content. You can always give your readers more ways to share your posts with shareable images and tweetable quotes. By sharing such micro-content people will automatically share your blog post, the same as they would by clicking a share button.
Image Sharer by SumoMe is an outstanding tool to make your images easily shareable on Twitter, Pinterest or Facebook. Such a feature is extremely important in the age when visual content just keeps on dominating social media.
Another outstanding way to increase your shares is to use click-to-tweet (tweetable) quotes.
Quotes alone are incredibly useful for your posts. They are prefect text-beakers and they add authority to your content.
Embed a couple of quotes by celebrities or by influencers in your niche into your articles and make them instantly tweetable with the Clicktotweet tool. Or if your website is powered by WordPress, you can use a plugin called TweetDis. It will create fabby quote boxes, which will be tweeted by your readers apart from the whole post.
Here is a fine example of a tweetable quote:
If you already like the idea, check out this post at BloggerJet, where the concept of tweetable quotes is explained in detail.
4. Be sure to use Your Social Meta Tags
Now almost all social networks provide an automatic preview of a shared link. And it's actually an awesome opportunity for you. People on social networks can see if the shared post is worth checking out already in their newsfeed. By default these previews use information from the page's metadata. And this may not be cool!
Metadata is usually targeted for search engines, not for people. If you let a social network generate a preview using its default settings, most likely you will end up with something dull and unengaging or sometimes even ugly. Which means you will not get any re-shares and click-throughs on social networks.
And what can you do about it?
Open Graph (OG) protocol technology comes to the rescue. The Open Graph protocol has been created to allow any web page to become a rich object on the social graph. That's exactly what you need.
Actually, you don't have to bother about Open Graph, if you use WordPress CMS to power up your website, because all you have to do is install WordPress SEO by Yoast plugin. It will take care of all the code generation and make your shares neat and attractive.
Take a look at this tweet
And now at this one
The second one's definitely more attractive.
5. Make Sure Your Readers Benefit from Sharing Your Content
First up, you have to understand why people share content on social networks. Most people don't care about you, your product or your content. They care about themselves. So when people share content, they give away something to build or sustain their authority in the eyes of their following;
What will my followers think about it?
Will it offer them some value?
What's their (and thus my) benefit?
These are the questions people ask themselves, deciding whether to share your piece or not.
Most users of social media networks are abnormally selective of their shares. That's why the most effective way to make your readers share your content is to write something that is truly valuable and has practical utility.
However, value is a strange beast and it differs, depending on your niche. Your job here is to work out what will bring value to your readers. Something funny maybe? Something feeling-appealing and dramatic? Practical advice or instructions?
Remember, you should write for your readers in the first place, not for yourself, not for Google. We all hate content that is nothing but a salesy self-promotion.
Final words
I'm sure these simple, yet very important tips will bring you tons of social shares. You just have to be consistent and keep them in mind every time you work on your new content.
I'm sure you've got something to add. Any objections? The comments are all yours! And don't forget to make a couple of social shares ;)
About Nick
Nick Churick is a copywriter as well as an experienced Content & Social Media marketer. Today he is a part of BloggerJet team, where he deals with challenging and exciting task of content management.
Bonus 33 Free Templates
Download the 33 free templates from Toby and Adam's book.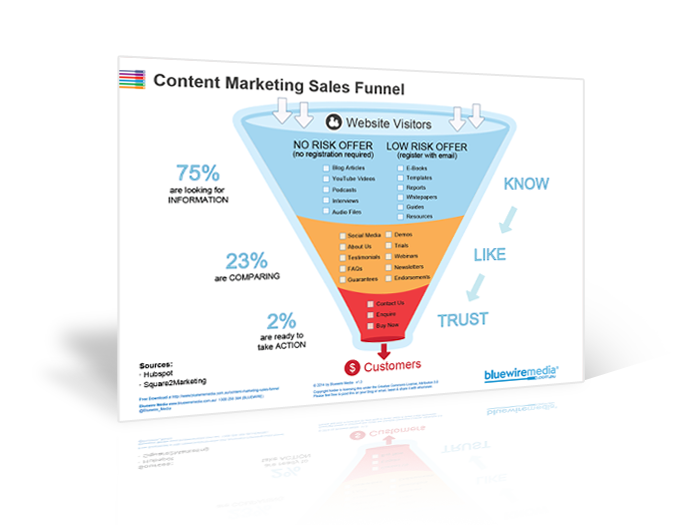 Content Marketing Sales Funnel
Your content marketing sales funnel is all about getting people to know, like and trust you by nurturing them with the right information at the right time.