5 Chinese Social Media Strategies To Win More Business
Social media has become one of the most powerful tools in China for brands to connect with the public and target customers.
Due to increasing competition and the fact that the Chinese have grown more accustomed to (and thus less impressed by traditional social media marketing) innovative strategies have become vital.
With over 550 million active users on 'WeChat' and over 500 million on 'Weibo' interesting marketing techniques can prove extremely fruitful.
Here are five innovative social media strategies that are proven to be successful in the mysterious orient.
1. Take Advantage of High-profile Incidents
Purposely made, overly constructed marketing campaigns have become less effective. In this overcrowded information age the Chinese population are over-whelmed by a plethora of eye-catching information. Taking advantage of high profile incidents in China and marketing a brand or product in line with these has been successful.
Jiayuan.com, China's largest matchmaking website, has led the wave: it's marketing content humorously referenced the break down of the relationship between 'Netease' and 'Momo' (two Chinese social, matchmaking apps) with illegal proceedings being held. It did this in order to highlight its own character – the top platform for helping you find true love.
This current, up to date approach successfully gained public recognition and stood out, it was shared millions of times on Weibo and Wechat.
2. Buzz-Making with Public Topics
A public topic is highly recognisable. If brands can work these diffusible topics into their marketing campaigns the effect is considerable.
The below campaign by Sunny Appliance Online references a series of famous comic strips in China, the original translation is  'Mom, please slap me again'. This controversial move led to a huge number of followers. The characters were selected from an old textbook which the post-80's generation were using when they were young.
Sunny Appliance subverted the original image by inserting their slogan 'A fool you will be if buying things without comparing', 'Sunny Appliance Online, the cheapest ever'. It even made an opposite version against their competitor TMALL in their iconic branding color.
This created a buzz for the brand and they gained many followers and sharers on different social media platforms; some users even adapted the image and shared their own versions, consumers directly interacted with the brand.
3. Consumer involvement
The 360 Mobile Assistant publically reviewed their new designs and asked for advice from top Chinese painters, this galvanized much support, they consulted consumers to help select a theme for the new mobile application.
To release this whole process of selection to the public, and highlight how much thought had been put into the design, was an intelligent way to market the product and gain public attention via social media. Users nowadays are interested in being involved in brand development and the decision making process. This more symbiotic relationship is a new and interesting development in China.
4. Being Vulgar Might Be Effective
The 'Haier' group in China is famous not only for its long history of producing quality appliance equipment, but also for creating a famous Chinese comic series. The comic series was very popular for post-80's children.
This generation has grown up in an interesting time in China's history where both economically and culturally the country has opened up to the rest of the world. The gradual acceptance of homosexuality (certainly in the more cosmopolitan, large urban centers) spiked interest in the male characters from the comics, it became quite a talking point because of their close relationship.
Haier indirectly promoted this hot topic in China by asking members of the public to design their new logo, cheeky variations of the original comic characters were put forward and widely disseminated on social media. The campaign went viral and the brand itself was a hot topic on social media.
5. Focus on Quality Events
The 'French Cellar', a new subscription platform and online store for French wines, has successfully grown their social media presence through quality events. They are giving wine tasting classes and holding events in Chinese and English.
The reputable sommelier 'Nicholas Rebut' selects the wines which instills trust in the brand. Customers at events are encouraged to scan the QR code to follow the official account. Likewise, followers online are invited to wine tasting events where they can sign up for a monthly fee and have selected French wines delivered.
The face to face, personal touch in China is very important and brands should ensure they are actively organising events where they can directly interact and build trust with the Chinese consumer.
Wrap
With such a huge potential market and an increasing reliance on social media for news and content in China (WeChat has become known as the 'WeChat Times') it is important to generate buzz on social networks as an integral part of a comprehensive digital strategy.
About Benji
Benji Lamb lives in Shanghai and specializes in digital marketing and social media. He is passionate about finding solutions for western brands looking to expand into China. For more information see his blog and website here.
Bonus 33 Free Templates
Download the 33 free templates from Toby and Adam's book.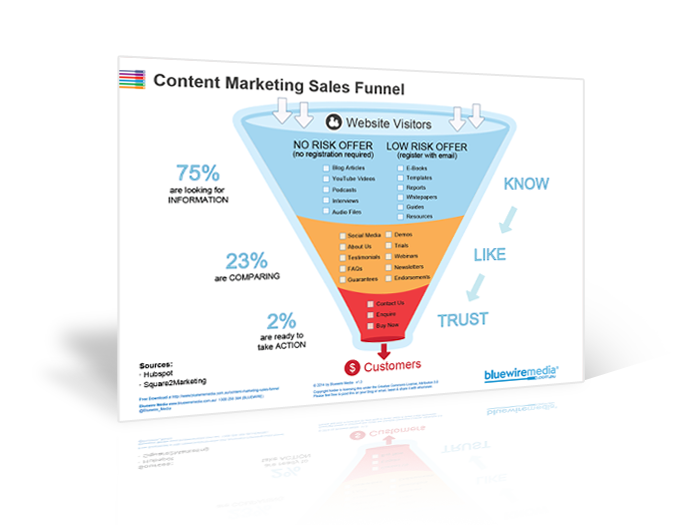 Content Marketing Sales Funnel
Your content marketing sales funnel is all about getting people to know, like and trust you by nurturing them with the right information at the right time.