5 Groovy Tactics That Will Save You Time Writing Blog Posts
This is a guest post  – Marc Guberti is a teenager entrepreneur, digital marketing expert, and author. He is the co-founder of Teenager Entrepreneur a movement that educates and empowers teens worldwide with the knowledge they need to become successful entrepreneurs.

Welcome Marc…
With a blog, you can grow your own audience and establish yourself as an expert within your niche. Some experts grew their audiences and primarily became successful because of their blogs.
When most people think about building a blogging empire, they think of the glorious results. Maybe you read through some of the case studies about bloggers making six figure incomes or going from no audience to hundreds of thousands of monthly visitors in a few years.
In the beginning of the blogging journey, it may be a hobby. When blogging transitions from hobby to business, it will suddenly take up more time. Different questions will pop up that impact your blogging strategy.
Here are some of the questions you may think about:
How should I optimize my content for the search engines?
What is the best path for my blog to take now?
Is blogging my brains out all there is to successful blogging?
The answer to the final question is no. Promoting your blog posts and getting the traffic is just as important (if not more important) than actually writing the blog posts. Then there's product creation and growing an email list.
But how do you leverage all of these wonderful opportunities and take your blog to the next level? The answer is to write valuable blog posts faster, so you have more time available.
Once you find the extra time, you can then repurpose that time to make a profit and grow your blog.
So how do we go about writing valuable blog posts faster to open up that time?
Follow these five groovy tactics:
1. Brain Dump As Many Blog Post Ideas As You Can
Thinking about what to write about takes more time than doing the actual writing. If I could write a blog post nonstop without thinking, then I would be done in five minutes. When we think about what we write about, more time gets added to the process.
In order to write valuable content, we must think about it first. Thinking will never be taken out of the writing process. However, spending too much time thinking and a small amount of time writing eventually leads to writer's block.
Too many people stare at the screen and try to think of blog post ideas on the fly. At this point, too much thinking combined with not enough writing makes blogging appear to be impossible. Staring at the screen does not work, but planning everything out in advance does work.
Once per month, I will conduct a brain dump and write down as many blog post ideas as I can think of. Since I only write 12 blog posts for my main blog per month, I must think of a minimum of 12 blog post ideas. However, I always think of extra blog post ideas in case one idea that I thought was awesome, turns out to be a dud when I start typing.
When the time comes to write blog posts, I no longer have to think about what blog post I should write. I have numerous ideas in front of me, and it's just a matter of choosing the best one.
2. Outline Your Blog Posts Before Writing Them
After I write all of the blog post ideas down, the next step is for me to outline those blog posts. Outlining a blog post means creating a simple plan that lets you know how to approach the blog post.
For this blog post you are reading now, it started as part of one of my brain dumps. I had the title, but just because I had the blog post's title did not mean I knew what the five groovy tactics would be.
If I waited to figure them out as I wrote the blog post, it would have been a disaster. I would have most likely thought of the five groovy tactics in the wrong order. When you think of methods in the wrong order, it is more difficult to create proper transitions from method to method.
It's hard to provide value in a blog post when you don't fully understand what type of value you are providing. Outlining your blog posts lets you know what type of value you are providing. When you start writing your blog post, your thinking process will be geared more towards "How do I make this more valuable" rather than "What am I going to write about?"
Outlining your blog posts doesn't require much time. It requires some thinking that will save you a massive amount of time in the long run. Here is all I did for outlining this blog post (you'll get a sneak peek on groovy tactics 3-5):
That outline turned into this blog post. It was all I needed. The important thing about this outline is that I knew exactly what I would write about before I actually started writing. Less thinking and more writing. I still spent more time thinking for this blog post than actually writing it, but not by much.
3. Take Notes On Articles And Books Related To Your Niche
The more knowledge you have about your niche, the more blog posts you can write. The most successful people in various niches have written well over 1,000 blog posts on their blogs. Look at Page 1 Google results. You'll see the blogs crowded with content well before you see the newer blogs.
Not only does learning more about your niche help out with quantity, but it also helps out with quality. Many conversations come up where a question of quality or quantity eventually gets asked. I'd like to have both, and I'm sure you do too. Writing thousands of valuable blog posts is a feat that you can pull off with the right knowledge.
I read many books and blog posts to acquire this much knowledge about digital marketing. Then I applied the methods. It's not like I (or any person with an abundance of knowledge in one area) came across a shooting star and then got the knowledge.
Tony Robbins said it best: "Leaders are readers".
4. Establish A Writing Pattern
At this point, you have the idea and the outline in front of you. You have enough knowledge to write a superb blog post about the topic. The final step is writing the blog post which is easier said than done.
But it's not writing the blog post that is so hard. It's the thinking and editing that accompany the whole process. The first two groovy tactics reduced the amount of thinking time. The third groovy tactic allows you to obtain more knowledge. The more knowledge you obtain and retain, the easier it is for you to recall certain knowledge when you need it.
Now we reduce the thinking even more by enforcing certain rules into our writing. These rules form a writing pattern.
What writing rules do I enforce on myself?
I'll take the detective play out of the equation and tell you:
No paragraph can be more than five lines long. The longer the paragraph, the harder it is to read.
Pictures get added after the writing. When writing the draft of this blog post, I put "[IMAGE]" in parts of the blog post where I want to add images. I added all of the images to this blog post before it got published.
I always end with a conclusion. Many of the recent blog posts on my blog have conclusions that encourage discussion and they read very similarly.
If you spend time thinking about how you will write your content, format the content, font size, or anything like that, you are wasting precious time. Establish the rules that will form your writing pattern now. A pattern creates and makes consistency easier to maintain. It also takes time out of the writing process.
5. Turn Writing Blog Posts Into A Daily Ritual
Sports analogies are my favorite analogies of all. It only makes sense for me to give one now.
Let's say LeBron James and I take 500 free throws together. He makes most of them and I barely make any of them. All of my years of running didn't prepare me for shooting free throws.
Why does LeBron James make so many free throws and I don't make nearly as many. It's easy to say something like "LeBron is LeBron" and end the conversation there. It's just as easy to say something like "J.K. Rowling is J.K. Rowling."
But there was a point when LeBron James wasn't a good basketball player. There was a time when J.K. Rowling wasn't a good writer. But LeBron practiced shooting every day and J.K. Rowling practiced writing every day.
After practicing every day for many years, LeBron can now effortlessly make the most challenging shots and J.K. Rowling penned the Harry Potter series.
To write valuable blog posts, writing blog posts must eventually become effortless. I don't have the sentences in front of me, but after a lot of practice, it does not take much thought to write sentences that go well with the blog post.
This is why you must write blog posts every day. Think about writing on a piece of paper. It's something we don't think about. We don't think about the proper way to hold a pen or pencil. After practicing every day for so many years, it has become habitual.
If someone asked me to play the guitar (I have close to no experience), I would look down and slowly play the notes. If someone asked me to write on a piece of paper, I don't think about how I am going to write on the piece of paper. I know how to pick up the pen, hold it properly, and start writing.
If writing blog posts becomes as habitual as picking up a pen and writing with it, then writing valuable content in a time efficient matter will also become habitual.
In Conclusion
The reason writing blog posts takes so much time isn't because of the writing part. Yes, it takes time to write the blog post, but the time we spend thinking and editing usually take up more time than the actual writing.
Removing or greatly reducing those parts of the writing process will allow you to write more valuable blog posts in a shorter amount of time.
How do you shave off time in your writing process?
Which of these groovy tactics resonated with you the most?
Sound off in the comments section below!
About Marc
Marc Guberti is a teenager entrepreneur, digital marketing expert, and author. He is the co-founder of Teenager Entrepreneur  a movement that educates and empowers teens worldwide with the knowledge they need to become successful entrepreneurs.
Bonus 33 Free Templates
Download the 33 free templates from Toby and Adam's book.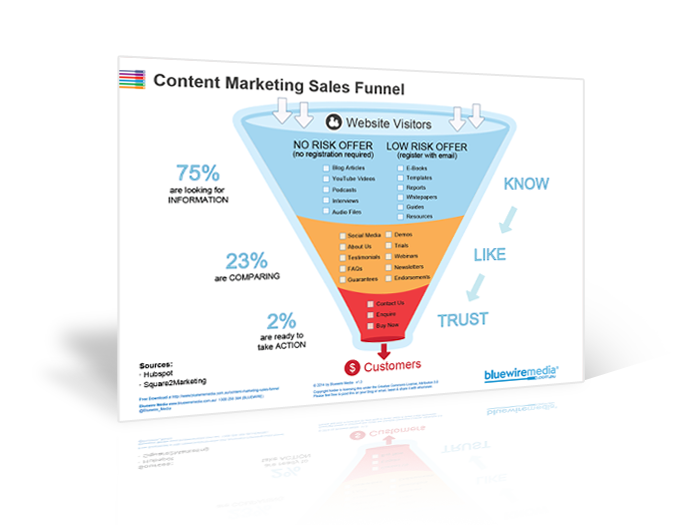 Content Marketing Sales Funnel
Your content marketing sales funnel is all about getting people to know, like and trust you by nurturing them with the right information at the right time.