5 Quick Tips For Getting The Most Out Of An Email Campaign
This is a guest post – Bhav Seera has been working with London Management Centre since October 2015 and is a young aspiring digital marketer who is still eager to master the field. London Management Centre offers corporate training courses in London and Dubai in many areas, specialising in soft skills such as leadership, management, HR, PR, etc.
Welcome Bhav…
Email marketing still plays a vital role in any digital marketing strategy…
Why? Because it is effective (and easier than most other mediums) to communicate with a mass audience over email.
However, simply just sending broadcast emails alone with no planning or strategic thought will not produce the leads or sales you're looking for.
Some people have a marketing degree, have attended marketing training courses or just have experience in the field and already know what it takes to create a successful email marketing campaign. But many people forget to stick to the simple rules of how to make a great campaign.
This article will unpack 5 quick fire tips for getting the most out of your next email campaign.
1. Have a strong email marketing list
The foundation of email marketing is to have a strong database of potential clients that are actually interested in what you are sending out. Every company will have a varying audience, it is up to you to ensure that you are currently catering to the audience you have. Your database should be constantly updated with the latest information you have on each person.
With this data you will be able to see what general "field" your clientele operate in, and more easily cater to them because you will see their interests and identify possible problems such as language barriers.
Having an email marketing software that has good organisation abilities, will make it easier to manage contacts because you can easily modify details, group contacts and much more.
2. Optimise for different platforms
The platform and browser that people open your emails in is a key factor to the success of your campaign, because each one will display the email differently.
When preparing an email, it may look perfect on your operating system but you have to take into account how it will look on mobile devices, both horizontally and vertically and different browsers such as Internet Explorer, Firefox or Google Chrome may display the resolutions differently.
Most email software that has templates will allow you to preview how the marketing campaign will look on mobile phones, but ensure you have checked what it will look like on different browsers too.
The picture above shows Mailchimps preview option of how the email will look in a browser and on a mobile device.
3. Track Your email campaigns and analyse
Tracking your campaigns is great to gain insight into what the bounce rate is, the open rate and what features of the emails your recipients are finding the most interesting. This data is crucial because you can identify problems with your campaigns and rectify them.
If you haven't heard of A/B testing, it is vital to use because with it, you can send out campaigns and test different subject lines, images and layouts and establish which one of these performs better.
A/B testing works by having one campaign split into 2 different variations, the goal is to see which one will have the better open rate, lower bounce rate and other statistics. The database of people you will be emailing will then be split into 2. One half of that will again be split into 2, and they will be labelled A/B. Once everything has been split up, you send one of the emails that you prepared to A and the other one will be sent to B. This means that A and B will be sent different emails of the same campaign. Once the data has come regarding what works better, you can apply that and send the revised email to the rest of the database.
This diagram below explains A/B testing.
4. Nail your presentation
Presentation plays a huge part in how an email will perform, it has to look pleasing to the eye while also containing the relevant information needed.
The goal is to capture and retain attention, the email has to essentially be worthy of your readers time. The reality is that most people first see the subject of the email and decide to open it or not, if they opened it, congratulations! The next thing the recipient will see is the body of the email and this is where they will most likely scan the email to decide whether to read it in full. Understanding this will help you create an email that will have the ability to keep a readers attention, provide the needed information and contain a call-to-action.
It's up to you on how you create your email templates, whether they are provided by the email marketing software or you can choose to create it from scratch. Either method is suitable but ensure that the finished design is:
1. Easy to read
An important rule to follow with email marketing is simply "get to the point". Nobody likes to read a wall of text or just a bunch of gibberish, keep it short, sweet and to the point to avoid people being put off. It is possible to cut text down while still conveying the same message as it did before.
This also means that you should avoid having a large quantity of text, pictures and links littered in the email because it may get to the point where there is simply too much going on, and people won't take action.
2. Looks professional and fits your brand image
Consistency is key and should run throughout the entirety of your organisation, the standards you set for your products or services should also be in your emails too. Use your brand images, colours and theme, this will make sure you are represented clearly and professionally within the email.
5. Time your email campaigns
The time you decide to send out your emails also has a significant effect on the results you may be receiving. Of course it depends on your business and what type of audience you are reaching.
If you are marketing to businesses, it is a general rule of thumb to avoid sending emails on the weekend because it is out of office hours and they aren't as likely to be opened. As a result of this, Monday wouldn't be the best time to send them either because those "Monday morning blues" may affect people's mood and may cloud their judgement.
A study from WordStream says their data found that the best time to send out emails is on Thursdays 8-9am, while the worst time to send emails is Tuesday and Wednesday 8-10am.
Conclusion
If you do decide to stick with email campaigns, they can be very rewarding and still very integral to the growth of your business. The major lesson to be taken from this article is to always put yourself in the recipient's shoes because they are the ones who will be reading the emails you send out, so you must think whether they will read the email and buy into your campaign.
A key fact to remember is that the email itself is only half of the picture, a successful email marketing campaign is a combination of a strategic marketing plan, targeted audience, content and presentation. Analytics is also the best way to retrieve feedback from what you have sent out already and provides possible improvements that can be made to increase the results of future campaigns.
About Bhav
Bhav Seera has been working with London Management Centre since October 2015 and is a young aspiring digital marketer who is still eager to master the field. London Management Centre offers corporate training courses in London and Dubai in many areas, specialising in soft skills such as leadership, management, HR, PR, etc.
Bonus 33 Free Templates
Download the 33 free templates from Toby and Adam's book.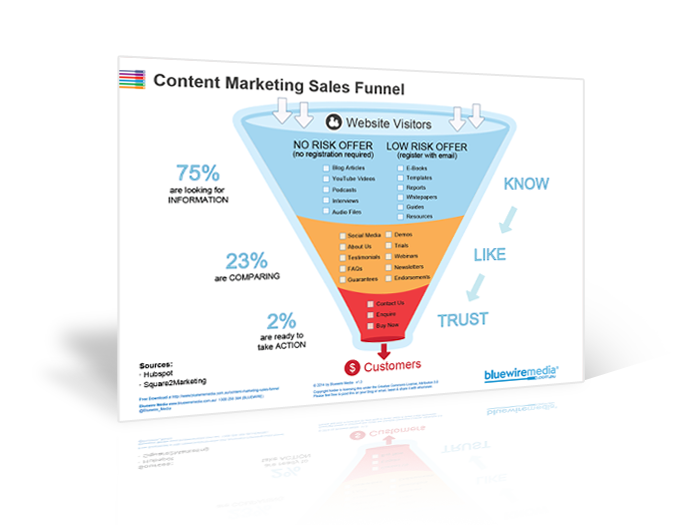 Content Marketing Sales Funnel
Your content marketing sales funnel is all about getting people to know, like and trust you by nurturing them with the right information at the right time.