5 Social Media Marketing Tricks to Earn Millennials' Loyalty
Updated on December 24th, 2016
What is so special about millennials that marketers are building entire strategies for this target audience?
A 2015 report by the United States Census Bureau and the Pew Research Center revealed that millennials out number other generations, with 75.4 million people aged 18-34 compared to 74.5 million baby boomers and 66 million in Generation X.
This generation holds enormous opportunities for marketers: It's estimated that millennials' purchasing power will grow up to $200 billion by 2017.
Many marketing pros know that you can reach this generation through social media, but to earn millennials' loyalty, you must engage in effective conversations.
Here are five ways to do so:
1. Strive For Top Brand Traits
What brand attributes entice a millennial consumer? The global research of Initiative – which studied 10,000 consumers ages 25-34 in 19 countries – reported that trustworthiness, creativeness and intelligence are top core-brand traits that attract younger consumers.
Here are other preferred brand characteristics:
It can take a lot to convince a millennial consumer that your brand matches his or her expectations. Generation Y tends to be skeptical to all new brand promises about "the top quality of the best product ever". They've already made a list of reliable brands and are finicky to other companies, their products, and services. Besides, millennials aren't lazy to conduct tests on a new chosen brand and they can easily share reviews, positive or negative, on their social media profiles. So, the quality is the first crucial component to earn Gen Y's loyalty and it's worth revising your own brand attributes.
What differentiates the millennial generation is that they like to share their experience from interacting with your brand. Gen Y customers can draw attention to the quality of your products or services. They also become a contributor to your brand's development. Even if a millennial didn't like the quality of your product, it can become a marketing trick reacting on the bad feedback of a consumer. You can promise to make significant changes and actually upgrade your products or services to meet your consumers' expectations.
Be careful and do not promise a millennial quality attributes that your brand doesn't possess, because it will be forever banned by all millennials' friends too.
2. Give Millennials Freedom to Develop Your Brand
Gen Y customers are so special because they want to interact with your brand. They are socially active and freedom-minded. If you want to connect with them, allow them to feel this freedom. Change your marketing strategy in such a way that you could involve millennials into your brand's development. And by this I mean not only reviews on your services and products but complete freedom to alter your brand within their own personalities.
A good example would be Nike's customized option which has an alluring slogan for a millennial – "This time it's personal".
3. Surprise Them with New Experiences
Dove's beauty sketches is an excellent example of experience marketing, in which real people are involved in an experiment, instead of traditional brand advertising.
The effort aims to deliver the woman's false self-description. The brand has engaged real people with the same underestimation of their appearance. This is the way it emotionally connects with women disclosing their feelings and reflecting them to viewers. As you can see, to attract new customers through experience marketing tools you need to have a certain idea behind an engaging experiment.
Here are more examples from well-known brands that learnt how to create an emotional connection with a millennial customer through experience marketing channels.
4. Provide Them With Targeted Content
More than a half of millennials are willing to check paid-for online content but on one condition – they must get interesting and helpful information.
In the chart below, you can see the results of Adyoulike's study which shows that the UK millennials aged 18-33 do not care about the type of sponsored content if it's relevant to their search requests and needs. You can also see what type of content Gen Y customers expect from your service. This would be a good prompt for your content marketing strategy.
Therefore, if you want to earn the loyalty of Gen Y through social networks, try hard to develop targeted content. It can be entertaining, educational, informative or any other type but it should fit their preferences. Feed your millennials with appropriate content and you'll soon have their friends joining the party.
5. Display Your Brand's Social Responsibility
Gen Y differs from other generations with its genuine responsibility and involvement in the hot social issues of their country and around the globe. More and more people donate their money to those misfortunate families they've never met and encourage others to join their #I do care campaign. That is why if a brand wants to earn a millennial's loyalty, they need to think and act the same.
In 2015, social responsibility takes the fourth place among other features surveyed as the most important matters for millennials.
This strong 40% of positive responses proves how much millennials care about social issues. Thus, if you want to fit the millennial's mode of thinking, make your brand socially active and responsible.
How are you targeting millennials with your brand?
About Veronica
Veronica Hunt is an edtech expert and an experienced content marketer from Philadelphia, PA. As a blogger, she sees her purpose in providing her readers with up-to-date info in the spheres of marketing, entrepreneurship and psychology. Currently, works for StudentShare as a content manager. Apart from work, she adores traveling and yoga. Follow @VeronicaHuntt or find her on Facebook.
Bonus 33 Free Templates
Download the 33 free templates from Toby and Adam's book.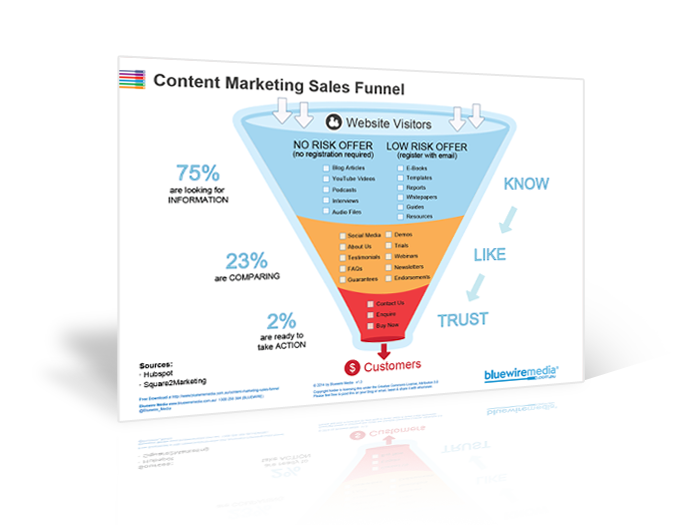 Content Marketing Sales Funnel
Your content marketing sales funnel is all about getting people to know, like and trust you by nurturing them with the right information at the right time.