5 Tactics You Should Be Using Instead of A/B Testing
This is a guest post  – Devesh Khanal is a conversion optimization consultant. He and his team focus on growing email lists and A/B testing high traffic pages. He writes about his successes and failures at DeveshDesign.com.
Welcome Devesh…
Here's some irony for you:
I A/B test websites for a living, but I'm about to tell you NOT to do it.
No it's not because I don't want competition. It's because most online businesses don't have the traffic and sales necessary to make it worthwhile (yet).
So what should you do instead?
I'm going to answer that in this post with 6 incredibly detailed, step-by-step strategies that will help you get customers and grow revenue.
Even if you don't have tons of web traffic.
And even if you're not technical.
These strategies will help you get:
More traffic (top of the funnel)
More leads and emails (middle of the funnel)
More direct sales (bottom of the funnel)
Let's get started.
1. Use over the top cold email pitches to get your first few customers
This is one of my absolute favourite techniques for kickstarting customer acquisition and initial revenue.
It works best for service based businesses (content marketing, graphic design, web design, copywriting, etc.), and it works really well at the early stages of a business when you're testing a new idea and want to get your first few customers.
But, don't get me wrong, direct outreach sales like this can scale to larger levels (Don't believe me? Ask any number of major corporations with a 100+ person inside sales teams).
In fact, this is the exact technique I used to grow my conversion optimization business from nothing, to a full time, six figure business in a few of months and get contracts from various busy people.
Here's how it works.
Step 1: Identify 10 – 20 business owners that could use your services.
Where do you find them? Here are a few strategies:
Look through your own Twitter favorites or the account of someone active in your industry.
For example, when I was looking for bloggers that could use my A/B testing service, I just combed through Twitter favorites of my friend Bryan Harris, because I know he follows a ton of successful bloggers and favorites tweets all the time.
Pro Tip: Using your own favorites will help a ton when it comes to actually making your pitch.
Comb through the companies that you already get marketing from.
Simply search your inbox for "unsubscribe" and you should get a huge list of companies that send you email.
If you can find a handful of them that you can pitch your product or service to, you're in great shape, because you're already a customer or subscriber. This will let you make a super personalized pitch for step 3.
Step 2: Find their email
Use email permutator to find the email address of a person in each company from Step 1 that has the power to hire you. If you're pitching small businesses, this is the owner.
Step 3: Send them the over the top cold pitch with free ideas or work done for them
This is where the magic happens.
Most people send cold pitches that fail because…well…they are pitches. They're asking a busy person for something, and busy people don't need more emails asking them for things.
So when you send an email giving them something, you immediately stand out.
Here is what I did: Instead of emailing prospects and asking them to hire me to optimise their websites, I recorded a 5 minute screencast breaking down exactly what they should A/B test and just giving them that advice.
I sent it in an email just like this:
Here's the response I got:
Pro Tip: Make sure your subject lines are on point to get more opens on these emails.
The best part about this technique is that it skips all the middle steps, no SEO, no list building, no Facebook ads, no landing pages – it just connects you and the customer right away.
2. Check for holes in your conversion rate in analytics
I've analyzed a lot of sites, and there's one thing they have in common: Almost all of them have some conversion drops that are hiding in analytics.
You just have to know how to find them.
For example, an ecommerce product page may have a browser bug in internet explorer that's causing those users to convert 25% less than everyone else. Fix the bug and, boom, 25% more sales from that segment.
Let's look at how to systematically find these conversion holes:
Step 1: Identify one conversion funnel at a time
The last thing you want to do is just go clicking around Google Analytics like a wandering salesman.
Instead, identify a few conversion funnels through your site that you know are important to your business.
For example an ecommerce site may have a funnel like:
PPC > Product Page > Checkout Page > Success Page
Or most SaaS businesses have a simple funnel similar to:
Homepage > Signup page > Success Page
Those simple funnels are fine – resist the urge to get more complicated.
Step 2: Set up Goals in Google Analytics
Go to conversions, goals, and overview and follow instructions to set up your first goal:
One of the easiest ways to set up goals is simply to use a success page as a destination goal:
For a short video of me setting up a goal in Google Analytics, checkout the bonus at the end of the article.
Step 3: Let Google Analytics measure goal conversions for a while
Let enough time pass until you have at least a couple hundred conversions. If you only have a handful of conversions, it will be hard to tell whether differences between segments is due to random statistical fluctuations or not.
If you don't have enough traffic for this many conversions, focus on traffic building techniques first.
Step 4: Use Google Analytics segments to look for conversion rate differences
First, see your conversion rates by landing page by going to Behavior > Site Content > Landing Pages:
You'll see a list of your landing pages and conversion rates for each.
Then look for conversion rates across different segments by clicking "Choose segment from list" and picking segments to compare against your site average or each other.
Here are some common segments to test:
Device type: mobile, tablet, desktop
Browser type: Check all browsers, browser bugs are very common.
Geography: Are there certain areas that are getting a ton of traffic but not converting well? That could indicate an opportunity to do some language/content specification to increase conversion rates.
When you see a significant difference between two segments, jot it down. But, make sure each segment has at least 50 – 100 conversions before drawing any conclusions. Any less than that, and you run the risk of over interpreting statistical noise.
For example, this content site had a significant difference in email opt-in rates between mobile traffic and all traffic:
The difference was hundreds of conversion events per month, so very significant, and it allowed us to look into which opt-in forms were active on mobile as well as desktop, knowing it was an easy win.
3. Write content that's already proven to get social shares and backlinks instead of just guessing
I've exchanged emails with so many people who say they have a site with a ton of content, a blog with a ton of posts, but they aren't getting enough traffic, and their posts aren't getting comments or social love.
There's such an easy fix for this but so few bloggers use it:
Write content that is already proven to succeed.
Instead of wracking your brain trying to come up with new ideas, simply use the strategies below to find topics and ideas that you know people are already sharing, linking to, and asking about.
Here is the process in 2 steps:
Step 1: Find proven content topics
Here are 3 ways to do this:
Use Buzzsumo to search for articles, graphics, and videos that people love to share.
Go to Buzzsumo and type in your subject:

And they'll spit out a list of articles, ranked in order of most social shares, on that subject. Often, though that will give you a very general list of articles.
To narrow it down, find a few subtopics that you can search further for:
Now you have a specific list of articles that are proven to get shares and traction.
Use Google to see what is ranking in the top 2 pages
If something is in the top 2 pages, it generally means it's getting backlinks. So people are interested in linking to that type of content.
Check out the comment section of posts from Buzzsumo and Google and see what questions people are asking.
Comments on popular articles are a gold mine of content topics. First, you already know that the general subject is something people like to share and/or link to. Second, you're now seeing what readers of that article want to know more about.
For example, here was a gem of a comment on a popular post about a wedding planning cheat sheet:
If you were in this niche, a wedding planning checklist and script would be a blog post topic that you know has interest.
Step 2: Expand on that content to make it even better
Do not think to yourself "Oh, someone already wrote about this, so I can't write something unique".
That's. Not. True.
You can almost always expand on a subject to make an article that's even better.
Here are two examples:
Example 1: Brian Dean
Brian Dean an expert in the SEO space, found that articles on Google's ranking factors were getting tons of links, but were horribly outdated, poorly designed, and not complete: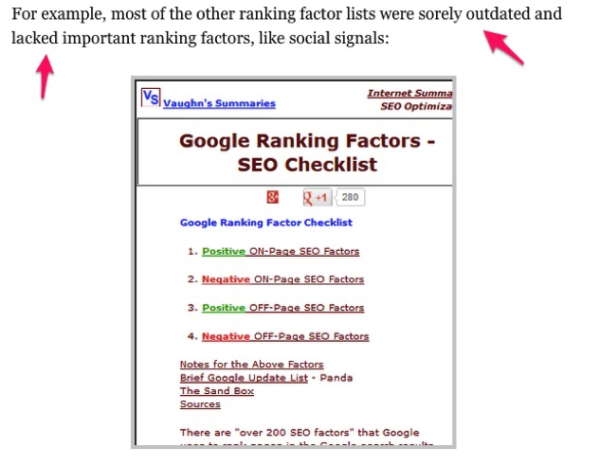 So he made an updated, modern version with more factors than anyone had published at the time, and it got enough traction to reach #1 for that term on Google (ahead of some SEO powerhouses like Moz and Searchmetrics):
Example 2: Neil Patel
Neil Patel, on his blog Quicksprout, has many guides that he links to in his sidebar:
But these aren't just regular posts. They are massive, well-formatted, multi-chapter guides. Neil often partners with other marketers to create them, and has said it costs him thousands of dollars to produce.
And when you search for a term like "copywriting guide", he owns the first two spots, ahead of sites like Copyblogger:
But you don't have to spend thousands to create premier content, you can simply put time and effort into standout pieces of content that will get you far more traction, shares, and links than another 700 word fluff post.
4. Use email outreach to promote key content
Another common complaint I hear a lot is along the lines of:
"I have great content but no one knows it exists!"
I've even talked to folks trying to build traffic from scratch that are ready to start paying to promote posts on Facebook. That's fine if you have deep pockets, but it's entirely unnecessary.
Direct email outreach to people that have already shown they like to share and link to content similar to yours is such a great way to promote your content – I'm surprised more bloggers don't use it.
Here are two successful bloggers that use direct email outreach to promote blog posts.
Email Outreach Example: Brian Dean, Backlinko
Brian Dean, from Backlinko, was able to grow his organic traffic by 110% in 14 days by using the Skyscraper Technique:
Which involves email outreach as the key step in the entire process:
He was able to get 17 backlinks from sending 160 emails.
Example 2: ContentMarketer.io
Sujan Patel of ContentMarketer.io wrote what he himself admitted was a bad post on SEO resources, but got 645 shares and over 10,000 pageviews from it simply by reaching out to the 17 bloggers he mentioned in the post.
The posts above have various email templates you can use, but how do you find the email addresses of these bloggers to reach out to?
You can do this with tools like email permutator, or by hiring someone on Upwork or an equivalent outsourcing site (typically $0.10 – $0.40 per email).
You can send a bunch of customized emails quickly in Gmail by using Mailmerge.
5. Use content upgrades instead of a generic giveaways to increase conversions
We've now covered how to find proven content that you know will get shares and likes, and how to get traffic through direct email outreach.
But traffic to content isn't useful unless you can get a good chunk of it to convert (sign up, buy, etc.).
A great conversion goal for traffic to content is to get them to opt-in to your email list, and the most effective way to do that for single blog posts is by using a content upgrade.
Here's how it works:
Step 1 – Come up with upgrade ideas
When you're done writing your post, think of a couple of useful additional pieces of information you could give readers that will help them:
Easily refer to your advice later
Get additional information
Start taking the very first step to implementing your advice.
Step 2: Turn one of those ideas into a downloadable bonus
This doesn't need to be elaborate or take long. For example, turning a good how-to style post into a checklist for reference is a simple process that can add a ton of value to readers.
Or, simply give them a list of immediate first steps they can take to get started in implementing the advice in your post.
Here's an example of a content upgrade from Noah Kagan, of Okdork.com on a post about LinkedIn marketing:
When people click on the bonus graphic, they get a popup that asks them to opt-in to get the bonus.
Or rounding up a few additional links that can let them dive deeper can add serious value without taking a ton of your time. The links don't have to be of your material, either.
For example, in the bonus for this post, I've included:
My favorite articles on content upgrades, including one that shows a bunch of additional examples of bonuses you can make
A PowerPoint based checklist template that you can use to quickly make checklists of your posts as content upgrades
A link to my video showing how to set up Google Analytics goals
A multi-page guide with over the top email pitch ideas for 5 different services to give you ideas for the first strategy in this article.
You can get all of those bonuses, for free, here.
About Devesh
Devesh Khanal is a conversion optimization consultant. He and his team focus on growing email lists and A/B testing high traffic pages. He writes about his successes and failures at DeveshDesign.com.
Bonus 33 Free Templates
Download the 33 free templates from Toby and Adam's book.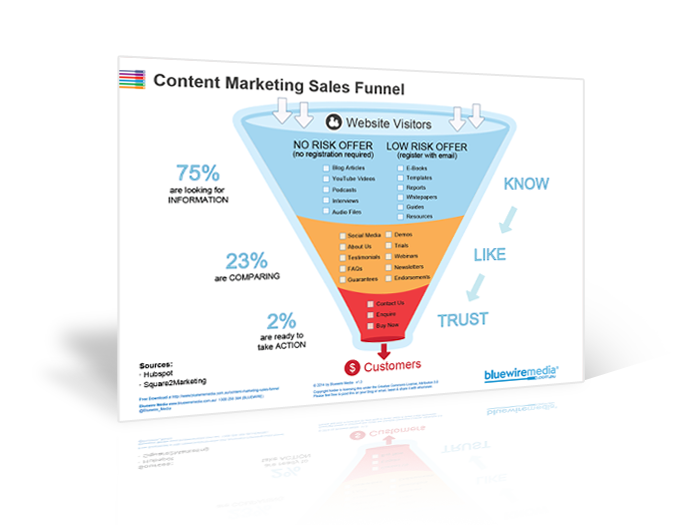 Content Marketing Sales Funnel
Your content marketing sales funnel is all about getting people to know, like and trust you by nurturing them with the right information at the right time.