6 Essential Habits Of Wildly Successful Intrapreneurs
In the world of business, intrapreneurship is the new black. But just what is an intrapreneur – and how do you know if you are one?
Put simply, intrapraneurs are employees with the drive, innovation, self-confidence and creative, problem-solving approaches more commonly associated with entrepreneurs. Rather than operating in new-fangled disruptive start-ups they founded themselves, however, intrapreneurs function within an established corporation, innovating from the bottom up.
Are you an intrapreneur?
It's this simple: do you have a burning passion to solve problems within the business you work for through innovation?
See where you fit into the entrepreneur vs. entrepreneur vs. employee spectrum, and check out our five essential habits of effective intrapreneurs.
1. Honing time management
Whether self-employed or an employee, working for a start-up or an established firm, one of the most basic, non-negotiable traits that entrepreneurs and intrapreneurs share in common is productivity. If anything, maintaining an impressive level of productivity is even more key to intrapreneurs who tend to work with relatively less autonomy since they are answerable to superiors.
This is where effective time management comes in. Successful intrapreneurs use daily action plans, complete with three to five top priorities – the most important or dreaded of which they typically complete first, a habit that some productivity experts refer to as 'eating a live frog'. Unsavoury name aside, this daily habit ensures that intrapreneurs tackle their major tasks head-on first thing in the morning when their brainpower is at its peak, which prevents them from consistently overthinking and delaying these less appealing tasks, or distracting themselves with non-essential 'busy work'.
Additionally, they know to break down their workday into chunks to maintain a steady momentum and make projects more achievable. One popular method for this is the Pomodoro technique, in which you take regular mental time-outs: a five-minute break for every 25 minutes of work.
2. Creative brainstorming
Creativity, paired with problem-solving skills, is a must for self-respecting intrapreneurs and entrepreneurs alike.
Unlike entrepeneurs, who are known for coming up with a great idea for a business, product or service to introduce to the market, intrapreneurs' creativity is a vital asset for business expansion rather than formation.
By coming up with novel solutions for existing firms, intrapreneurs help open up new revenue streams, identify market opportunities, cut costs, and generally boost innovation in the long run.
Image Source: Pexels
So how does one go about fostering creativity in their daily working life?
Simply set aside regular time for brainstorming, mind-mapping, talking through ideas with co-workers – whatever works for you. What's important is not the precise method you use to boost creativity but rather that you continually schedule a block of time in your weekly routine to get the creative juices flowing and play around with new ideas and approaches.
But coming up with an innovative new idea is just the beginning: successful intrapreneurs are equally excited by the chance to follow through and pursue it further.
One famous example is Google's policy of enabling and encouraging their employees to spend 20 per cent of their time experimenting with new ideas and side projects. To ordinary employees and employers this may seem wasteful, but in fact this very policy led to the launch of lucrative Google assets like Gmail and Google Earth!
3. Keeping up to date with new developments
Although intrapreneurs are, by definition, not the founders of their organisation, that doesn't mean they don't know how to show initiative. Successful intrapreneurs are consistently informed about what's going on in their industry – and even associated or peripheral industries that may present exciting business opportunities for cross-pollination later down the track.
Keeping up to date with the latest technologies, developments and approaches in their field is essential for bringing the entrepreneurial spirit to the workplace. This means attending industry events, reading any trade publications or even academic journals, and following thought leaders in the field. After all, maintaining a rich, steady input of knowledge and information over time will naturally improve the quality of output in terms of work and ideas.
4. Embracing collaboration
Teamwork is a fundamental skill for intrapreneurs operating within the traditional corporate environment; few assets are more powerful in any line of work than close, trustful relationships with key contacts.
But thriving intrapreneurs know that it's about building relationships both within and between businesses. In theory, this seems obvious but implementing it in practice can be time-consuming, challenging yet ultimately rewarding.
Spending time bonding with colleagues during and after work, investing in relationships with customers or clients by getting to know them, and treating every person – from couriers to CEOs – with the same level of friendliness and respect will go a long way in helping to cement positive relationships and garner contacts.
When meeting new people, smile and mean it: you never know who can help you later on – and, equally importantly, whom you can help.
5. Seeking constructive criticism
It's one thing to foster positive engagement with those in your workplace during times of personal and organisational success; keeping up these friendly yet professional relationships throughout the troughs, plateaus and even downturns is more challenging.
But every focused intrapreneur knows that these difficult or less successful periods are perhaps even more critical for not only their career but their company's fortunes overall.
For the sake of both personal growth and their organisation's success, intrapreneurs will not only appreciate and take onboard constructive criticism from their superiors and colleagues, but go the extra mile and actively seek it out. However harsh it may be to hear which areas of your work need improvement, soliciting and acting on feedback is an essential ingredient in the recipe of self-improvement, so vital to intrapreneurial success.
6. Leading a healthy lifestyle
Last but not least, sustained success in business – whether as an intrapreneur or entrepreneur – requires a healthy lifestyle. Enjoying a nutritious diet, rich in superfoods, and an active exercise regime, will pay dividends in helping you to maintain productivity over time.
Image Source: Pexels
Another crucial part of maintaining optimum health, that many businesspeople have only recently started to appreciate, is the importance of getting a good night's sleep.
Improving your sleep hygiene and getting more shut-eye each night can not only boost your confidence but also help improve your judgement, morale and work performance. Gone are the days where lack of sleep was seen as an indicator of busyness and, as such, success; a healthy sleeping routine is non-negotiable for our health, happiness and productivity alike.
About Anthony
Anthony Pistolese is a foodie, father of four and orthodontist at Inner West Orthodontics who is passionate about helping people forge healthy, successful lifestyles.
Bonus 33 Free Templates
Download the 33 free templates from Toby and Adam's book.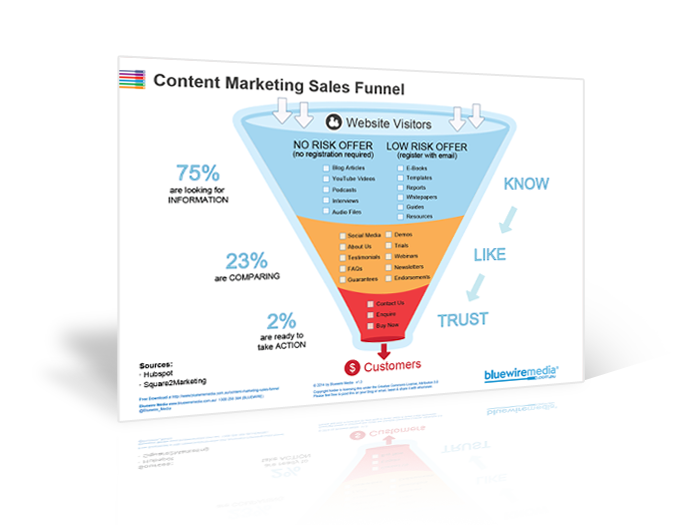 Content Marketing Sales Funnel
Your content marketing sales funnel is all about getting people to know, like and trust you by nurturing them with the right information at the right time.