7 Brilliant Ways that Make Email Marketing Effective
If you're thinking – who reads emails today? According to recent metrics, the average open rate is between 20-30%. Almost everybody has an email account and most of us check our inbox once a day. With those numbers, you may rethink your beliefs about email marketing.
There's no doubt that email marketing is still one of the most affordable and cost-effective marketing strategies even for a small online store. It is one of the pillars of digital marketing Compared to other marketing forms out there like social media marketing and pay-per-click ads, it still beats others as it can reach customers directly.
Email marketing can directly influence people to your offer and convert them into customers. Its genius lies in its simplicity, you only need an email account, a good copy, and an email responder to automate your outreach. With automation, it just takes seconds to send numerous emails but you can also set it to the best time of day to send for an effective open rate.
Here is a list of the ways that makes email marketing an effective strategy for your business:
1. Better than social media or ads in getting you more customers
Though social media may give your brand an immediate popularity boost and give you the opportunity to interact with your audience, email marketing is still superior in terms of customer acquisition and retention. Some people don't want ads and they stay away from ads. They may be open to more subtle email marketing campaigns and communication.
(source: https://pixabay.com/)
2. It allows you to reach out to more people at the same time and free up some of your time
It has a considerable reach comparable to social media. You just need to click send on your email to reach hundreds or even thousands of your subscribers. You also have the option of personalizing your messages. People like reading their names, it's human nature to love their name.
3. You're not at the mercy of algorithms, rules, and policies
You practically enjoy more freedom with your words and your emails reach all your intended recipients regardless without having to comply with changing algorithms that rule other digital marketing strategies that Facebook, LinkedIn, and Instagram. Your subscribers will immediately see your email and have the option to read it or not.
(source: https://pixabay.com/)
Compare that to Facebook, where you have to get a number of likes, comments, or shares for your post to be visible. You always need to be at the top of the heap. If your followers fail to read your content immediately, your post will be snowed-under by the dozens or hundreds of more recent posts from other marketers.
4. Cost-effective sales strategy
According to Campaign Monitor, email marketing can generate a profit of $44 for every dollar invested. Compare that to other marketing tactics, this almost costs nothing.
You will be able to increase your sales by sending your customers advanced product offers. You'll also likely make them repeat customers as it is easier to sell to someone who already bought from you.
5. It is a powerful way to advertise products and services
With an email list that's targeted to a specific audience, you can reach those customers at a faster rate and create for them a campaign that can effectively market your products to lead them to make a purchase.
You have a choice to further segment your email list that already has a genuine interest in your brand, track their behavior and send them an effective and a/b tested campaign at the right time for better conversion.
6. Email marketing is measurable
It's probably one of the most measurable marketing strategies out there. If you want a campaign to be successful, you have to continuously monitor your campaigns regularly. When you use email tracking tools, it is easy to see who has opened your emails, how well the email campaign is performing or, when someone makes a purchase. With this information, you can assess and improve on your strategy. Having detailed insights can help you reach that ideal ratio of $44 for every $1 spent.
(source: https://pixabay.com/)
7. You'll be able to build your brand through value content and repeat contact with subscribers
You can speak directly to your target audience. They'll receive information that is tailor-fit for them. For it to be an effective campaign, you have to continually give them content that is of high value for them to trust you. You can build rapport and gain them as your loyal client base.
Now that you know the importance of email marketing you should consider building an email list and include email marketing to your strategies. If you want to be a successful digital marketer then start growing your email list. List Building is like growing your asset. Everyone starts from zero but building a list is worth the time once you start getting the rewards from email marketing.
—
Mia Clarke is part of the content and community team at Userful.com, experts in all things video wall and display solutions. When Mia is not spreading the word about video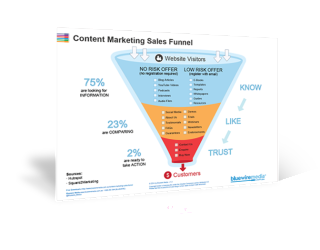 Content Marketing Sales Funnel
Your content marketing sales funnel is all about getting people to know, like and trust you by nurturing them with the right information at the right time.