7 Content Marketing Tools That Help Small Businesses Thrive in 2021
Content Marketing Tools
Image by Rudy and Peter Skitterians from Pixabay
The right set of content marketing tools can make the difference between more conversions and sales, and overworked employees.
But with so many tools available online, which ones should businesses take the time to invest in? There are a few points to consider when shortlisting tools.
Investment doesn't only refer to the price of the tools, but also the time needed to orient staff to use the tool.
In this guide, we will share the top seven content tools that don't break the bank, nor do they have a steep learning curve.
1. Venngage
Visuals have become a necessary part of content marketing. When it comes to creating top-notch visuals, one of the best content marketing tools out there is Venngage.
The infographic maker includes a library of thousands of templates, like the one below, all of which can be easily customized in the editor.
Alongside infographics, Venngage also offers templates for reports, posters, flyers, presentations, newsletters, letterheads, among other visuals.
Marketing has been powered by data visualizations over the past year. But creating great data stories remains a challenge for marketers without design skills.
Venngage's graph maker and chart maker options in the editor allow users to import data or edit data according to their needs to design powerful visualizations like the below example.
The great thing about Venngage is that users can start creating for free. This means they get complete access to all templates and over 10,000 diverse icons.
Users can create and share infographics for free, with more features becoming unlocked in the paid Premium, Business, and Enterprise plans.
Additional features include downloads as PowerPoint, interactive PDFs, branding options, team collaboration, and live training.
2. Hubspot
Most professionals know the usefulness of having an all-inclusive marketing system like Hubspot. But why is Hubspot consistently regarded so highly among businesses?
Hubspot is a great tool for capturing leads, improving conversions, and nurturing leads over time.
The Hubspot marketing automation suite offers top content marketing tools including the following:
Email marketing system
Lead generation tools
Chatbots
Account-based marketing
Customer management tools
A content management system
A form builder
One of the major advantages of using the Hubspot CMS is how well it integrates with Hubspot's CRM. Hubspot is one of the few platforms to do so and it's positively impacted lead nurturing.
This is possible because Hubspot also includes sales software and support software. It caters to all business needs and makes workflows, like this example, that much easier.
Note and track customers and their journeys so that growth activities are automated. You can also access customer data in minutes so you're always on the ball.
The amazing thing about Hubspot's automation is that so much of it can be accessed for free, with paid opportunities to grow depending on your business' needs.
3. Landingi
Businesses know that leads generated can help offset website costs, which often run into thousands of dollars, if not more.
But how can content marketing teams make the most of business websites without breaking the bank? The answer lies in creating attractive landing pages, like this example, using Landingi.
Why should businesses build landing pages using a separate tool? Because most website tools are limited in form and function.
Landingi has become one of the top tools for content marketing because of how easy it is to use and customize.
Offering 300 customizable templates, Landingi allows users to pick themes according to their chosen industry so the theme matches the needs of their audience.
Not only are all the templates responsive, but all elements in the templates can be replaced depending on the aim of the page.
When you write marketing emails, you need to link to a landing page that converts. This helps users track clicks and conversions, which makes it easier to learn what is working.
Source: Landingi
A major advantage of using Landingi is the multiple integrations it includes. Landingi works with CMS and CRM platforms like Hubspot, Salesforce, and Zendesk.
Additionally, Landingi integrates with LiveChat, and analytics tools like Kissmetrics, Google Analytics, and Mixpanel.
Though Landingi doesn't have a free version, the price is worth it. Users get access to the landing page builder, WordPress plugins, and multiple integrations.
4. KyLeads
Do businesses know how much their leads are worth to their brand? If you're still wondering, KyLeads is here to answer your questions.
The platform offers multiple forms, like the below example, quizzes, and pop-ups that boost lead generation tactics for businesses of all sizes.
With attractive KyLeads forms, users can improve conversion rates, generate more qualified leads, and increase sales and customer loyalty.
What makes KyLeads so effective is how it capitalizes on the micro-moments in the customer journey. These are the points where businesses lose customers, but not with a lead gen form.
Plus, KyLeads offers analytics options that help businesses learn and improve constantly. And KyLeads includes integrations with CampaignMonitor, HubSpot, Zapier, and many more.
5. Kontentino
Social media has become a mainstay amongst the many marketing channels. These are also the most active platforms. It's challenging to keep one's head above water with social media.
There is a steady stream of content on social channels. No sooner have you scheduled one post, than it's buried under a mountain of content.
It's impossible for businesses to manually handle social media, even with a social media manager. That's where Kontentino comes in.
There are numerous social media management tools out there, but Kontentino has quickly become one of the top content tools thanks to its ease of use.
Kontentino makes it easy to manage multiple clients and to collaborate with agencies, build a content calendar, and get reports and analytics.
Another advantage of using Kontentino is the number of formats it hosts. You can publish everything from Facebook carousel ads to LinkedIn videos, as well as images and custom links.
Unlike many social media management platforms, Kontentino's content calendar has a simple drag and drop interface. It also gives users the ability to organize and tag posts for campaigns.
Kontentino makes team collaboration possible, both internally and externally. Users can assign tasks to members or teams and improve workflow.
While Kontentino doesn't have a free plan, its paid plans include options to link at least 10 social channels and create a minimum of 100 posts per month.
6. Trello
Businesses are constantly juggling multiple projects and tasks at once. How do most managers keep track of what's going on in the company? Usually through Excel sheets.
But how many sheets can one make before it all becomes too confusing? That's exactly why more businesses are turning to project management software like Trello.
With Trello, users can create boards, like the below example, from ready-made templates. You can customize the boards to your needs, adding more lists and cards for each task.
Trello is one of the most user-friendly content tools available. The drag and drop dashboard can be mastered quickly and is easy to use.
You never need to miss an update from your team or miss a deadline with Trello. The platform sends instant notifications on the desktop and mobile app.
Plus, there are numerous integrations that Trello comes equipped with, including Dropbox, Google Suite, Salesforce, Jira, Outlook, and Slack.
The free Trello version offers a surprising number of features including 10 boards, unlimited members, cards, and storage. The paid versions unlock even more advanced features.
7. Brosix
Tired of using emails to keep in touch with team members? We're living in a world of instant communication, and you can't get more instant than Brosix, the business messaging app.
What makes Brosix so convenient to use is that it works on multiple devices, from desktop to smartphones to tablets. No matter where your team is located, Brosix keeps you connected.
The workplace is becoming increasingly remote. With content tools like Brosix, companies can expand their workforce beyond their local communities.
Brosix includes a variety of features absent from major chat apps. Teams can share screens, access unlimited files, and even launch presentations.
Additionally, Brosix allows audio/ video calls, multiple group chat rooms, like in the below example, and even live streams.
One of the major advantages of Brosix is that it goes beyond being a chat app. It's a collaborative environment that makes it easier for employees to work together.
Plus, there are monitoring tools that track team performance and help to improve productivity.
Brosix offers a free plan for very small businesses of up to three users. The minimal paid upgrades offer much more functionality for the price.
Conclusion: Use Content Marketing Tools to Boost Your Conversion Rates
No matter how large a business is, there is always more work to be done than there is time. By using the seven tools we have mentioned, organizations can improve their productivity.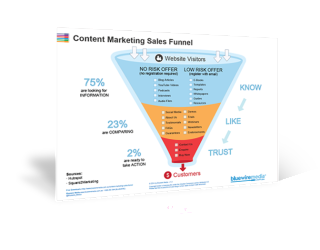 Content Marketing Sales Funnel
Your content marketing sales funnel is all about getting people to know, like and trust you by nurturing them with the right information at the right time.