7 Steps To A Revenue-Driving Social Media Strategy
Updated on May 2nd, 2016
One of the biggest hurdles small businesses face is creating an effective social media strategy.
The lack of a good strategy keeps businesses from making the leap into social media and using it to its full potential.
Because essentially, without something documented – you're flying blind.
Here are 7 steps you can go through with your business, or a client's business, to create a revenue-driving social media strategy.
Step 1 – Come Up with Business Goals
How will you know you are succeeding with social media if you don't have goals?
Start by coming up with what you would like to achieve with social media. Is it more followers, increased website traffic, or higher revenue? When you know what you want to improve, put numbers to it so you can track progress towards that goal.
Below is a guide by Charlene Li and Brian Solis at Altimeter, on how to determine the goals for a social media strategy for your business, and how to expand on them as you move forward.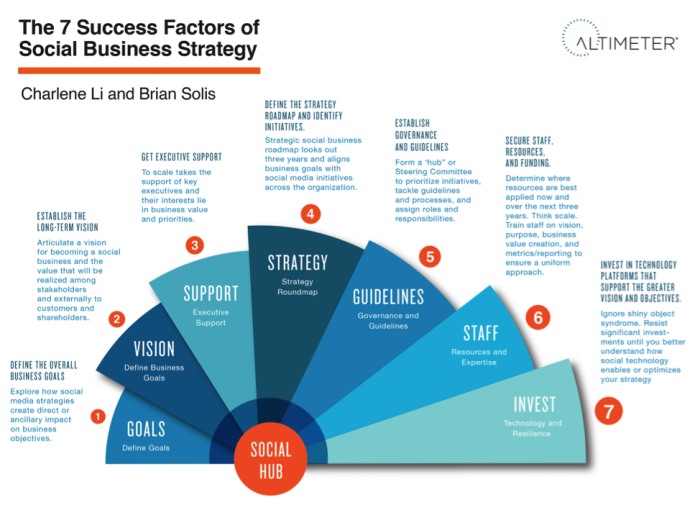 Step 2 – Define Social Media Objectives
You have your goals, now you need to start defining how you are going to reach them. It's best to break down those goals into smaller milestones to track your progress.
For example, maybe your primary goal is to have 100,000 followers. You should define objectives such as 10,000, 20,000, and so on. This means you can decide whether your strategy is effectively helping you move towards that goal or not. Once you hit each milestone, you know you are getting closer to that greater goal.
It helps to set deadlines too. You will never reach your goals if you allow your marketing team to take its time. For example, set up an objective to get to 10,000 followers in one year, and by the one-year mark, you can gauge how likely you will be able to reach the next milestone.
Objectives should follow the SMART approach – specific, measurable, achievable, relevant and time-bound.
Below is an image that details how prioritising your objectives play a role in your strategy development, as well as how it works in parallel with your engagement efforts.
Step 3 – Identify Analytics Tools
To meet your objectives, you need a way to track your social media efforts. There are many social media analytics tools you can use. Actually, Chris Makara gives you 500 social media tools to consider.
Just be sure not to be lured in by shiny objects. You must match up the tools to what your objectives and goals are for your marketing. Research the many different ones and see if you can find one that gives you the most information possible. Use the tools that save you time and money.
Step 4 – Create an Audience Profile
Each social network has a different type of audience. You need to figure out the audience on each social network that would be interested in your products and services.
Start by understanding the basic details of the people in that audience:
Hobbies
Education
Career
Lifestyle
Age
Income
You should also look for patterns in the type of posts people in the audience like, comment and publish. Look for words, hashtags, images, and links. These are clues to help increase the effectiveness of your social media marketing.
Step 5 – Spy on Competitors
Competitors can tell you a lot about what works and what doesn't, when it comes to social media marketing. Start with a list of three competitors and try to find them on social media.
Record the following information:
Number of followers
Publishing times for posts
Number of posts per day published
How many likes, comments, and shares they are getting on posts
With this information, you can find out when is the best time to post for your audience by looking at how much engagement their posts get at certain times during the day. You will also be able to tell what types of posts your audience likes the best.
Step 6 – Use Research to Find the Best Social Networks
Marketers often make the mistake of promoting their business on the wrong social media networks. As you do research on your audience and competitors, you will find that there are a couple of social networks they are on more than others.
It's best to find which one they are on the most, and then the second most popular, so you can divide up your marketing time appropriately.
This will help you focus your time and money for faster success. People who are on every social network out there often end up stabbing in the dark and don't see the results they were hoping for because they are not spending enough time on the networks they need to be on.
Step 7 – Create a Content Calendar
70% of consumers would rather learn about a company through articles rather than ads, according to NewsCred.
This means content is vital to your social media success. Content calendars help you plan what your audience wants to learn about depending on the time of year, day of the week, or even time of the day.
It's best to schedule your content well in advance. It gives you enough leeway to do the research needed to know what will have a better chance of engaging your followers.
Be sure to vary your posts. Some should be text based with images, others just images, and a few with links. Use the information you gained from your competitor research to know what works best for your audience.
More importantly, you can measure your social media efforts and provide tangible data to your team that proves its effectiveness. Below is an infographic of an editoral calendar template for social media at CoSchedule. This details the likes, shares, and impressions, among other factors, to showcase how much engagement you have received from your social channels.
You can also compare your current efforts to the previous week's to gain better insight into what you're doing right. This is so you can replicate successful tactics in future social media campaigns.
Bonus: Consider Your Budget
Budgets matter a lot in how well you will do with social media marketing. The more you put into it, the more you'll get out of it – just like any marketing effort. Some companies take money from another form of marketing to use for social media because of its increasing popularity.
This is what you should consider as you come up with a budget for your social media strategy. Radio and TV aren't as popular as they used to be, so you don't want to throw all of your money at them. Digital media and social media are the new ways to market that are having the most success nowadays.
Once you have your budget, you can start to allocate funds to the research, content creation and marketing needed to work towards your objectives and goals.
Get Started on Your Social Media Strategy
You now know how to create a social media strategy. Follow these steps, so you and your team can have a social media strategy that will help you see the power this form of marketing has for business growth.
About Nathan
Nathan enjoys writing quality guest posts on topics of his interest and passion. He has been doing it since his college days. Nathan's special interests are technology and social media.
Bonus 33 Free Templates
Download the 33 free templates from Toby and Adam's book.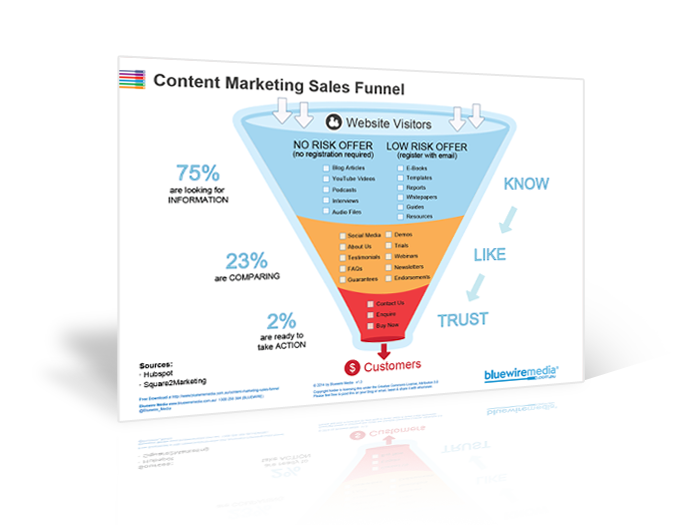 Content Marketing Sales Funnel
Your content marketing sales funnel is all about getting people to know, like and trust you by nurturing them with the right information at the right time.