7 Untapped Link Building Methods & Strategies For 2016
We're well into 2016, and as ever the average link builder's toolbox is a predictable thing:
You write some content.
You pitch and promote it.
You hope the links roll in.
Site owners and SEO experts alike have their own variation on this familiar formula. A tweak here. An adjustment there. But for most, the link building process is largely homogenous; a link building process that requires a lot of time, work, and hope that the links roll in. No matter how well written your content may be.
So today we're exploring ways to mix things up.
The truth is, there are numerous untapped link building opportunities out there just waiting for you to take advantage of them. Opportunities that are still just as valuable for building those all-important backlinks.
So while you're penning that latest piece of cornerstone content, put down the digital pen for a moment and give these link building methods a try. You might be surprised at the number of untapped link opportunities that are waiting to be discovered right now.
Ready to find yours? Then read on!
1. List & Resource Pages
Does your site feature a go-to piece of cornerstone content? Perhaps an industry leading resource that people just have to read?
At this point you're running through the usual steps of content promotion: Posting to social media. Contacting sites you've mentioned. And emailing it to your subscribers.
But now comes the trickier part:
How do you build long-lasting links to this content?
The above methods may work. But there's another way you might not be aware of:
List and resource pages.
Many sites feature pages devoted to one purpose. That is, linking to useful resources on a given topic. Right off the bat a link from one of these sites provides great relevancy signals. Better still, many of these sites have been around for a very long time.
Not only will you be landing a backlink from a quality site, but it'll be coming from an authoritative one at that!
Here's how:
Step 1 – Open Google.
Step 2 – Enter one of the following search strings (just replace [Keyword] with a word related to your content, industry or niche):
[Keyword] + inurl: links
[Keyword] + intitle: links
[Keyword] + inurl: resources
[Keyword] + intitle: resources
Step 3 – Browse through Google's search results and pick out pages devoted to linking to resources and sites.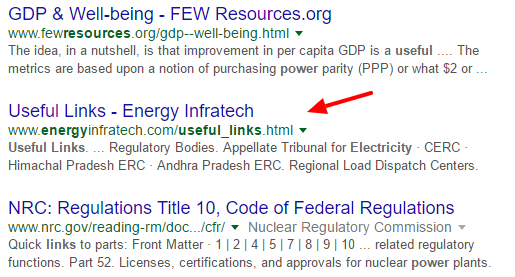 Found a site with a suitable links page? Shoot them this email:
Hey [Name] I just stumbled on your page devoted to resources on [Topic]. Are you still updating this? I recently published an extensive resource on [Topic] and thought it would make a great addition.
Thanks for your time!
Regards, [Name]
Tip! Increase your chances of landing a link on a resource or links page by combining this method with the broken link building technique. That is, look for – and point out – any broken links you may have found. On a page devoted to links, you're bound to find at least one more often than not!
2. Coupon & Sale Sites
We all know it's not always easy building backlinks to a site.
It's a task that's made that much harder if you run an e-Commerce site, where many natural linking opportunities just aren't present.
Most people would tell you to combat this lack of linking opportunities with an excessive amount of content. To varying levels of success. But there's one other thing that e-Commerce sites have an abundance of that is often overlooked.
Products!
And what's the best way to get people to buy those products? A sale.
In the same way, a sale can also provide an invaluable linking opportunity.
How so? Let me explain:
There's an entire 'Social Coupon' industry devoted to ensuring users get the best deals when they shop online. Made up of hundreds – if not thousands – of sites that collate all of the best deals from across the web, from sales to coupons and everything in between.
Do you see the opportunity here?
By holding a sale or – better yet – offering a coupon code, you open yourself up to gaining links from these sites.
Here's how:
Step 1 – Open Google
Step 2 – Search with any of the following queries:
[Keyword] + submit a deal
[Keyword] + add a deal
[Keyword] + submit a bargain
[Keyword] + coupon
[Keyword] + social coupon
Step 3 – Work through and find couponing sites relevant to your business
Step 4 – Submit your deal! It's as simple as that.
Tip! A sale or a coupon code doesn't just offer a social coupon linking opportunity. It's also worth tracking down bloggers in your niche whose audiences might be interested in hearing about your sale.
NOTE: As with any link building opportunity, there are both good – and bad – social couponing sites. It's all about finding the quality, relevant ones.
3. Unlinked Mentions
The hardest part of gaining any backlink is often the initial stages.
Researching opportunities. Starting outreach. Hoping for a response.
But what if I told you there's likely more than a few backlink opportunities waiting for you where all of the hard work has been done for you. Opportunities that are just waiting for you to activate them.
These opportunities are unlinked mentions of your site that exist across the internet. And these aren't limited to text mentions either. Unlinked mentions also come in the form of sites that are using your unique visual assets or infographics without proper attribution.
To gain your link here, all you need to do is find them and give the site owner a tap on the shoulder.
Here's 3 Easy Ways To Find Text Mentions Of Your Site
Set up Google Alerts so that you're notified when a new mention appears.
Use a service like Mention which makes it easy to monitor your mentions across the web as well as a variety of social networks.
Use an old fashioned Google search query, such as:
-site:[YOUR SITE URL] -site:facebook.com -site:twitter.com "[BRAND OR SITE NAME]" OR "SiteUrl.COM" OR "http://YourSiteUrl.com/" OR "http://www.YourSiteUrl.com/"
Does Your Site Feature Unique Visual Content? Follow These 5 Steps To Find Out Who's Using Them
Step 1 – Right click on your image as it appears on your website and select 'Copy Image URL'.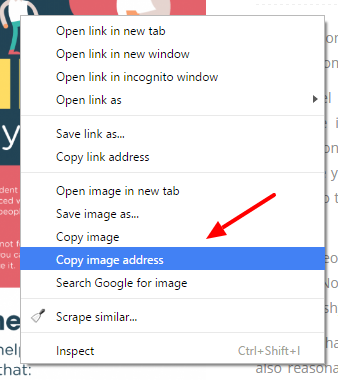 Step 2 – Open Google Images.
Step 3 – Click on the 'Search By Image' button.
Step 4 – Paste your URL's image into the search box and click 'Search By Image'.
And that's it! You now have a list of all the sites on the web where your image appears. Now it's just a matter of sorting through these and finding which are lacking a link back to your site and getting in touch.
4. Interviews
By now you're probably used to the rigors of the link building process.
Late night research.
Bleary eyed emails.
Those links aren't going to build themselves!
But there is an easier way.
Sure, it may sound like the introduction to a cheesy SEO Infomercial, but it's true.
In fact, this method's so good the link building opportunities come to you.
We're talking, of course, about interviews and comments. The process of providing your expert opinions for news stories, features or on current or unfolding events within your industry or niche.
This process doesn't just get your name out there as an industry expert, but many reporters link back to the home page of their interviewee within the story itself. Offering those oh so hard to get contextual backlinks from highly relevant sites.
The easiest way to do so is with Help A Reporter Out (HARO). HARO quickly and easily connects reporters looking for comments with experts – that's you! – with the knowledge they're after on a variety of topics. From SEO to Content Marketing and everything inbetween.
Best of all? HARO delivers these opportunities directly to your inbox.
Link building doesn't get much easier than that!
5. Testimonials
Are you an SEO expert with a Link Building tool of choice? Perhaps you're a furniture painter with a favourite brand of paint? Or a content marketer with a content creation tool you just couldn't live without?
No matter what industry you operate in, the tools you use every day could be an invaluable link building opportunity waiting to happen.
How so? Let me explain:
No matter what someone is selling, when it comes to convincing people that yours is the go-to product, quality reviews and positive word of mouth are only ever a good thing. By providing a review of your favourite products or tools to the site owner, there's a chance this will be posted to the site owner's website with an invaluable backlink to your site.
6. Product Reviews
Here's the deal: people love free stuff.
But they love free stuff that much more when it's offered to them with no – or in this case, few! – strings attached.
'But wait!', you say, 'why would I simply give my products away?'.
The answer? For links!
Here's the string attached to this offer. When providing these products you're not simply giving them away, you're offering them in exchange for a review of your product on the given site or blog. An offer most any blog or site owner simply won't refuse.
But it gets better still. This link building method won't just build links back to your site, but you'll also gain positive reviews and build positive press within your target market. And it's almost as easy as saying 'Hey, here's some free stuff!'. Though as with any link building method, it's best to tread carefully and use this as just another tool in your link building belt.
7. Competitor Backlinks
Ever pondered just how that site is still ranking above yours?
Tossed and turned during restless nights thinking of ways to outrank them?
Heck, their site isn't even all that great. So it begs the question: how are they still sitting above you in search?
Thankfully, there's an easy way to find out. Better still, this method doesn't involve sifting through their extensive backlinks profile with pen and paper in hand.
To do so, we're going to be putting AHREFs' Link Intersect tool to use.
Here's how:
Step 1 – Open AHREFs.
Step 2 – Select 'Tools' and then 'Link Intersect'.
Step 3 – In the 'Show me who is linking to' fields, enter up to three of your competitors.
Step 4 – In the 'But doesn't link to (optional)' field, enter your site's URL.
Step 5 – Click 'Show Link Opportunities'.
That's it! You now have a list of the links your competitors have that you don't. An invaluable resource for any site owner which you can use to plan your next round of link building!
Using AHREFs' Link Intersect tool for the first time? Here's 3 ways to make the most of it:
While it isn't required, we recommend you enter more than one competitor. If not, the resulting list of sites will be just as unwieldy as a full backlinks profile. By comparing your site to two or more competitors, you'll find the common linking opportunities they're using to outrank you, which are often far more relevant to your site.
Do you manage multiple sites? Perhaps location-specific variations of the one site? Comparing these is a good way to ensure there aren't link building opportunities you've used for one site that's crossed your mind for the second.
The Link Intersect tool is perfect for finding niche country or industry specific business directories. To do so, simply compare a local competitor to yours. There's a good chance they're utilising niche or local directories that you may not know about.
Your Backlinks Profile Should Be Diverse, So Why Not Your Backlinking Methods Too?
There you have it! 7 more link building methods to add to your toolbox. And best of all? It doesn't end there.
There's new, exciting and inventive link building strategies being discovered each and every day. It's all just a matter of finding the approach that works best for your site and your niche.
Do you have a go-to link building method you use for your site? A technique that you call your own? We'd love to hear about them.
About Robert
Robert Kramers is a New Zealand-based search engine and content marketer with a passion for helping businesses reach their full online potential. If you like this post, you can read more of Robert's strategies and techniques for getting found online at the Found SEO Blog.
Bonus 33 Free Templates
Download the 33 free templates from Toby and Adam's book.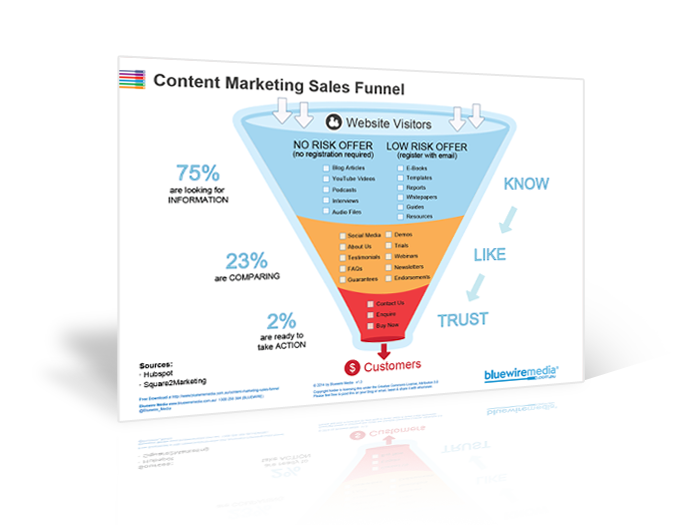 Content Marketing Sales Funnel
Your content marketing sales funnel is all about getting people to know, like and trust you by nurturing them with the right information at the right time.