8 Tips to Market Your Business Using Review Sites
This is a guest post  – Nick Lembo is Yelp's Manager of Local Business Outreach. He works with business owners to help them navigate the world of online reviews. He is on Twitter @nicholaslembo. Yelp is a website and mobile app that connects people with great local businesses in over 31 international markets around the world. Yelp was founded in 2004 in San Francisco and launched in Australia in 2011. With over 83 million reviews, Yelp is the leading source for real word of mouth online. You can claim your Yelp Business Page for free at www.biz.yelp.com.au

Welcome Nick…
Digital marketing can be a tricky proposition for businesses.
You might be working on a tight (or non-existent) budget, and are likely competing with larger businesses who dominate search engine results.
Developing your business' own website can be an expensive proposition with an unknown return on investment. You may be wondering how much time (and money) you should allocate for digital marketing versus more traditional methods.
One of the best ways for a business to sidestep these issues and reach customers online is to optimise their presence on social media and review sites. These sites let consumers post about anything, including their experiences with local businesses.
Review sites have made the consumer voice stronger than ever but also let businesses connect directly with customers, meaning a business gets the online exposure it needs in a cost-effective way.
So, if you're ready to market your business on social media and review sites, here's 8 tips to help get you started.
1. Get the basics right

Your number one priority should be to claim your business page or profile.
78% of people turn to review sites like Yelp to find local businesses and most users tend to make purchasing decisions based on what they find. You want to make sure customers are seeing correct, up-to-date information about your business – especially for things like opening hours, website, address, and contact numbers.
On Yelp, you can claim your business page for free at biz.yelp.com.au
2. Regularly develop creative content
On social media platforms like Facebook, Twitter or Instagram, it's key to regularly post engaging content.
Make sure you're up to date on what your customers and influencers in your industry are talking about online. You can then create relevant and topical content that will engage your target audience.
Your content shouldn't be too sales related and should highlight the unique services or specialties of your business.
Tip! You can make a calendar with seasonal references to help you plan out content and use a content scheduling service to plan out your posts for the entire week (or more) – these are huge time-savers.
3. Get your photos up and make them count
Yelp users stay 2.5 times longer on business pages with photos. Businesses who have 1-5 reviews and 10 photos get 200% more user views than businesses with the same amount of reviews and no photos.
So, start uploading high quality images that show off your store or office, products or services and staff. Make sure your photos tell a story – don't just upload your logo as it's not that helpful for customers.
4. Tell your story
More and more in the "Masterchef" economy, consumers want to know the provenance of the products they buy and the story of the businesses they frequent – purchasing has become personal.
Customers now want to know about your business, so tell them about yourself, your business and its history, and what you specialise in.
Optimising your business page to include this information will help with your search results.
5. Get mobile ready
Did you know over 80% of Australians now own a smart phone?
If you're trying to reach customers online, mobile should be one of your top considerations. At Yelp, over 65% of all searches come from mobile devices, so we know that most consumers are now finding information about businesses in real time, on the go.
Many review sites (Yelp included) have a specific app for business owners that send real time notifications about how consumers engage with your page and lets\ you respond to messages and reviews from your mobile device.
Take advantage of these free tools to interact with this growing group of consumers.
6. Respond to reviews
It's important to respond to online feedback the same way you would in person.
On Yelp, you can respond to reviews publicly or privately. Private messages are great for thanking customers. Public messages (seen by everyone who views your page) can be your best PR tool when used correctly. When replying publicly, make sure to respond diplomatically, thank the reviewer for their feedback, state your policies if appropriate, and calmly flag any inaccuracies.
78% of reviews on Yelp are 3 stars or more (out of 5), so you're much more likely to be receiving good comments online. If you do face a negative review, remember that it's impossible to please everybody 100% of the time.
If you find yourself getting angry, log out for 24 hours, and cool off before responding.
7. Show your customers you value feedback
Customer comments on social media and review sites are great for getting useful, honest feedback. Some business owners even share relevant reviews at team meetings and discuss any constructive changes that could be made.
If you do make changes based on a customer's feedback, let them know! It's a great way to show that you take customer service and experience seriously.
8. Let people know where to find you online
You should encourage customers to engage with your business online by including links to your pages and profiles in marketing materials.
Instead of directly asking for reviews, focus on providing great customer service and just let people know where to find you on the web – this will make sure your business' online reputation is growing organically, which is what consumers trust most.
Don't forget in-store signage pointing to your online presence – sometimes a simple visual reminder makes the biggest difference!
About Nick
Nick Lembo is Yelp's Manager of Local Business Outreach. He works with business owners to help them navigate the world of online reviews. He is on Twitter @nicholaslembo. Yelp is a website and mobile app that connects people with great local businesses in over 31 international markets around the world. Yelp was founded in 2004 in San Francisco and launched in Australia in 2011. With over 83 million reviews, Yelp is the leading source for real word of mouth online. You can claim your Yelp Business Page for free at www.biz.yelp.com.au
Bonus 33 Free Templates
Download the 33 free templates from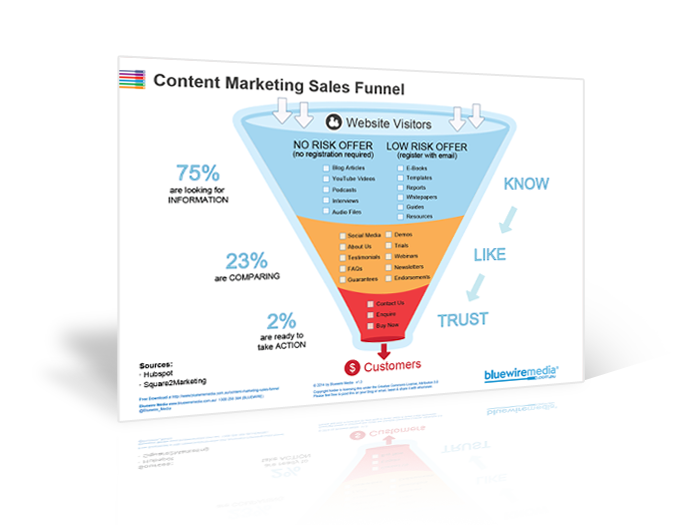 Content Marketing Sales Funnel
Your content marketing sales funnel is all about getting people to know, like and trust you by nurturing them with the right information at the right time.