8 Tools to Create Viral Content (Plus Bonus Tips)
This is a guest post  – Amy Cowen manages her own team of writers and spends lots of time investigating last technology and networking trends. Currently she is working on a few business projects in Australia, including one for Aussiewriter.
Welcome Amy…
Virality…
That pot of gold at the end of the rainbow that all content marketers chase.
We all want to find the formula to create something so special that people share it like crazy.
The type of content that delivers us traffic, leads and revenue on auto-pilot for months and months beyond its publish date.
But how do you do it?
How do you create content that will go viral… Is it all just luck?
In this article, I'm going to give you some super-actionable tips on how to create viral and contagious content. Plus, I'll reveal some great tools that will help you make it all happen.
Let's get into it…
Unlike generic content, viral content has unique elements that touch the reader's emotions. It creates a feeling of awe, anger, anxiety or fear in the reader.
Here are a few pointers to help you create viral content;
Understand your audience
The most important aspect to consider when creating viral content is your target audience.
Who are your readers? Are they old or young? Are they professionals or not?
These are some of the questions you need to ask yourself in a bid to know your target audience. Many marketers have created content that has been received negatively because they do not truly understand their target audience.
After knowing your target audience, you will be in a good position to create content that will appeal to them. As an example, viral content looks to increase engagement and fun, so you will have to consider the type of jokes and humour you can include depending on your target audience.
Determine your message
Once you understand your target audience, it's time to determine your message and the best place for your audience to find it.
To pick your message and create viral content, carry out research on what topics are trending and those that are most appealing to your audience. Also, figure out what platforms your audience are regularly accessing information and seeking engaging content.
For an audience that is visually active, videos and infographics strike a chord – so think about platforms such as Pinterest and YouTube.
Find the triggers of fascination
Every message has an angle that is unique and triggers fascination in a different way for consumers. In order to effectively find your fascination trigger, you have to first determine the goal of the content you are going to create.
Is it a marketing strategy? Or is the content aimed at creating brand awareness? Or something else entirely?
If you understand WHY you are creating the content in the first place, and WHO you are creating it for… Discovering your unique message and a way to fascinate your audience becomes much easier.
Create your content
This is the trickiest part of them all – actually creating your potentially viral content.
Will this content really appeal to your audience? Will it go viral?
Well, the good news is that you are not alone in this. Even the most established content creators have goose bumps at this stage.
After collecting all the relevant information on the type of audience you want to reach, and the type of message you want to communicate, find a silent place where you are able to fully focus without any interference. Ensure that the lighting is correct and room temperature is for your liking. Clear your mind and start the process of content creation.
If you are creating written content such as a blog post, here are a few tips to remember;
Start your content with a colourful image: It goes without saying that colourful images instantly catch the attention of the reader.
Begin with short sentences: Long sentences have a tendency of boring the reader and making him/her hit the "next" button immediately. The best thing is to use short captivating sentences that grab the reader's attention instantly.
Format the content properly: Content layout will determine whether your audience will continue reading your content or not. It is important to use short sentences, divide the content into paragraphs and include sub headings. Plus, don't be afraid to use bold text and italics.
Provide practical content: Practical content requires facts to go with it. When giving advice, don't just say something without adding a concrete fact to support your advice or vividly explaining to the reader how to go about what you are saying.
Use professional images: Professional images will improve the quality of your content and increase the chance of it going viral. You will need to dig around till you get the perfect one.
Use emotions: You may ask, how can I use emotions in my content? Well, the best way is to personalise the content and message you are communicating. This can either be positive or negative depending on your audience. Evoking the reader's emotional reaction will undoubtedly spiral your content to being viral and contagious.
Include a personalised call to action: After creating content that evokes emotion, it is important to conclude with a personalised call to action. Ask for a specific social share, comment or opt-in.
8 Tools to Create Viral Content
Having an arsenal of tools at your disposal to help you create viral content is important. Otherwise you can spend a disproportionate amount of time on creating, and not get a return on your effort.
Here are some tools to help you start creating more content, more often and sending it viral;
It is simple to figure out what content is trending, but knowing the reason why it is trending, who's talking about it and even how the topic is  gaining ground is difficult. This is why WhattheTrend exists. It is a free online tool that enables the user to get factual information on trending topics. The best thing about this tool is that it is very flexible and easy to use.
AllTop is a tool for finding all the trending topics on the web together all on one page. The best thing about this resource is that it is niche oriented, which means that you get to see trending topics on every niche. You will you get fresh ideas and concepts to create your content.
Storify collates trending topics from popular social media platforms. This tool gathers all the information pertaining a given topic and puts it right in your hands. This way, you are able to gently bring your audience up to speed with how the topic or dynamics of the topic came to be.
Some of the things that make content be of high quality are content structure, language used and most importantly, images and infographics. Infographics are a pictorial representation of data or a process that is aimed to foster the content in one unique engaging visual. It is always difficult to create infographics, that's why most content creators shy away from them.
However, Piktochart is the perfect tool for this task. It is user friendly and has been designed to be used by even the most inexperienced users. Basically, it enables non-design people to create highly engaging infographics in minutes.
A core element to make your content go viral is by sharing it.
The simplest way is by making it sharable at a click of a button so your audience doesn't have to work for it. In terms of sharing content with ease, DiggDigg is a simple tool you can install on your site to help users share your content at the click of a button.
Not all content creators are experts in their fields.
To remedy this, A-writer provides a team of professionals in every imaginable niche that are well versed with the art of writing viral content. At only a small fee, you can get your content created, customised and ready to go in no time.
Quotescover is an online tool that helps you create memorable quotes for your content. To help your content go viral, creating a variety of quotes in visual form that partner that content is a great way to spark action with your audience… Because everyone loves quotes!
As a content creator the chances of making mistakes are awfully high. This is unavoidable and is why you will need a tool to check your work for plagiarism, grammar and spelling mistakes.
Although there are several of these tools available, Grammarly stands out from them all due to its ease of use, and social network integration. This tool guarantees that your content is correct in all aspects – maximizing the quality of your content and chances of it going viral. Needless to say, no one loves content full of mistakes.
About Amy
Amy Cowen manages her own team of writers and spends lots of time investigating last technology and networking trends. Currently she is working on a few business projects in Australia, including one for Aussiewriter.
Bonus 33 Free Templates
Download the 33 free templates from Toby and Adam's book.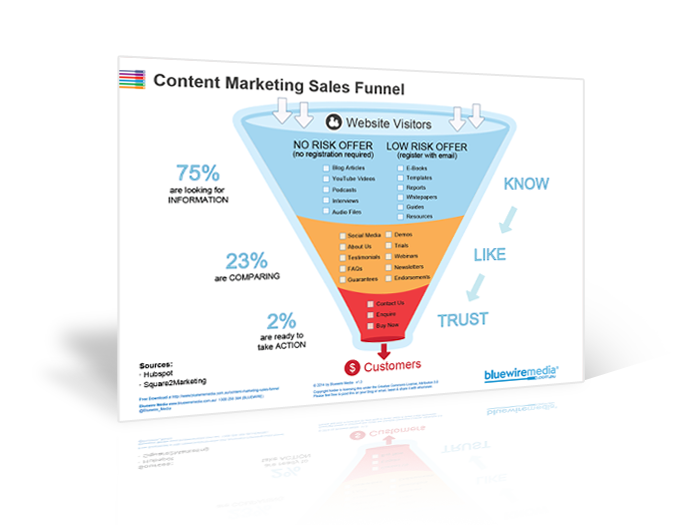 Content Marketing Sales Funnel
Your content marketing sales funnel is all about getting people to know, like and trust you by nurturing them with the right information at the right time.