9 Ways to Use Pinterest to Drive Traffic to Your Blog
Updated on August 21st, 2019
So, you have already invested a lot of time, effort and resources into building a thought-provoking and amazing blog post.
What next? You'll hit publish, but does that guarantee a lot of traffic? I'm sure your answer is no!
So, how will you drive traffic to your blog that you've just so meticulously created? You will need to give your blog post a little extra push by using Pinterest!
Often overlooked by marketers, Pinterest is the fastest growing social network by overall member growth. It exceeds 100 million monthly active users. Now, that's a whole world of potential customers out there for any business.
Did you know that Pinterest pins are worth more than Facebook likes and Pinterest, more than Facebook or YouTube, is supplying the greatest percentage of its downstream traffic to retail sites?   Did you know it's also possible to drive sales via Pinterest?
Is Pinterest a part of your social media content strategy?
Pinterest grabs around 41% of ecommerce traffic compared to other social media sites. With these stats, it's easy to say that Pinterest could prove to be a great place to promote your blog, drive traffic and generate leads.
What exactly should you do on Pinterest to boost your blog's traffic?
Well, you will need to do what expert marketers do! You will need to get acquainted to the best practices of driving traffic from Pinterest to your blog.
To make things easier for you, I present to you 9 easy, yet powerful ways, to use Pinterst to drive traffic to your blog and stay ahead of the curve.
Check it out:
Add a 'Pin It' Button on Your Site
Create a Blog Board
Optimize Images
Include a Link to Your Blog in Your Pins
Include Call-to-Action in Your Pins
Write on Popular Categories
Host Pinterest Contests
Leverage Article Pins
Collaborate with 'Pinfluencers'
Now, let's delve a little deeper and understand these strategies in greater detail.
1. Add a 'Pin It' Button on Your Site

Your efforts to drive traffic from Pinterest must start right from your blog. How? Simple, by adding a 'Pin It' button to your site. In fact, it is the best way for your blogs to get discovered by pinners.
When you add a 'Pin It' button to your site or blog, you make it easy for visitors to save your content and images from your blog directly to their Pinterest accounts where more pinners will discover and repin them. When someone repins images, you get to earn referral traffic to your site. Remember, an average Pin gets 11 repins.
Adding a 'Pin It' button is as easy as pie. If you know some basic HTML, you can set up a 'Pin It' button on your blog in just a few clicks by adding a few lines of code next to the images you're looking to share. You can choose from different 'Pin It' images or even create a custom image.
Remember, 'Pin It' buttons come in all shapes and sizes. But you really need to be careful when selecting the colour and size of your 'Pin It' button. It makes sense to test and see what works better with your audience.
Lauren Frederick reveals in a blog that Huffington Post tested new larger Pin widgets and found out that they were more click-worthy. By using larger Pins they were able to score an 8x increase in their clickthrough rates.
Now that you have added a 'Pin It' button to your blog, don't forget to add high-quality, pinnable images with your blog posts. Ensure that the image is pinnable to one of your Pinterest boards and include a link back to your blog. Place a 'Pin It' button under each image
2. Create a Blog Board on Pinterest
Yet another smart way to drive traffic to your blog from Pinterest is to create a Blog Board on Pinterest. These will ensure that your Pinterest followers are able to find out about your blog posts and are encouraged to follow your blog board.
A good idea is to keep your Pinterest blog board's name the same as your blog page's title. You may even go for a different meaningful name for your Blog Board. But make sure that you select a name that Pinners are likely to search for by using relevant keywords.
If you publish blogs on different topics, or industries, break them down into easily searchable categories and 'Pin' your blogs accordingly.
Check out Louise Myers' Pinterest boards for inspiration.
It is important that you write a compelling and targeted description of your Blog board. Whenever you publish a blog, 'Pin It' to your blog Board. And whenever you do so, don't miss out on including:
A short summary or quote from your blog.
A high-quality, and simple Pinnable image.
A link directing back to your blog.
3. Optimize Images for Pinterest
Images are the lifeblood of Pinterest and great visuals get more exposure on Pinterest. According to a Pinterest blog, the "best pins" on the platform are high-quality and relevant images with minimal text, no borders and great descriptions.
You'll need to ensure you share great visuals that appeal to the emotion of pinners. It's no secret that pinners often "repin" their favourite images. Since repinned images link back to their source, each time someone 'repins' your image, you get to earn referral traffic.
Now that you understand that your images need to stand out to in order to get re-pinned, how do you plan to do it?
Here's how you can increase the chances of getting your images re-pinned.
Properly format your images. Keep your images more vertical than horizontal in orientation. Ensure an aspect ratio of 2:3 and a minimum width of 735 pixels. That means an image that is 735 pixels wide should be between 735 pixels x 1102 pixels.
Keep your images colourful. Images with multiple dominant colors get 3.25 X more repins than those with single dominant colours, according to Curalate. Ensure less whitespace in your visuals as images with less background get re-pinned more.
Add a relevant image description. Ensure that your description is keyword optimised and make sure that the keyword appears in the first 75-100 characters of the description. Don't forget to add relevant keywords in the URL associated with your pinned images.
According to popular conversion scientist, Dan Zarrella, longer visuals get the most 'repins'and traffic. So, it makes sense to add multiple images into an infographic, a 'how to' image or a 'tip' image.
Here's an example of prominent social media influencer, Neil Patel. He includes enticing images in all of his Pins.
Neil even has a Pinboard entirely dedicated to infographics. Check it out.
4. Include a Link to Your Blog in Your Pins
Now that you have pinned great visuals and have the attention of your followers, how will you drive them to your blog?
You'll need to relay it back your website. To do so, you'll need to edit the pin and modify the source.
Here's how you can do it.
Go to your pin and hover your mouse over it.
You'll find a pencil icon on the top right corner, click on it.
A pop up box will appear. At the bottom of this pop up box is the "Source". Add a link to your blog.
Save it and test the link to make sure that it's working.
That's it! You're done! Now, whenever someone clicks on your pin, they'll be directed to your blog.
Check out how Target does it perfectly. The Retail giant adds its URL in all its pins. So whenever someone clicks on its pins, they are automatically redirected to the company's official website.
Remember, not linking your pins back to your blog could prove to be a huge missed opportunity.
5. Include Calls-to-Action in Your Pins
Yet another useful strategy to drive Pinterest traffic back to your blog is to place a persuading call-to-action in your pins. Including a call-to-action in your images increases the number of clicks and comments. As a result, you are able to successfully drive more people to your blog.
You may include a short call-to-action encouraging your followers to click on the image at the end of your pin descriptions. But remember, all your efforts will go wasted if your call-to-action isn't powerful enough to tempt your followers into clicking on your pins.
Therefore, it is important to be creative with your call-to-action. Use words that elicit positive responses. Show your followers the benefits of clicking on your images. For example, you may place a call-to-action encouraging people to click in order to read the blog post or the story behind an image.
Check out how Melonie Dodaro from Top Dog Social Media uses a creative call to action to encourage followers to click on an image.
6. Write on Popular Categories
It is a good idea to write blogs centered on Pinterest's most pinned and browsed categories. This will ensure more eyeballs for your blogs as soon as you pin them to your board.
Cision reveals that, the most pinned categories are:
Food & Drink
DIY & Crafts
Home Décor
Holidays & Events
And the most browsed categories are:
Food & Drink
DIY & Crafts
Home Décor
Their home feed
If you choose to write blogs about any of these categories, chances are that someone visiting your Pinterest board or the boards of people 're-pinning' your content will click through in order to checkout your blog.
Let's take the example of Food blogger, Stephanie Manley. She writes blogs on topics related to food and drink, which is the most browsed and pinned category on Pinterest. As a result, she gets 10,000 unique visits from Pinterest each month.
(Source: Social Media Examiner)
So, if you can create blogs covering topics related to what's pinned and browsed by most Pinterest users, you surely can drive torrents of traffic from Pinterest to your blog.
7. Host Pinterest Contests
Contests are one of the most popular strategies to drive traffic from social media sites including Pinterest. By hosting a contest at Pinterest, you can attract more and more followers, and traffic directly to your site.
You may choose to pin a contest hosted at your site on your board and lure your Pinterest followers to visit your blog. Or you may choose to host a contest directly at Pinterest. But be advised, Pinterest doesn't allow "sweepstakes".
Host a contest at Pinterest by asking your followers to use a special hashtag to enter, or by asking them to repin items or a selected item from your contest board. Whenever you're hosting a contest at Pinterest, clearly reveal the rules and prizes beforehand and do well to follow the rules stipulated by Pinterest.
A great Pinterest contest example is ModCloth's "Something ModCloth, Something You" contest. This contest invited pinners to create a pinboard to inspire ModCloth's spring 2012 wedding campaign. The contest also required pinners to tag every pin with #modcloth and #wedding. This helped the company boost engagement and increase its referral traffic.
To ensure maximum participation in your Pinterest contests, promote it through your emails, other social media accounts, and your website. Offer a prize that your followers would love and don't forget to explain the rules and terms of the contest. Mention the date when you'll announce the winner.
8. Leverage Article Pins
Recently introduced by Pinterest, 'Article Pins' are the 'Rich Pins' that make for yet another smart strategy to drive traffic back home. 'Rich Pins' increase repin/pin ratio by 82%. So, it is safe to say that 'Article Pins' can help your blogs get more traction.
These pins include critical information about your blog such as the headline, author's name, a short description of what your blog is all about and the source URL. Of course, you can pin articles and change URLs in the regular pins. But until now, regular pins would only include an image and small link to the blog.
With 'Article Pins', your images appear bigger and better, and vital information such as your meta data is displayed more effectively.
Here's how 'Article Pins' look.
Pinterest is considered to be one of the best social bookmarking sites as people regularly pin images and videos they like. And that's why it makes sense to use 'Article Pins' to capture the attention of Pinterest users and drive traffic to your blog from Pinterest.
9. Collaborate with 'Pinfluencers'
Those with a massive number of followers on Pinterest are referred to as 'Pinfluencers'. Some of these influencers are bloggers, designers, students, or chefs.
Collaborating with 'Pinfluencers' can help you maximise the exposure for your blog resulting in better engagement and high traffic.
These 'Pinfluencers' can create boards around a certain topic of your blogs and promote your blogs within these boards. You can do this effectively by finding out pinners who cultivate a mass following. But make sure they are from your industry to make sure that their followers are your ideal target audience.
Include quotes from such influencers or mention them in your blogs. Then reach out to them on Pinterest or contact them via emails asking if they'd like to share your blogs with their followers. Make sure to mention how you can help their followers with the type of blogs you produce regularly.
HelloSociety has a network of 300+ top Pinterest influencers. Working with HelloSociety, you can easily find influencers whose followers fit your target audience.
Reaching out to 'Pinfluencers' can make your blogs seem more covetable and therefore, drive a huge volume of traffic to your blog.
Over to You
All it takes is just one viral pin to flood your blog with traffic. Simply follow these 9 easy ways and we're sure you'll be able to leverage shareable images to drive more traffic to your site.
On your blog, include content related to Pinterest's popular categories, ensure high-quality images and embed a 'Pin It' button. On Pinterest, create a blog board and don't forget to add calls to action and source URL on the blogs you're pinning.
What do you think? Have you been able to drive traffic to your blog from Pinterest using any of these tips? Got any other tips to share? Share your insights and experiences in the comments below.
About Mike
Mike Dane is a digital marketing professional currently working as a PR manager at TruConversion.com He truly loves online marketing and anything digital. He is very focused on his clients. Once he starts work, he is fully committed to his duties and responsibilities at that company.
Bonus 33 Free Templates
Download the 33 free templates from Toby and Adam's book.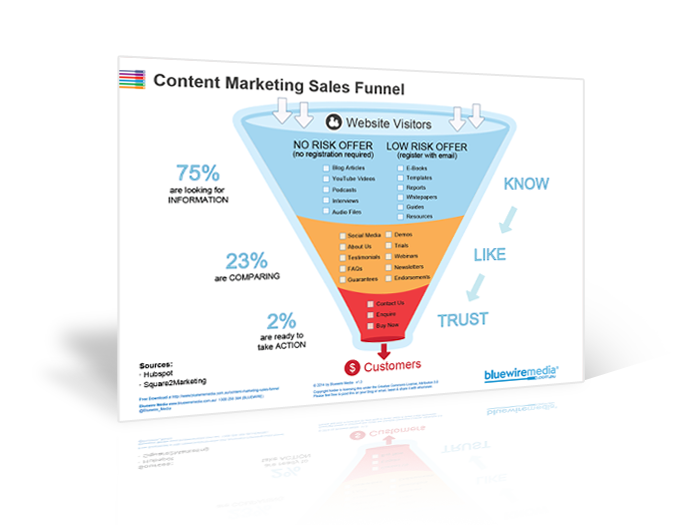 Content Marketing Sales Funnel
Your content marketing sales funnel is all about getting people to know, like and trust you by nurturing them with the right information at the right time.