Accelerate Trust via an Interview or Survey [#33]
Updated on May 4th, 2019
[Yallingup, Margaret River, Western Australia]
Short survey or interviews are an excellent way to accelerate trust with your digital marketing.
VIDEO
TRANSCRIPT
G'day, it's Adam Franklin in Yallingup in the Margaret River in WA. The statue behind me signifies the home of surfing in WA. It is just a spectacular spot, as you can see from the environment behind me.
Look, today's question I'm going to talk about is all about another way to develop trust online. But just take a look behind me at the beach. It is really spectacular. All right, so how do we develop more trust using digital marketing? There's a couple of things that we can do. One of the things that we can do once people already know and like us, is to allow them to hopefully have an opportunity to trust us. The thing that I like to do is to actually invite people to participate in something, whether it is a survey or an interview for an article, or it could be an in depth interview, like a podcast.
When you turn the tables and invite or express interest in people's opinion and their thoughts and you can then share that with the world in terms of an article or a podcast or even a video interview, that really not only gives you that time with that person to understand them and for them to share their message, but it gives them that sense of exposure, which is really coming from a place of generosity rather than where a lot of marketing comes from, which feels like it's from a place of taking.
Three tips. One, invite people to participate in a survey, an article or an in depth podcast or video interview. That is a really great way to amplify people from that no like all the way to the trust phase of that nurturing process. Hope that helps. That's it from the Margaret River. See you next time.
100 videos in 100 days. Want more?
This is part of my 100 videos in 100 days challenge.
For all my videos, join my Facebook page
For more videos and tip, let's connect on LinkedIn:
Or subscribe via my website and download my popular Web Strategy Planning Template.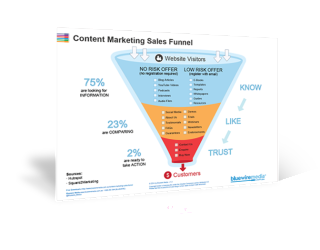 Content Marketing Sales Funnel
Your content marketing sales funnel is all about getting people to know, like and trust you by nurturing them with the right information at the right time.