Are SMEs losing their edge with SEO? 5 dangerous techniques being used.
Updated on June 15th, 2016
Richard Eaves is a digital-marketing specialist at Smart Traffic, an SEO company in the U.K. that offers reseller services to many clients worldwide. He oversees SEO strategies for Smart Traffic's 300-plus campaigns.  Twitter @SmartTraffic.
Enter Richard
If you're not familiar with the concept of Search Engine Optimisation, then consider this your initiation to the modern digital world. Welcome!   Although, I must ask, where have you been?
Dawdling aside, let's take this one step at a time.
You know full well that, for the past few years, search engines have dominated the internet industry. People flock to Google, Yahoo and even Bing to scour the net for ALL kinds of information. But who are we kidding? Google is currently THE top search engine, the leader in algorithm and search result innovations as well as web optimisation improvements.
This is how SEO has been birthed.  As businesses realised the merits of online marketing and advertising, they turned to 'improving' their websites for a higher position on search results.
Initially, their methods were rudimentary, inorganic and unnatural.  As the years passed, SEO became stricter, more structured and less forgiving, all thanks to CONSTANT updates in search algorithms.
Now, here we are!   Still with me?
Currently, SEO is as popular as the Iron Man franchise, probably even more
Currently, SEO is as popular as the Iron Man franchise, probably even more.  With hordes of people getting cosy with the concept, it's a hot topic that you'll find almost EVERYWHERE.
But fame or not, some amateurs and pros still fall into the dark abyss known as poor traffic and low ranking.  Why?  There are many tips, techniques, strategies, how-tos, steps, guidelines, Pay on Results offers, pointers, etc., flying all over cyberspace and all within reach with a few clicks. So what's the problem?
We know what we SHOULD do, but we don't know what we SHOULD NOT do, am I right?  Is that what's bringing your SEO down?
Well, you are not alone. Plenty of small and medium enterprises are also suffering the same fate as you, probably even worse.  SEO is a lot like juggling 15 lemons with only two hands.  It's not an impossible feat, but neither is it achieved without practice, patience and passion.  You must be interested and invested in 'lemons' and 'hands' before you can call yourself a 'juggler'.
So here's what you can practice.  Rather than teaching you what you should do…
…here's a list of what you should NOT do.
Don't – Be addicted to flash and scripts
It's easy to get carried away with fancy effects for your website. After all, if it looks good, then why shouldn't you put it there?
Wrong! Building your site and being heavily dependent on flash and scripts is a major SEO mistake, one that is almost unforgivable. I understand that it's a quick way to add a bit of dynamism and creativity to your pages, but don't make it your ONLY avenue for being creative. Explore your options!
Don't – Ignore ALT attributes on images
Like I said, SEO is like juggling. Because there are simply too many tasks on your hands, you tend to forget the small details that actually matter, like Alt texts.
They are basically descriptions of images embedded in the content. E-readers use them to allow visually impaired individuals understand what an image is all about. Now, search engines use Alt texts to assess what an image is and help evaluate a web page. If you skip placing organic keywords in your image Alt texts, you're missing out on some useful SEO boost.
Don't – Fill your web content with keywords
In medieval SEO times, this was an accepted practice, but only because everybody was doing it. Now, it's a taboo technique, which will get you demoted from Google's search results and into the deepest pit of SERPs where no light or sound can penetrate.
To put it simply, keywords stuffed in every nook of your articles and pages will have consequences. Your readers see right through your scheme AND search spiders will know what's going on too. It's perfectly okay to use keywords; people do it ALL the time. Just remember to use it organically and subtly.
Don't – Fill your web content with links
Like stuffing keywords, it's not a good idea to place too much emphasis on the number of links you have. Remember that quantity without quality isn't useful at all. Having thousands of low quality and irrelevant links will make you stick out like a sore thumb in search engines' eyes. Focus instead on acquiring links from reputable and authority sites. Although it's a slower and more rigorous process, the rewards are much sweeter.
Don't – Exclude mobile technology
Society – as each second ticks – is progressively transforming into a community of gadgets, digital technology, robotics, cybernetics and other high-tech jargon just too cool to pronounce.
If you're not on board with this kind of evolution, then you will lose a great deal of impact. These days, it isn't wise to ignore the call of mobile-friendly SEO as it is your ticket towards penetrating a new market — the smartphone industry.  Android, Windows, iOS, Apple, Samsung, Microsoft; rivalries don't matter, but numbers and codes do. See that your website is mobile responsive or there will be repercussions.
Don't – Forget how search engines work
If you are going to conquer something, you must first understand it, right? Well, learning what you should and shouldn't do won't be useful if you don't know the first thing about search engines.
Here's how it works:
No human influence can EVER affect what appears on the result pages of Google. Unless a website is caught being, shall we say, naughty, then that's the time when Google steps in for a little disciplinary action.
Search engines are made up of three elements:
robots, crawlers, spiders 

index 

algorithm 
Robots are the collectors. They 'surf' the internet, follow links, look for web pages, and send back information to a central storage computer. They need to have full access to your website if you want all your relevant web pages indexed and seen by audiences across the globe.
The indexes are the storage systems. They store all updates and info that the robots have collected.
The algorithm is the sifter. It is a program (to use the term as simply as possible) that goes through BILLIONS of web pages in the index to match a search query and rank them according to the engine's rules of 'relevancy'. This happens in nanoseconds, which is mind-blowing in itself. These rules vary from one search engine to another, but Google's set of 'standards' are currently what most people follow and often cower from.
Get the gist yet?
Conclusion
Remember that this list is not a definitive one, nor is it the standard for what you should NOT do. There are still tons of strategies out there that seem okay but are actually toxic to your SEO goals. Don't let them poison your website and focus on optimising your website for internet surfers. Boosting the rank of your site on search engines is just the hot fudge on your sundae!
Connect:
Connect with Richard Eaves through Google+, or Twitter @SmartTraffic, and have a look at his work on Smart Traffic.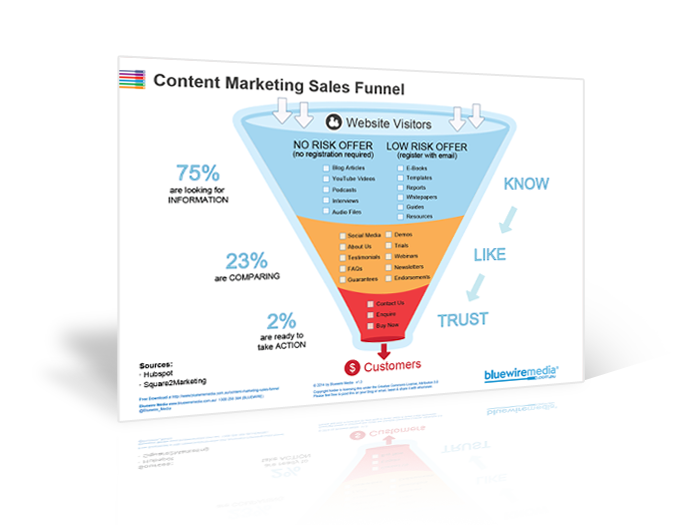 Content Marketing Sales Funnel
Your content marketing sales funnel is all about getting people to know, like and trust you by nurturing them with the right information at the right time.