How The Australian Tourism Industry Can Generate Leads Digitally From China
Updated on November 23rd, 2019
Generate leads from China
The Chinese outbound tourism market is the fastest growing travel sector in the world. This article shows you how generate leads from China.
The rise of the Chinese middle class, higher standards of living, as well as increasing disposable income have all led to increasing outbound travel to a greater variety of destinations.
There are now 300 million Chinese tourists going on at least one international trip per year.
Visitors from China generated $8.3 billion in total expenditure in 2015. The Tourism 2020 Strategy estimates that China has the potential to be worth up to $13 billion in total expenditure by 2020.
Australia will continue to capitalise on this trend with its relatively close proximity to China. Australia has an attractive climate, strong cultural appeal and positive existing relations with the country in terms of trade and industry.
In 2015, China was Australia's second largest inbound market for visitor arrivals. It was the largest market for total expenditure and visitor nights.
The Consumer Demand Project by Tourism Australia
A major tourism research project into how international consumers view Australia.  The factors most likely to motivate them to visit the country has been carried out by Tourism Australia. The scale of the research is impressive. It provides unique insights into consumer demand in 15 of Australia's most important inbound markets.
Chinese respondents said what they looked for when choosing a destination. 57% stated natural beauty and environment, 46% looked for good cuisine, wine and local produce, whilst 45% prioritised safety, security and accessibility. All these factors Australia boasts in abundance. It is clear as to why the Chinese are attracted to the country as a holiday destination.
In fact, the report found that Australia ranks in the top three global destinations (in terms of natural beauty and the environment) alongside Hawaii and France.
The largest tourist segment in terms of age was 25-34 years with 54% of the total. Thus for Australia we predominantly see younger visitors which is key when adapting your marketing content to target different tourist groups in this way.
Strategies for increasing lead generation from China
The question is, as a travel business in Australia, how do you attract these Chinese tourists to your services? The answer is digitally. With 85% of all travellers deciding upon and booking their trips online it is a necessity to build up a strong online reputation.
1. Presence on Baidu
First you need to have quality Chinese content that is seen by your ideal customers. Having a presence on Baidu is vital as this is the largest search engine in China with a phenomenal 70% market share. Google has been shut out of the Middle Kingdom due to government regulation with domestic platforms still dominating.
SEA (search engine advertising) on Baidu produces some leads, but they are often of a lower quality, the Chinese (just as we typically behave in the West) tend not to click on adverts at the top of the page but concern themselves with the natural search results. This is where quality traffic and leads are generated.
SEO (search engine optimisation) is the most effective route whereby your website is over time ranked more highly in the search results. You need to optimise in Chinese characters as this is how searches are conducted. It is a longer term strategy and more advisable as it yields a better ROI than simply paying for adverts which will not continue to drive traffic.
If your services aren't seen on Baidu you are essentially invisible.  This is the first port of call for travel research. When the Chinese type in the characters for 'Australian travel agency' you need to have the right, Chinese specific, optimised content appearing in the search feed.
A Chinese website is necessary for SEO and communicative purposes. English is still not widely spoken at a high level so all content needs to be adapted into Mandarin Chinese.
2. B2C and B2B in China – Be the expert
For Australian tourist based services the majority of leads come from B2C, 70% tend to be interested tourists whilst 30% are Chinese travel companies seeking to feature hotels, packages, tours, experiences etc. Having a Chinese partner is important for communications, negotiation and lead conversion in this area.
It is important to tailor communications depending on whether you are focusing on customers or other businesses. Research the right forums and groups to be active in if you are looking to build connections with Chinese travel businesses who can promote and feature your services.
You need to establish yourself as 'the expert' in your field. You can share quality content, answer questions and engage in conversations with potential tourists or businesses. Refer to the consumer study above, focus on establishing yourself in the key area's Chinese tourists are attracted to.  This is primarily the natural beauty Australia boasts and quality wine, cuisine and produce.
The Chinese are looking for what they perceive to be very established and respectable businesses in travel. Even if you are a smaller business you can create this impression in China by marketing yourself in the right way.
3. Social Networks in China
The largest social network in China is 'WeChat' with 700 million active users, following this is 'Weibo' with 220 million. Tourism services need to open an official subscription account on WeChat. And then generate interest with quality content being shared, users need to follow your account with attractive promotions or offers to entice them.
WeChat is sometimes referred to as the 'WeChat times'.  Chinese users rely on the platform for much of their information about the world. This includes travel information. It is easy to generate interest in a destination with quality content.  Then link this to your services and what you can offer.
Weibo is akin to Twitter and good for short content links, embedding QR codes (linking to your official page) and (like WeChat) can be used to engage in conversations with potential tourists.
The Chinese engage with this more personalised and tailored approach with customer service now expected on social media. This is because of how much time the Chinese spend here (on average 2-4 hours per day). This presents big opportunities with a higher number of interactions and potential for tourist engagement.
4. E-reputation
E-reputation is developed on social media and in forums. Forums in China are still very important and a go to place of reference. The Chinese like to see what others are saying about travel services.
Forums are a key area to cultivate positive e-sentiment while limiting any potential damage from negative comments. Ensure positive comments are seen at the top of forum posts. It's really a case of starting the right conversations and leading them in a certain direction. A key feature of Chinese netziens is that they are strongly influenced by the opinions of others on both social networks and in forums.
Conclusion about generate leads from China
China represents a lucrative market for the Australian travel industry. However you need to develop your digital presence to improve your visibility and e-reputation in order to drive traffic and generate leads.
About Benji Lamb
Benji Lamb is a digital specialist based in Shanghai, China. He is passionate about aiding western companies with their expansion into China. For more information see his website and blog here.
Bonus 33 Free Templates
Download the 33 free templates from Toby and Adam's book.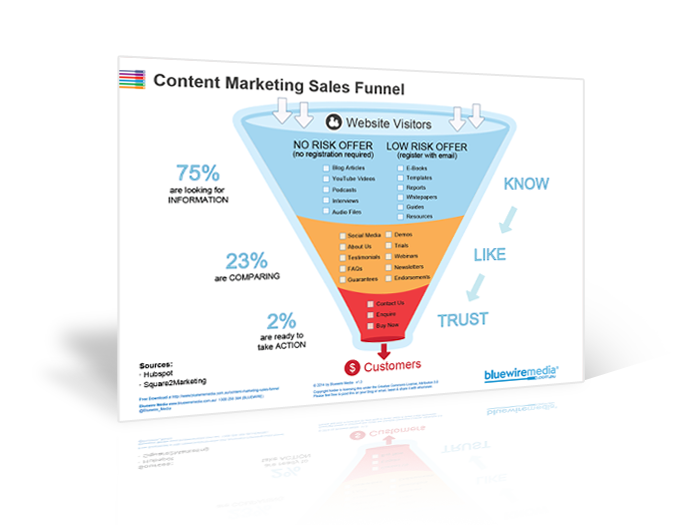 Content Marketing Sales Funnel
Your content marketing sales funnel is all about getting people to know, like and trust you by nurturing them with the right information at the right time.