Why I Love Automation Agency [video #22]
Updated on May 4th, 2019
I've been a customer of Automation Agency for many years and I highly recommend them because they are fast, reliable and the team provides unlimited updates for all the various software we use internally at Bluewire Media.
VIDEO
TRANSCRIPT
G'day. It's Adam Franklin. I'm the CEO of Bluewire Media, and I just want to give a quick shout-out to our suppliers and friends at Automation Agency.
I remember the days before we used Automation Agency. We were paying graphic designers, we were paying WordPress specialists, we were paying Infusionsoft consultants, we were paying lead pages people. And we were always at the mercy of their availability as well, so not only was it costly, there was different people to be liaising with.
And now that we've been using Automation Agency for at least I'd say two or three years now, not only do we just have one point of contact, one email address that we send our task to, they get them all back to us within a couple of days max, often much quicker.
And it works out to be a hell of a lot cheaper, because instead of paying contractors $50, $60, $70, $80 an hour for our tasks, we now have unlimited tasks within the set rate of Automation Agency.
So I can't speak highly enough of it. I refer it to all of my coaching clients and students that attend my workshops. I think definitely give it a go. I'd be surprised if you weren't saving significant amounts of money and getting a whole lot more of your implementation done. And at the end of the day that's the most important part: getting stuff done and focusing on the bits that you do best. Automation Agency will take care of the rest.
Thanks.
100 videos in 100 days. Want more?
This is part of my 100 videos in 100 days challenge.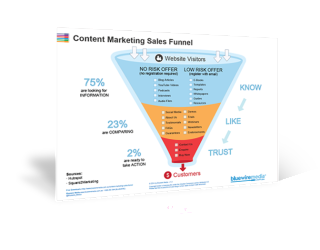 Content Marketing Sales Funnel
Your content marketing sales funnel is all about getting people to know, like and trust you by nurturing them with the right information at the right time.