Best Ways to Anticipate Your Customer Needs
Anticipating customer's needs is among the most important challenges for businesses. "It's getting more and more difficult for me to understand my customers… I'm wondering if it's the same for our competitors, or is it just us…" – Business coaches often hear this phrase from their clients.
No one can really say for sure how many businesses fail to recognize the needs of their target audience, but the fact that 8 out of 10 companies fail in the first year gives some idea. Of course, not every business fails because of this particular reason, but it's very likely that it is among the top three.
So why is it getting more difficult to understand customer needs and anticipate them? Unfortunately, there are a lot of reasons, including:
In the modern business environment, customers have been given more power than ever before because of a wide variety of choices, social media, and online reviews.
Customers are increasingly becoming less loyal because of the proliferation of choices and increasing demands. Even a couple of negative reviews may convince a customer not to buy a product or use a service.
Customers are getting confused with data overload, making them even more demanding.
Businesses also face challenges in deepening their knowledge of their customers because of an increasing customer diversity.
Well, as intimidating as these reasons may sound, you can make minimize their negative impact on your business. Of course, achieving this requires a lot of work, so don't expect an easy trip.
If you think you're ready to get inside the heads of the most demanding customers and gain competitive advantage while you're at it, take a look at the infographic below. You'll find eight excellent working strategies for anticipating customer needs along with helpful tips and stats.
The authors of this infographic are business researchers from Proessaywriting. with lots of experience in business coaching as well. The strategies below are a result of their thorough research of reliable sources.
So, feel free to read the infographic and learn what it takes to stand in your customer's shoes. This knowledge will allow you to get ahead of your competitors and closer to your target audience. And, if you follow these ways, you won't have to rush to a business coach and tell them that you're facing difficulties understanding your customers.
Well, enough talk, let's learn how to become a master of anticipating customer's needs and behaviours!
Lucy Benton is a marketing specialist, business consultant and helps people to turn their dreams into the profitable business. Now she is writing for marketing and business resources. Also Lucy has her own blog ProwritingPartner.com where you can check her last publications. If you're interested in working with Lucy, you can find her on Twitter.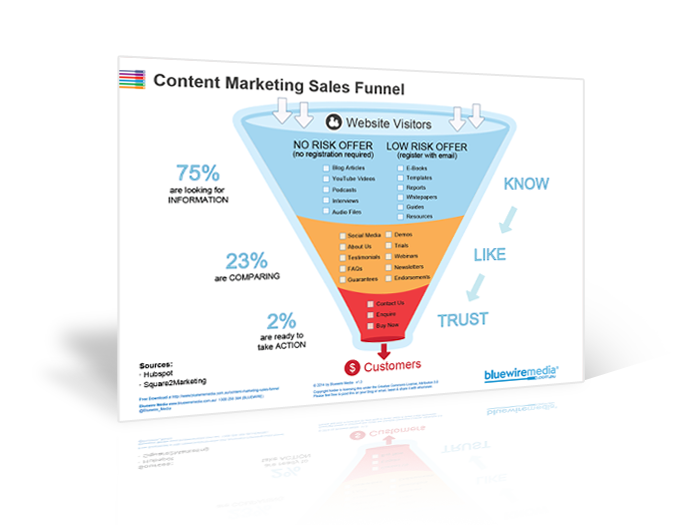 Content Marketing Sales Funnel
Your content marketing sales funnel is all about getting people to know, like and trust you by nurturing them with the right information at the right time.