WMTW 091: Billy Murphy from Forever Jobless – Pro Poker, E-Commerce and Instagram [podcast]
Podcast: Play in new window | Download
Subscribe: RSS
"Listen to those you aspire to be like, and ignore everyone else." Billy Murphy (Tweet this)
In Episode 91 of the Web Marketing That Works podcast, I speak with Billy Murphy about his journey from professional poker player, to e-commerce business owner, to mastering Instagram. He shares how he applies the concept of 'Expected Value' to everything he does.
Show-notes:
Key points
Billy started his career by buying and selling sports cards and playing professional online poker
Once he got a feel for the online world, he started buying and selling websites and more recently moved his attention to Forever Jobless.
In his podcast Forever Jobless, Billy shares the thoughts of his entrepreneurial friends and mentors.
Here is his 4-step process for building a company.

Value and Idea phase
Marketing
Due Diligence
Calculate the expected profit of the idea

He started building companies by optimizing his websites for search engines as the main marketing tool and ended up rebuilding and selling 20 or more e-commerce websites.
In a sign of the times, he has used Instagram as the main marketing channel for Forever Jobless.
Billy has found that engagement is much higher on Instagram than other social media platforms.
Billy's tips on using Instagram;

Use long captions
Utilize SFS (Shout for shout)
Use hashtags correctly
Links mentioned
Get in touch with Billy
Did you like this podcast? 
If you liked this podcast, please click to tweet this show >>
Subscribe
We would love you to subscribe to Web Marketing That Works and please leave your honest reviews via:
Stitcher radio
iTunes
SoundCloud
Bonus 33 Free Templates
Download the 33 free templates from our new book.
Or order the book online: Web Marketing That Works: Confessions from the Marketing Trenches (Wiley 2014).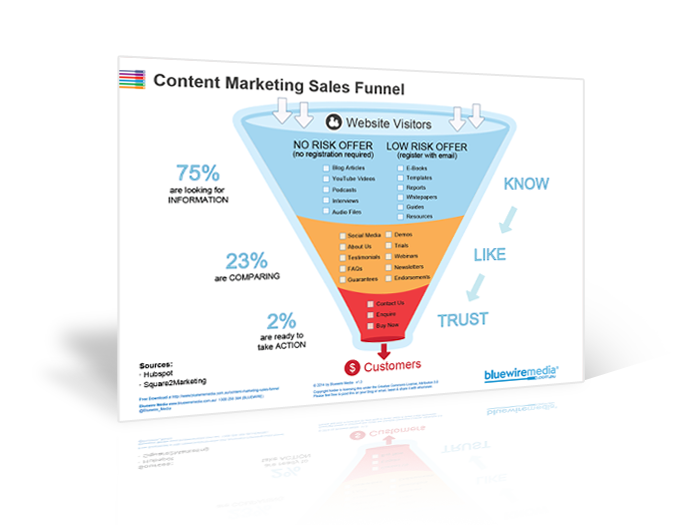 Content Marketing Sales Funnel
Your content marketing sales funnel is all about getting people to know, like and trust you by nurturing them with the right information at the right time.