Bluewire Top 10 – Content from Ian Cleary, Rand Fishkin, Seth Godin and more
Updated on August 9th, 2015
We're back!
It's been another BIG week of content, learning and potential next actions.
Here are my big takeaways from the top 10 this week:
Twitter can be a bit of a time sucker if you don't measure what matters
Creating viral content isn't all about luck, it's a process
Getting exposure on Facebook is a little different than it used to be, but still worthwhile
We can all thank software engineers for the content revolution
Remember to connect with the authors, share the content and take action.
Here we go then, this week's Bluewire Top 10.
Elegant Themes

Author: Ariel Rule (Connect with Ariel on Twitter @Freelance4More)
Punchline: There are lots of email service providers out there, and sometimes it's really hard to figure out which one is best for you and your business. MailChimp and Constant Contact are two providers that are great when you are just starting out. Ariel Rule gives an honest, well constructed and actionable comparison of them both. Very helpful.
HeidiCohen.com
Author: Heidi Cohen (Connect with Heidi on Twitter @heidicohen)
Punchline: Heidi offers a great example of the value that helpful and informative content has in today's marketing landscape. People are seeking information about your product way before you ever hear of them. Don't believe me? Have a read of these 7 reasons content marketing trumps advertising.
Copyblogger
Author: Demian Farnworth (Connect with Demian on Twitter @demianfarnworth)
Punchline: Now that Copyblogger have shifted their focus to a podcasting network, I always wait with baited breath for their next written post. They are fantastic reads. In this one, Demian Farnworth talks about how software has enabled us to build authority and businesses on the back of digital content.
Top Rank Online Marketing Blog
Author: Lee Odden (Connect with Lee on Twitter @leeodden)
Punchline: SlideShare is a largely untapped platform for many content marketers. But if you've thought about giving it a whirl, this article from Lee Odden is a must read. He shows us what type of content works best on the platform and backs it up with some cool examples.
JonLoomer.com
Author: Jon Loomer (Connect with Jon on Twitter @jonloomer)
Punchline: Jon is a Facebook expert… so it's well worth listening to what he has to say in this article. He breaks down the 4 big mistakes brands are making on Facebook, and offers a step-by-step alternative for what we all should be doing instead. Genius.
Social Triggers
Author: Derek Halpern (Connect with Derek on Twitter @derekhalpern)
Punchline: Derek breaks down the biggest entrepreneurial secrets he has discovered from reading everything humanly possible about high performers, and growing a business of his own. The beauty of it? He delivers these secrets in a sweet looking 12 minute video.
Groove HQ Blog
Author: Alex Turnbull (Connect with Alex on Twitter @alexmturnbull)
Punchline: Another gem from Alex Turnbull. He shows us exactly how Groove have grown their email list to 50,000 subscribers in the last 6 months. He shows you 5 very specific list building tactics that have worked the best for them, what the results have been and how you can use them too.
Seth's Blog
Author: Seth Godin (Connect with Seth on Twitter @ThisIsSethsBlog)
Punchline: It was only a matter of time until Seth made it onto the Bluewire Top 10. His brain dumps are a staple for my morning ritual. Somehow he packs the most profound thoughts and ideas into a few hundred words and says it in a way that helps us all understand it better. This one is about embracing the unknown and still working towards your desired outcome even though you can't guarantee it.
Moz
Author: Rand Fishkin (Connect with Rand on Twitter @randfish)
Punchline: Not much else to say except this is freakin' awesome. In this edition of 'WhiteBoard Friday' – a weekly video from Moz – Rand Fishkin talks about viral content and the long term effects it can have on your traffic. He literally breaks down why something goes viral and exactly how you can replicate the best results.
Razor Social
Author: Ian Cleary (Connect with Ian on Twitter @IanCleary)
Punchline: If you're on Twitter you need to check out this guide. Most of us spend way too much time on the social network and don't bother tracking the metrics that matter to our business. Ian has laid it all out for us in this seriously EPIC guide.
Bonus 33 Free Templates
Download the 33 free templatesfrom Toby and Adam's new book.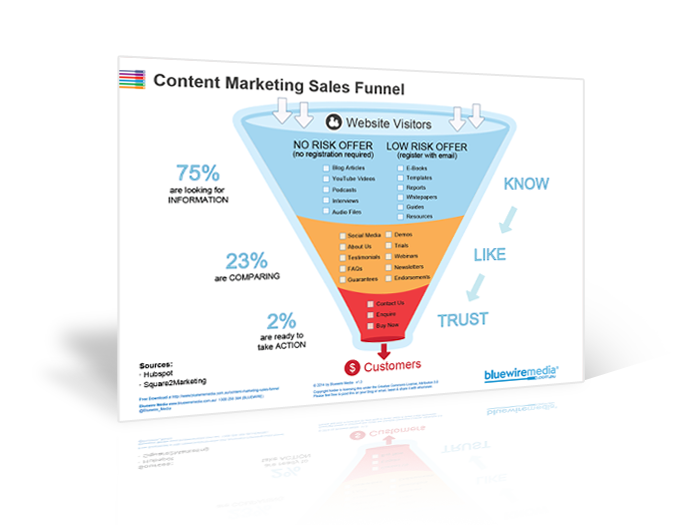 Content Marketing Sales Funnel
Your content marketing sales funnel is all about getting people to know, like and trust you by nurturing them with the right information at the right time.