Bluewire Top 10 – Danny Brown, Barry Feldman, Pat Flynn & More
It's a little bit overwhelming.
Blogging, Twitter, Facebook, LinkedIn, Google+, YouTube, Podcasting, Instagram, Periscope, Snapchat…
When does it end?
We place unrealistic expectations on ourselves that we have to be everywhere. Always present. Never sleeping.
"Why don't you start a podcast?"
"What don't you get on periscope?"
The reality is, we can't do everything. In this week's Bluewire Top 10 I share resources that cover a lot of these mediums. From Instagram to blogging to podcasting.
But I don't want you to think you have to do it all. In fact I would encourage something quite the opposite.
Pick something, and do it better than everyone else.
Don't spread yourself too thin.
Here are my takeouts from this week's top 10;
Long, well-researched content is growing in popularity. It's almost not a choice anymore if you are looking to standout online.
Learning from others is the quickest way to figure out what works, and inevitably what doesn't.
The social media landscape is forever changing, so build your brand on your own property – don't rely on someone else's.
Nothing beats dropping your guard, being vulnerable a revealing the struggles you face when trying to connect with your audience.
Remember to connect with the authors, share the content and take action.
This week's Bluewire Top 10.
10. 
Buffer Blog
Author: Sandrine Sahakians (Connect with Sandrine on Twitter @sosandrine)
Punchline: Video is becoming more and more important… It is more likely to show up in your Facebook stream, there are new social networks popping up purely dedicated to video (Periscope) and YouTube is the second biggest search engine on the web after Google. So if you're into this content marketing thing, video might be important to you. In this ultimate guide, Sandrine shares literally everything you'll ever need to know if you want to launch a YouTube channel.
Smart Passive Income Podcast

Author: Pat Flynn (Connect with Pat on Twitter @PatFlynn)
Punchline: In this episode of Pat's podcast he talks to Kirk Du Plessis… a blogger turned successful entrepreneur. It's an amazing success story from hobby to 6 figures in monthly revenue. They dive deep into the secrets of online membership communities, how to avoid undercharging for your product and how to give away stuff for free but still make money. Awesome stuff!
Blogging Wizard

Author: Adam Connell (Connect with Adam on Twitter @adamjayc)
Punchline: Adam from Blogging Wizard always offers great suggestions about helpful tools that will improve your blogging. In this post he talks about streamlining your approach to task management, content planning, social media and collaboration… There are a bunch of really interesting tools I had never heard of before.
For Bloggers by Bloggers

Author: Danny Brown (Connect with Danny on Twitter @DannyBrown)
Punchline: There is something about Danny's writing style that hooks me every time. It's honest, authentic and vulnerable. But what I love most about it is the way he cuts through and takes an opinion. There is no fence sitting – you leave every post with a clear understanding of how he feels about a topic. In this post he talks about how it is ok to be wrong, because we can learn from it. Plus, he crushes the vanity and superficial nature of number hunting. Well played sir.
JeffBullas.com

Author: Amanda Chiu (Connect with Amanda on Twitter @manda_auror)
Punchline: If you are looking for quick fire lists that will help you discover all the latest tools, techniques and technologies in the online marketing world – Jeff Bullas' blog is a great place to go. In this guest post from Amanda Chiu, you can get your hands on 20 tools to help with writing, optimisation and removing distractions.
Feldman Creative
Author: Barry Feldman (Connect with Barry on Twitter @FeldmanCreative)
Punchline: It's hardly a new topic, but a good reminder… Search is seriously important when it comes to attracting traffic, buyers and eventual advocates. Barry Feldman gives us a much needed reminder and some valuable tips for taking action.
Buffer Blog
Author: Courtney Seiter (Connect with Courtney on Twitter @courtneyseiter)
Punchline: Oh Buffer, Buffer, Buffer… You keep coming up with the goods. Their content team is rocking it with some of the best social media content available, and they keep turning up every week. In this post from Courtney Seiter she goes visual with an infographic on using instagram to grow sales.
ActionCOACH ANZ

Author: Ben Fewtrell (Connect with Ben on Twitter @bfewtrell)
Punchline: Ben is always pushing the boundaries. Whether it's podcasting, Twitter or now Periscope – he's at the front of everything social and digital. (Plus he's an Aussie so that's more brownie points!) His podcast 'Business Brain Food' is a must listen for any aspiring small business owners or struggling entrepreneurs. In this episode in looks at passive income and lots of it through the eyes of Nathan Birch.
selfstartr

Author: Ariel Rule (Connect with Ariel on Twitter @Freelance4More)
Punchline: It's kind of hard to get found on Facebook these days… Well, without paying for it anyway. So we are all trying to find different ways to get in touch with our customers. Instagram is still growing and is a fairly untapped resource for digital marketers. In this monster resource from Ariel Rule including an infographic, some cut through advice and extremely specific examples – you'll have everything you need to take Instagram by storm.
Firepole Marketing
Author: Firepole Marketing (Connect with Firepole on Twitter @FirepoleMRKTNG)
Punchline: Long, definitive and helpful content is becoming more and more available. If you're not pushing the boundaries with depth and quality, it's much harder to get noticed. In this epic resource from Firepole Marketing they break down everything you need to know about making money with a blog. When I say epic, I mean epic… This is a 7 Chapter interactive eBook embedded into a nice looking web property. Well done!
Bonus 33 Free Templates
Download the 33 free templates from Toby and Adam's new book.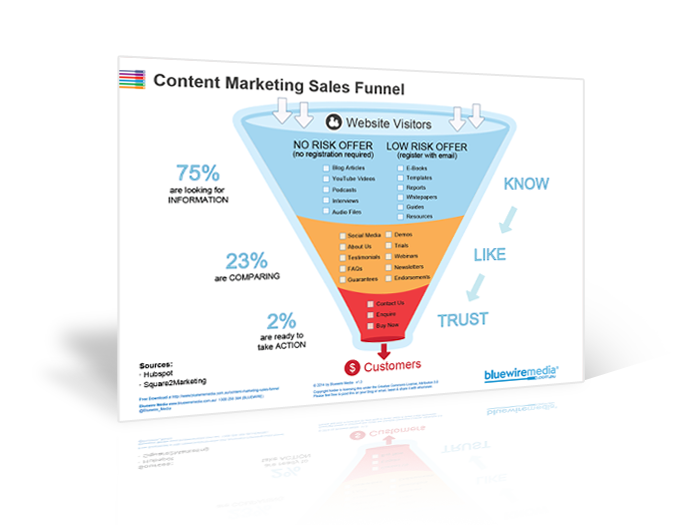 Content Marketing Sales Funnel
Your content marketing sales funnel is all about getting people to know, like and trust you by nurturing them with the right information at the right time.