Bluewire Top 10 – Michael Stelzner, Jeff Goins, Sujan Patel and more
Quality content.
Blogging less.
And focussing on business growth.
This week from around the web…
Editing blog posts doesn't have to be a tedious, drawn out task
People are seeking high quality content, not just click bait headlines
Promoting your content on Twitter is more than just throwing up a few Tweets
Traffic isn't all about publishing new content… You can get creative.
Blogging is only a waste of time if you're doing it for the wrong reasons. Focus on how it can grow your business.
Social media marketing is way easier if you know what tools are available to you
Remember to connect with the authors, share the content and take action.
This week's Bluewire Top 10.
10. 
HubSpot
Author: Lindsay Kolowich (Connect with Lindsay on Twitter @lkolo25)
Punchline: If you're anything like me no doubt distraction, procrastination and mindless tasks regularly take over your day. In this post Lindsay shares a cool looking infographic from SurePayroll that highlights the most common inhibitors to productivity.
CoSchedule

Author: Taylor Paluck (Connect with Taylor on Twitter @TaylorPaluckPR)
Punchline: Taylor opens up with a confession… She "over-edits" all of her blog posts. Don't we all! This confession wouldn't be very helpful unless she offered a solution, which she ever so kindly does. Get your hands on 6 really helpful content editing tips that will simplify your editing process.
Re/code

Author: Joe Hyrkin (Connect with Joe on Twitter @yankeejoe)
Punchline: Today we want more than "listicles and clickbait" – absolutely love this provocation from Joe. Snack time is over, our readers crave substance and meaning from our content.
Copygrad

Author: Will Hoekenga (Connect with Will on Twitter @WillHoekenga)
Punchline: Life on Mars, reusable rockets, a mass-market electric car… What could all of this possible teach us about web marketing? Read this creatively constructed narrative from Will Hoekenga to find out.
Lab3 Marketing

Author: David Boutin (Connect with David on Twitter @dmboutin)
Punchline: When you publish a Tweet, most people on your follower list won't see it… So to get the most bang for your buck on every blog post there's a huge opportunity to get creative and share it multiple times, in multiple different ways. David dishes up some fantastic tips in this post for how you can share your next blog on Twitter. Plus, a awesome bonus tip that I didn't know about.
Buffer Blog
Author: Kevan Lee (Connect with Kevan on Twitter @kevanlee)
Punchline: If you're familiar with the Buffer blog, you'd know how consistent and epic their blog content is. Well they ran an experiment… Instead of publishing new content they tried refreshing and repurposing some of their best old stuff for a month. The results? Check out this article to find out.
Fizzle

Author: Barrett Brooks (Connect with Barrett on Twitter @BarrettABrooks)
Punchline: I'm surprised this is the first time I've included Fizzle in the Bluewire Top 10… Their content is so provocative and undeniably helpful to online business owners (or prospective ones). In this article, Barrett talks about how most first-time entrepreneurs try to do too much. All you really need is a one page website, an elevator pitch and a email provider. Nice.
Content Marketing Institute

Author: Sujan Patel (Connect with Sujan on Twitter @sujanpatel)
Punchline: If you've ever felt like blogging is a waste of time, this article is a must read. Sujan talks directly to the time pressures we all face as entrepreneurs and marketers, and unpacks the best tips and techniques for turning your blog into a lead generator rather than a burden.
Goins, Writer
Author: Jeff Goins (Connect with Jeff on Twitter @JeffGoins)
Punchline: Jeff is an old school blogger with a modern mindset and a knack for learning. In this post he breaks down the 5 most powerful personalities successful 'platform builders' have, and how you can pinpoint where you fit.
Social Media Examiner
Author: Michael Stelzner (Connect with Michael on Twitter @Mike_Stelzner)
Punchline: This is a gold mine of tips, tools and tactics for improving your social media marketing. Mike Stelzner has kindly collated the best of the best from his podcast and they are all available in this awesome resource. The real kicker? There were a ton in here I hadn't heard of before.
Bonus 33 Free Templates
Download the 33 free templates from Toby and Adam's new book.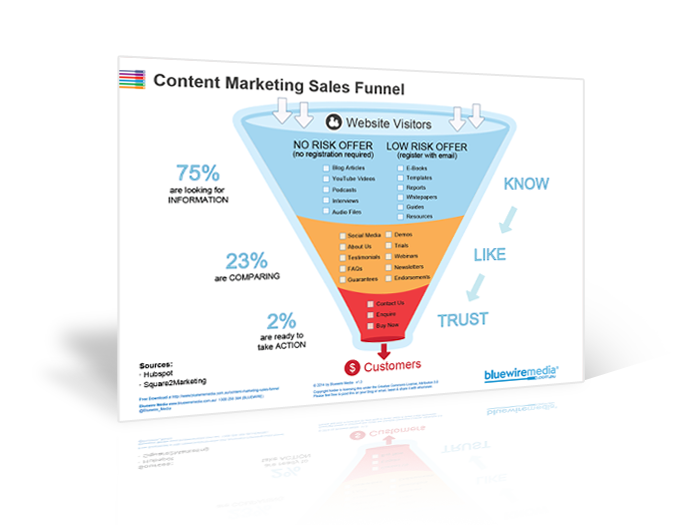 Content Marketing Sales Funnel
Your content marketing sales funnel is all about getting people to know, like and trust you by nurturing them with the right information at the right time.