Bluewire Top 10 – The Week's Best Web Marketing Content (July 17, 2015)
Updated on July 20th, 2015
I was sitting with Adam and Toby at the cafe downstairs in the Hilton Sydney.
We were there for the Traffic and Conversion Summit. (Mind blown by the way, epic event)
Ads sipped away at his long black (no milk), Tobes opted for no caffeine and I shamelessly tucked into a large skim cappuccino.
There is one major thing we all have in common – web marketing is our passion, and learning is in our blood.
This means we consume lots and lots of stuff every week – from books to blogs to podcasts.
So as we sat at that cafe we were sharing some of our favourite content, tips and light bulb moments.
It got us thinking about you…
Most of the Bluewire blog readers are avid marketers themselves, just like us. But unlike us, you don't always have the time to search, discover and consume the best information out there.
So we want to bring it to you.
From now on, every week on a Friday we will bring you Bluewire's Top 10.
From all the content Adam, Toby and I consume every week – these are the real gems, the ones that will help you take action straight away.
Hopefully this will save you a bunch of time trawling through less quality content yourself and help you focus on the more important stuff.
Let's get into the the first instalment of the Bluewire Top 10… (Ps. I'm starting at number 10, so scroll to the bottom of the post to discover the piece of content we have voted in at number 1 this week)
Elegant Themes
Author: Tom Ewer (Connect with Tom on Twitter @tomewer)
Punch line: If you use WordPress, Tom talks about some great tools you can incorporate into your blog to make sharing on social media way easy.
Razor Social
Author: Ian Cleary (Connect with Ian on Twitter @IanCleary)
Punch line: "The size of the community does not equal the value you can get from a community" – Ian talks about what tools you can use to leverage Google+ and tap into some serious engagement. Most people are missing out!
Matthew Barby
Author: Matthew Barby (Connect with Matthew on Twitter @matthewbarby)
Punch line: Matthew dives into an SEO case study about Californian SaaS startup BuildFire. In 12 months they have hit over 1,000,000 pageviews! He takes you through the step-by-step process they used to get there.
Smart Passive Income Podcast
Author: Pat Flynn (Connect with Pat on Twitter @PatFlynn)
Punch line: Pat and Ramit talk about all all the do's and don't's of preparing for a successful product launch. Plus some bonus advice on how to generate maximum profit in the first few days.
CoSchedule
Author: Chad Keck (Connect with Chad on Twitter @ckeck)
Punch line: Chad talks about how to get to know your blog readers better, and create brand advocates and active promoters.
Content Marketing Institute
Author: Sherry Gray (Connect with Sherry on Twitter @sherisaid)
Punch line: Sherry proposes 5 tips you can use to create big buzz for your next blog post – even if you don't have a massive audience.
Copyblogger Podcast Network
Author: Sonia Simone (Connect with Sonia on Twitter @soniasimone)
Punch line: This is a short and sweet 19-minute episode of 'Confessions of a Pink-Haired Marketer'. Sonia talks about copywriting, persuasion, videos and making the world a better place.
Danny Brown
Author: Danny Brown (Connect with Danny on Twitter @dannybrown)
Punch line: Danny offers a unique way to discuss 12 ways you can turn a reader into a subscriber by sourcing the advice of his Facebook friends.
Search Engine Journal
Author: Neil Patel (Connect with Neil on Twitter @neilpatel)
Punch line: Neil talks about how most Twitter and Facebook feeds look like a graveyard – no likes, comments, or shares. He then talks about the specific strategies he has used to increase social shares by thinking a little differently.
Orbit Media
Author: Andy Crestodina (Connect with Andy on Twitter @crestodina)
Punch line: Andy talks about 3 dark truths that may (probably won't) shock you about social media. He hits topics like sharing without looking and automation – then dives into how to use Twitter properly. We ranked this article number one this week because it showed a different side of things. It wasn't all about the feel good nature of social media, it gave a harsh but helpful dose of reality.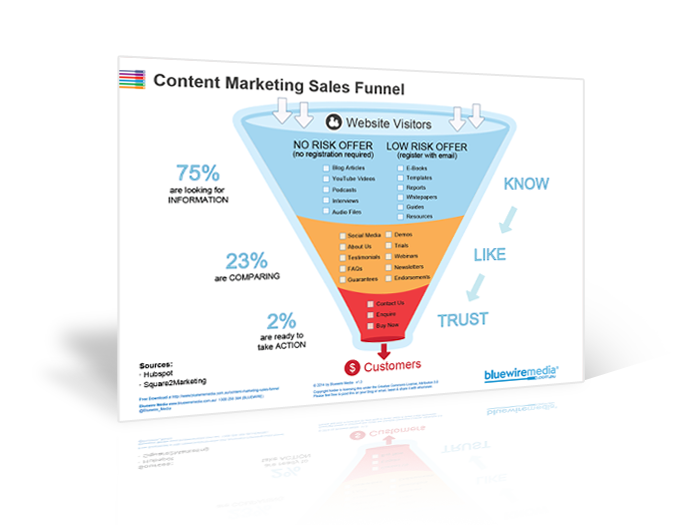 Content Marketing Sales Funnel
Your content marketing sales funnel is all about getting people to know, like and trust you by nurturing them with the right information at the right time.