5 Ways to Keep Your Website Visitors Interested & Boost Your SEO
Boost your SEO
Photo by Webaroo on Unsplash
Attracting visitors to your website or blog is a little like fishing. Provide them with the right type of bait and they'll want to come back for more. But to ensure that Google's advanced search engine techniques find your dynamic content in the first place, you'll have to employ some effective SEO tactics. And since 2015, Google has been using its RankBrain Algorithm, a form of Artificial Intelligence that really gets to the bottom of what your visitors are trying to locate even if they're not actually aware of it themselves. So whatever SEO tactics you've been using, they may need to be brought up to date to boost your SEO.
1. Declining Attention Span
It's a well-known fact that a goldfish has the shortest attention span of around seven seconds, or at least it used to. Officially, the average person's ability to stay focused on what's in front of him/her has dropped to even less. With ever-changing images on every web page you visit, there is a tiny window of 0.05 seconds left open to make an instant impression. Visitors need to be able to understand the entire message on your home page in a flash. Be concise and to the point.
2. It's a No-Brainer
Photo by William Iven on Unsplash
With all the interesting distractions flying around on the internet, who wants to stop and think deeply about any particular page? It's vital brain wave energy that might be needed for something more necessary, like getting back to work.
Aim to design your pages in the most simplistic form possible and dispense with elaborate sidebars and menus. Put links where the brain can detect them without actually thinking.
3. Minimalism
Minimalism is an alternative description for something that's so straightforward and simple, it's often the most stylish. From haute couture and sophisticated interior design to luxury cars, it's the classic, elegant designs that draw everyone's attention. It's because there is a reliable honesty about an uncluttered design.
Create a website that is beautifully simple with narrative that is brief yet informative and navigation that's intuitive. Asking visitors to sign up for a newsletter needs nothing more than an e-mail address.
4. Upwardly Mobile
Photo by Przemyslaw Marczynski on Unsplash

The biggest impact on recent SEO development has to be the incredible surge of mobile searches. Smartphones make looking for the proverbial needle in a haystack so convenient. Having evolved from texting, you can search for whatever you want at any time, in any place, with barely more than the twitch of a thumb. Finding a website that doesn't perform in the mobile market prompts visitors to turn elsewhere. From Google's own data, visitors leave a website five times more if there is no mobile optimisation. One of the most important adaptations you can make is to ensure your web pages are compatible with smartphones.
5. Scanning
How often have you started to read a blog post and given up after a few lines because it's taking half the day to get to the end? It could even be a bit dull. Apparently you're not alone. Almost 80% of visitors rarely read everything. It's the same with the pamphlet that comes with a new appliance. Everyone skips over it to find the bits they think are likely to be of some importance.
To accommodate this quirk of human nature, web content is more effective when it's spaced out. Include plenty of short breaks and catchy sub-headings to make it easy for your readers to scan. It will give them a greater chance of instantly identifying the sections they believe have some relevance to their search. There is even software that uses a form of heat mapping to help you distinguish the areas of a page that are drawing the most attention.
Conclusion – How to boost your SEO
So what have we learned so far?
The longer a visitor stays on a page, the more likely they are to click a link or make a purchase. It is important that visitors to your website are spending time on your site as high bounce rates have a negative impact on SEO. The bait or tactics used to keep a visitor hooked means making an instant impact with a page that is easily understood. Keep designs elegant and uncluttered. Incorporate new technology to accommodate mobile optimisation and you're sure to make a great catch.
About Ian Carroll
Ian Carroll is Head of Communications at digital marketing agency called 'Digital Funnel' based in Ireland.
He started his journey in business and has since developed into an industry leader in areas like SEO and Web Design.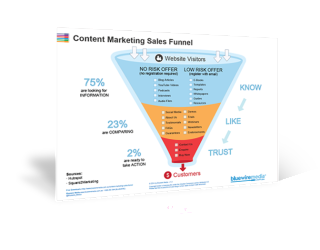 Content Marketing Sales Funnel
Your content marketing sales funnel is all about getting people to know, like and trust you by nurturing them with the right information at the right time.