Inside the Buffer content marketing juggernaut
I couldn't believe I'd missed the memo. There was a Buffer meetup right on our doorstep in Sydney. My friend and colleague Will Blunt of Blogger Sidekick notoriety (and chief contributor to this blog) flicked me a text asking if I was the Adam F on the RSVP list for the Buffer meetup?
What Buffer meetup!?
Will promptly text me the link and I tried to register but there were no more tickets ;( As I learned on the rego page this wasn't just a meetup for Buffer users, the co-founders Leo and Joel would be doing a live Q&A!  I had to get along to this. But how…?  Determined to make it in, my first approach was to email the Buffer team and fortunately the friendly Happiness Heros granted me a pass to come along. Phew!
When I jumped out of the Uber, Leo Widich was greeting people on arrival (nice touch!) at The Hub Sydney co-working space. In content marketing circles Leo is considered super human as he was featured on 100 blogs in 2 months as a result of guest blogging.
The meetup was part of the annual retreat for the entire 30+ Buffer team members. Interestingly only one Bufferer (not sure if this how they refer to themselves!) lives in Sydney. The remainder flew in from 22 different countries across six continents, so it was very special to be there with the entire Buffer team.
Why come all this way?
Well apparently Sydney ranked well for its "crazy vibe" which was the main criterion for the decision. So far the team seemed pleased with the call. More about running a distributed team in a sec.
The sense I got was that our fellow attendees were mostly techies, which was a perfect for content marketing folk like Will and me, especially when we realised our that favourite Buffer content crafters Courtney and Kevan were floating around too. Aside from the meeting and greeting, the focus of the night was to get a look inside the Buffer juggernaut via a Q&A with the co-founders.
Here's what I learned as I was furiously typing into Evernote on my phone hoping that no-one thought I was bored and scrolling through Facebook (rude!).
Finding a co-founder
CEO Joel Gascoigne originally created Buffer to solve a specific problem he was facing, namely scheduling tweets. Shortly into it he realised he needed some scale and some marketing. So his university friend Leo Widrich kicked in and lent a hand with some content. There was no formality to there working relationship in the early days but as Leo demonstrated his natural flair for content marketing, Joel realised Leo was exactly who Buffer needed. Soon after Leo accepted a role as co-founder.
Culture
Buffer is a distributed team with no office and people across all different timezones. Some of the team had only meet in real life (IRL) the previous day. This makes the company culture even more important as the glue that binds the team. More on their on core value of transparency below.
Remote working
How did Buffer end up spread across 22 countries, with no official office? Well it was a deliberate decision that they eventually made. From their UK origins when it was just Leo and Joel, they moved to Silicon Valley where they got kicked out after 6 months (because their visas weren't renewed) then to Hong Kong and to Tel Aviv and before they eventually decided to be fully distributed.  This means their team members could choose to live wherever they want and work remotely. It needed to be fair for everyone, so they embraced the ethos at Basecamp which is:
There is no advantage to being in the office and no disadvantage to being out of the office.
Task forces (not teams)
One key difference in the company structure at Buffer is that they now form specific 'task forces' for specific projects. People volunteer for the task forces they want to work with and they can also create task forces for projects they want to work on. Task forces are temporary and very fluid so once a project has shipped, new ones are formed.
The people volunteer and organise themselves — it is not assigned to them in a top-down directive. There is even a task force for salaries, all of which are transparent — not just to colleagues but to the public.
Traditionally tech companies have 'teams' that are more permanent like "engineering" or "support" or "marketing".
Investment vs bootstrap
The big question for startups is whether to bootstrap (that is, not take funding and maintain full control) or take outside investment from venture capitalists (and give up control to a VC board). It's often a black or white decision where securing VC money is seen as the holy grail.
But the Buffer boys have found a comfortable middle ground. They raised $3.5m in a round of funding but when they could've got $10m but they didn't concede a board seat, so they are in full control.
Transparency
Transparency is a Buffer core value. Even in Joel's previous startup he shared everything on twitter and found it very valuable. The incredible benefits include:
Trust
Collective intelligence
"If you want people to make the same great decisions as you, share the information that you have and the decisions you make." Leo Widrich
So they share all their emails, bank balance and salaries with team members and the public via their blog. In doing so, they get lots of knowledge from the public that they wouldn't have got if they'd done it all privately.
For example, blog readers would ask, "have you thought about this…. ?" and many times they hadn't. For Leo and Joel this is the most fulfilling way to run a business.
This was echoed by team member Neil who was thrown up on the panel to give an impromptu Q&A.  He said, "it feels very natural from a remote worker's perspective.  You can see any company emails you like."
Tools
A couple of tools they use include Git, GitHub, Squiggle and Hackpad, but they insisted the processes are more important.  They've opted to avoid scheduled daily meetings because it becomes too restrictive especially as people are in all time zones. Plus some days you may choose to sleep-in or take an afternoon nap.
Hiring
This has been fascinating for Leo.  They get thousands of applicants and Leo draws an analogy to dating. Hiring should be peer to peer, not the company looking down on you. You don't marry straight away, so they go through a series of informal chats to see if each party likes each others. Ultimately they are looking for value alignment.
"Our values aren't the right values, they are just what we've chosen," says Leo.
He explains to applicants, "Your salary will be transparent, how do you feel about that?"  Some will leave, so the polarisation is good to find the right match. Leo never tries to convince people, instead he just tries to find people who are already convinced!
What's next?
It was Joel's small vision at the start, and since then it's been iterative, and is now informed by the company as they go.  The vision is not defined.
 We have no vision!
says Joel, proud of the fact that the team is able to determine the future of the company. It's very natural and organic.
In the shorter term though, what's next is maybe another surf at Bondi Beach!
Buffer content marketing
My favourite content crafter, Kevan Lee was also given the chance to talk about Buffer mega-popular blog. Kevin says they do a big push on email to their 40,000 subscribers, plus they share their blog articles on social media, multiple times a day. And finally they also syndicate content with bigger sites like Fast Company, Inc and Entrepreneur, thanks to many relationships that Leo formed during his awe-inspiring guest blogging stint.
Will and I got a chance to have private conversations with both Kevan and Courtney after the Q&A.  It was great to shoot the breeze and also to find out what it's like writing for one of the best marketing blogs on the web.
Thank you
Team Buffer, enjoy your time in Sydney and thanks for the glimpse into your awesome company!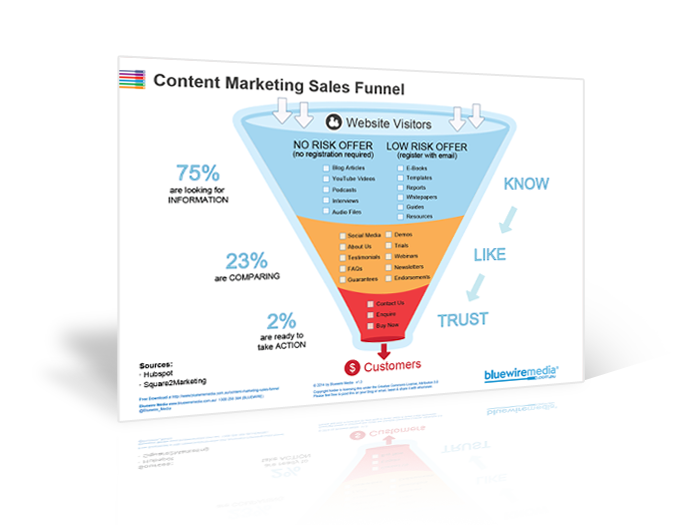 Content Marketing Sales Funnel
Your content marketing sales funnel is all about getting people to know, like and trust you by nurturing them with the right information at the right time.