How Business Has Changed In The Age Of Social Media
Updated on October 15th, 2019
The more things change, the more they stay the same
Business is all about people.
In the long forgotten good old days (say 10 years ago) getting more clients was easy for small business owners. To generate more leads for your business, all you had to do was spend more money on advertising. Advertising agencies became rich and powerful by simply getting their clients to spend more money in the Yellow Pages or on TV and Radio.
Those days are gone forever.
There's a Golden Rule about marketing:
"People do business with People they Know, Like and Trust".
We will simply not buy from a business unless we have developed an appropriate level of trust in it. To engage a financial planner, we need to trust that our superannuation is safe with the planner, and to buy milk we need to trust that the shop runs the milk fridges at the right temperature. Without Trust, there will be no business, ever.
It's all about Trust
Trust is as critical now as it was in 1978 or in 1827. Facebook, LinkedIn, Twitter, Instagram, Snapchat, YouTube, or Pinterest have not changed our need to trust before we are prepared to do business with anyone. In fact, I think that through the advent of Google and the development of social media, our customers have become less trusting and expect us to jump through more hoops to prove that we can be trusted.
We can't just hang out a sign or place an ad somewhere anymore and expect that business will flow in the door. Customers expect to be engaged and to have us build a meaningful relationship with them first. Above all, I believe, that business starts with that first part of The Golden Rule of marketing: "People do business with People". Our customers want to know they are dealing with people and they want to be seen as people, they demand it now more so than ever.
People trust Paul
A client of mine, Paul, operates a chain of small independent supermarkets in Sydney and his business is incredibly successful. The reason for his success is that his customers trust him and his people.
The entire marketing strategy of Paul's business is based around building trust through conversations.
Conversations about produce and gourmet products and fresh food, and healthy eating and yummie things, but also about rugby, and about family and about business (Paul is fanatical about all three topics, I wouldn't like to say in what order of importance). And conversations being a two-way process, his customers get involved in those conversations as well: at the check-out counter and on the notice boards around the shop, and on the website and in the weekly newsletters, and on the Facebook and Instagram pages of the business.
The customers bring the flowers
Paul knows it's all about People and he's making sure his customers are getting to Know, Like and Trust himself and his People.
When Paul opens a new shop in a new neighbourhood, it is actually quite common for people to come to the store just to welcome him to the neighbourhood and sometimes they even bring him flowers.
Meaningful conversations
If you want to build your business, you must build relationships and trust with people first. You must have meaningful conversations with your potential customers, you must demonstrate that your company are "People" and that you see your customers as "People".
Unless your Marketing Plan starts with asking the question: How do we get to have meaningful conversations with our customers? A large part of your marketing budget is going to be wasted.
Give away your good stuff
Having meaningful conversations with your customers means social media engagement; it means having interesting stuff to say; It means having opinions about stuff; it means being passionate about stuff; it means contributing about stuff; it also means helping people with stuff and giving good stuff away for free.  Follow this link to read a great article on the Go-Giving principles of business development.by Ian Lowe of Go-Givers Australia.
Doing all of that is what demonstrates you are People and you care about People. The people who agree with your opinions and love what you are passionate about are going to like you and trust you, and when they do that, they will want to do business with you. At this point, you may want to consider advertising a special offer to them, because now they'll be ready to buy.
Marketing and business development. in the age of social media is about having conversations, relevant conversations, meaningful conversations, lots of them. The more the better.
Business is just as much about people today as it ever was. Start talking with the people that matter to your business, really talking with them, and business becomes easy… I promise you.
I've recently also written an article about measuring the ROI of your marketing budget, read it here
About Roland Hanekroot
Roland Hanekroot is a business coach, mentor, author and speaker who works with small business owners to Make Business Fun again, and build businesses that sustain them for years to come. More information at http://www.newperspectives.com.au
Bonus 33 Free Templates
Download the 33 free templates from Toby and Adam's book.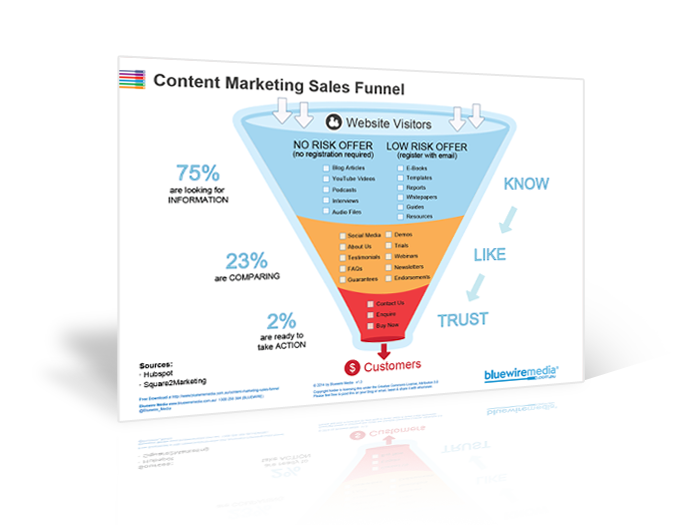 Content Marketing Sales Funnel
Your content marketing sales funnel is all about getting people to know, like and trust you by nurturing them with the right information at the right time.