Chat GPT for marketing Debrief
Chat GPT for marketing Debrief
I ran my ChatGPT for marketing & lead nurture workshop this morning.
Here are 2 takeaways in case you missed it.
ChatGPT is only as good an the inputs you give it. With your prompts, I suggest assigning ChatGPT a role and an also outcome you desire. Then provide as much detail and context as you can. Don't be shy – it can handle a lot of detail!
Then make revisions to the draft that ChatGPT gives you. This should get you to an output that is 70% of the way there. The final 30% is up to you to put the finishing touches on.
The 2 tools I love are:
AIPRM  for ChatGPT – gives you access to libraries of pre-written prompts you can deploy.
ChatGPT Organizer – provides folders for you to organise your all your prompts.
I also did a deep dive hot seat with a coaching client and we got ChatGPT to write a sales page and a 'shake the tree' message. We compared a 'basic prompt' to an 'advanced prompt' so attendees could see the difference.
If you'd like the recording of today's workshop, send me a DM on LinkedIn.
PS. When you're ready, here are 6 ways we help
consultants & advisors

grow:

1. Web Strategy Planning Template (PDF). Our flagship 1-page tool we co-created with David Meerman Scott. It's been downloaded over 1 million times and featured on Forbes.

2. Read a free chapter from our book. Web Marketing That Works --- an Amazon #1 best seller.

3. Join the private group on Facebook. Access free training resources, and hang out with 2,300+ peers.

4. Discover your marketing score. Take the 40 point Marketing Scorecard (in < 6mins) and get a customised report.

5. DIY with the 50+ Script Library. It's for connecting with new people and nurturing them into high-value clients.

6. Let's brainstorm how to fill your marketing funnel.

DM the word "INTERESTED"

via Messenger

 or 

book a 20 min slot to talk

 on Zoom.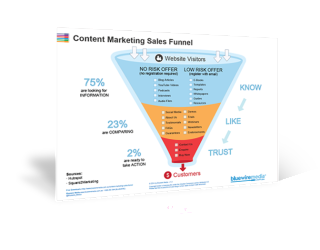 Content Marketing Sales Funnel
Your content marketing sales funnel is all about getting people to know, like and trust you by nurturing them with the right information at the right time.