WMTW 093: Clint Arthur on using mainstream publicity to build your online profile [podcast]
Podcast: Play in new window | Download
Subscribe: RSS
"To stand out in a crowded market place, do things that nobody else is doing." Clint Arthur (Tweet this)
In this episode, I chat to Clint Arthur on how to get mainstream publicity and use that to build your online profile.
Show-notes:
Key points
Clint is the author of the bestselling books, "Break through Your Upper Limits on TV", "The Last Year of Your Life" and "What They Teach You at the Wharton Business School."
He started his career on TV by guesting on local TV shows then eventually helping produce TV appearances for other people.
Things to do when booking a TV show:

Have a realistic approach to what a celebrity is.
Start small and work your way up.

Clint says that video marketing is an effective asset to establish authority.
You will get an instant marketing video asset once you guest on a TV show.
Invest in mentors that can help speed up your journey.
People mentioned
Links mentioned
Get in touch with Clint
Did you like this podcast?
If you liked this podcast, please click to tweet this show >>
Subscribe
We would love you to subscribe to Web Marketing That Works and please leave your honest reviews via:
Stitcher radio
iTunes
SoundCloud
Bonus 33 Free Templates
Download the 33 free templates from our new book.
Or order the book online: Web Marketing That Works: Confessions from the Marketing Trenches (Wiley 2014).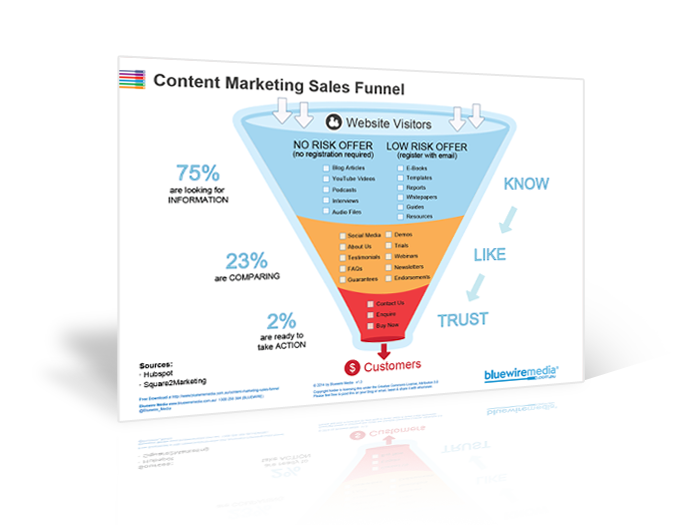 Content Marketing Sales Funnel
Your content marketing sales funnel is all about getting people to know, like and trust you by nurturing them with the right information at the right time.