Collaborating sales and marketing teams
Collaborating sales marketing teams
Strength in Numbers: The Proven Benefits of Sales Team Collaborations
Many marketing-oriented articles focus upon the role of digital media in relation to sales solutions. While this observation is obviously true, it is important to keep in mind that any successful sales strategy needs to focus upon the customer journey just as much as the power of online publicity and viral content.
Unfortunately, this advice does not often touch upon the importance of collaborative efforts. Just as a chain is only as strong as its weakest link, any company that hopes to succeed must be able to appreciate the role of a team effort. Let us therefore examine a handful of undeniable benefits that can be enjoyed through the presence of collaboration.
1. The Ability to Generate Quality Leads
According to recent studies, more than 40 per cent of all sales professionals state that generating qualified leads is the most difficult part of the overall engagement process (1). This challenge is often caused by a lack of communication between different team members.
Should vital information such as previous buying habits, income and interests be shared amongst all sales personnel, the chances are much higher that the right client will be contacted at the right time. Let's also remember that poor leads can be identified and avoided by other representatives. This saves the company time as well as money.
2. Closing the Deal
Always be closing. This is a well-known maxim throughout the digital sales community. The only issue is that sales and marketing goals are often misaligned. This is once again due to poor communication. If these two departments are able to collaborate with one another, it will be much easier to close qualified customers.
Statistics do not lie in this sense. A survey conducted by HubSpot found that highly collaborative sales floors are able to close up to 38 per cent more deals when compared to businesses that are unable to coordinate actions between different teams (3). This will obviously lead to increased revenue generation and a higher return on investment.
3. Appreciating the Buyer Persona
As the expression goes, it makes little sense to sell ice to an Eskimo. This is another way of stating the importance of understanding buyer personas. Once again, a problem arises when different teams fail to communicate with one another. Perhaps the most well-known example involves a marketing department which identifies the right demographic but does not pass on their purchasing preferences to professionals on the sales floor.
The end result of this mistake is that the entire concept of the buyer journey will be sacrificed from the very beginning. If a salesperson is unable to resonate with the needs of the buyer, it will be nearly impossible to close a deal. Companies which foster transparent levels of communication are much less likely to encounter this pitfall.
4. Resonating with the Customer
We mentioned the buyer journey in the previous section and this concept deserves a bit more attention. There are several stages associated with any sales cycle:
Prospecting
Preparing
Contacting the client
Presenting the product
Handling objections/questions
Closing the deal
Following up to ensure end-user satisfaction
Sacrificing any one of these stages will cause a deal to fall through. Thus, it is important that team members openly collaborate with one another. Here are some fictional situations when this communicative approach can work wonders:
If a customer needs to be passed on to a representative with more product knowledge.
In the event that the presence of an authority figure (such as a team leader) can close a deal.
If questions are raised about payments, the customer can be directly transferred to a specialist.
It is now clear to see why collaborative sales and the buyer journey enjoy a hand-in-hand relationship.
5. Keeping Abreast of Stiff Competition
It is no secret that competition has always been rife within the sales sector. This is even more true when referring to the digital domain. Staying one step ahead of other companies is therefore crucial.
Collaborative efforts can help to achieve this goal. For example, statistics show that 42 per cent of potential clients are more likely to make a purchase if a representative follows up with an additional phone call (4). If information is shared between team members, this call is more likely to take place at the agreed-upon time.
6. The Synergy of Collaborating Sales and Marketing Teams
Sales is hardly a standalone profession. Professional representatives rely heavily upon prior marketing efforts. As this article from BlueWireMedia clearly states, quality content drives sales figures.
The only problem is that marketing specialists are generally unable to contact prospects directly. This is when the power of collaboration once again comes into play. Sales personnel can communicate the changing interests of a certain demographic or which products are proving to be the most popular. This valuable insight may then be passed onto the marketing department. Content can then be adapted when required. In the end, this is a much more efficient and effective approach to take.
7. All About Motivation
Remaining motivated is key within any sales office. Not only will this encourage the buyer to complete his or her journey, but highly energised staff members are more likely to close the deals themselves. To put it simply, enthusiasm goes a long way. Collaborative atmosphere are able to breed this sentiment. Some of the ways in which motivation can be enhanced include:
Sharing commissions amongst different team members.
Encouraging friendly sales competitions.
Promoting events outside of work such as weekend parties and leadership-building events.
On a final note, collaboration will provide all workers with the support that they often need when times become challenging or if further advice is required.
Collaborating sales marketing teams – putting it all together
The digital domain poses many challenges to any sales team. Not only does the buying journey need to be catered to, but professionals must be able to leverage the right tools at the right times. Collaborative efforts are therefore critical for any organisation that hopes to rise head and shoulders above the competition.
Sources:
1. https://research.hubspot.com/charts/part-of-the-sales-process-reps-struggle-with?_ga=2.14738422.1389194703.1539605304-54427254.1534474280
 2. https://blog.hubspot.com/sales/sales-marketing-alignment-increases-revenue-infographic?__hstc=70606735.4ba721a67e5eb68d556e172e496a3b96.1614364374324.1614364374324.1614368382563.2&__hssc=70606735.1.1614368382563&__hsfp=1880602491#sm.000019daaq07xyehpybczidnslr6s
 3. https://bloomfire.com/blog/6-benefits-collaboration-marketing-sales-teams/
 4. https://www.invespcro.com/blog/sale-follow-ups/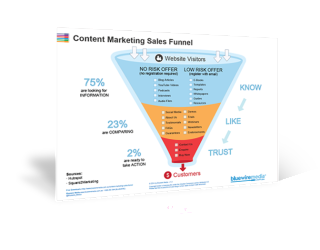 Content Marketing Sales Funnel
Your content marketing sales funnel is all about getting people to know, like and trust you by nurturing them with the right information at the right time.