Content Chemistry by Andy Crestodina [Book review]
Today I want to share with you my take on Andy Crestodina's book 'Content Chemistry'.
In this video I give a short and sweet summary on what Andy calls 'Content Hubs' – your shortcut to page one of a Google search for some pretty competitive keyword phrases.
Here are the key takeouts from this book review;
You can get in on Kindle, but I highly recommend getting a hard copy so it can sit beside you at your desk.
It's an illustrated guide to content marketing – there are lots of pictures, illustrations and graphics – making it super-easy to take in.
My favourite part of the book comes on page 94 – It's all about becoming visible in search engines even if you don't have a high domain authority, and you still want to rank for competitive keyword phrases.
As a general rule of thumb, the higher your domain authority, the more visible your content will be in search engines. What that means is if you have a low domain authority it can be very difficult to rank on the first page of a Google search for competitive keyword phrases.
Andy describes the concept as creating a content hub. Instead of writing just one article on a specific topic, you write a series of articles on that topic, but cover different aspects in each of the articles.
Of course, the articles need to be good quality, detailed, helpful and valuable – that's a given. That's the cost of entry.
As you create more articles on the same topic, the idea is to link them together.
Google is going to see that and think 'Wow you've got the most detailed, valuable content on this particular topic'
Because you don't just have one article, you've got a whole series of articles that are interlinked – that is sending a powerful signal to Google that this content is valuable. This will give you a chance to rank for competitive keyword phrases even if you don't have a high domain authority.
I've put the content hubs concept into practice and it works, over the years our domain authority has increased and our website has become much more visible for some competitive keyword phrases.
This is a fairly advanced tip, but an easy one to put into practice with your content marketing. And it is just one of many awesome and valuable tips Andy shares in the book.
If you're into your content marketing, if you're into SEO, or if you're just into creating helpful content for people on the web – Andy's book is a 10/10 read and I highly recommend you get the hard copy.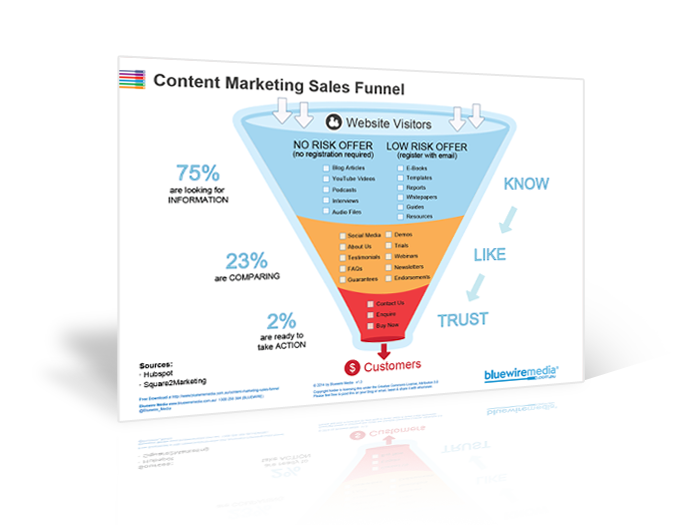 Content Marketing Sales Funnel
Your content marketing sales funnel is all about getting people to know, like and trust you by nurturing them with the right information at the right time.