Content Ideas: How to Generate an Endless Supply
Updated on February 8th, 2021
The easy way to generate content ideas for your blog, Instagram, content marketing and social media platforms
Thinking of content ideas for your blog is a core ingredient to an effective blogging and content marketing strategy.
But to stay consistent, you need lots of content ideas stocked up and ready to go.
Instead, most strategies are more reactive; every time you need to create something you think of an idea on the run.
This leaves you staring blankly at a white screen waiting for something to pop into your head, or something to distract you. Inevitably resulting in stress, time pressure and another missed deadline.
What can you write about next? What is going to inspire your audience to take action?
I know how you feel, the metaphoric hamster wheel of content creation is painful at times. But if you can be more proactive with your strategy and stockpile a long list of killer content ideas, all of a sudden the stress melts away.
To help you overcome this recurring battle, we created the "Content Ideas Generation Template" (You can download a free copy below).
This post is going to take you through, step-by-step, exactly how to use that template to build an endless supply of content ideas, and save you from ever running out again!
The Content Ideas Generation Template has been downloaded tens of thousands of times as part of our free 33 Web Marketing Templates.
If you don't have it already, grab a copy by clicking the link below, then come back to this post to start taking action.
Table of Contents for Content Ideas
How to Use the Content Ideas Generation Template
Questions From Clients
Relevant External Interviews
Top Journalists
Product and Tool Reviews
Expert Internal Interviews
Trending or Controversial Topics
The Art of Repurposing
What Should You Do Next?
How to Use the Content Ideas Generation Template
The Content Ideas Generation Template is a three-page PDF document that will help you come up with literally hundreds of ideas for blog posts, podcasts, eBooks, infographics, videos or anything else you are creating.
It is grouped into 6 question groups, all of which will surface tons of content ideas;
Questions from clients
Relevant external interviews
Top journalists
Product and tool reviews
Expert internal interviews
Trending or controversial topics
Before using this template you need to be super-clear on the direction of your content strategy and who you are targeting. Because "ideas" are useless if they don't contribute to the greater progress of your business.
Your blog post ideas and content strategy need to align to the questions your clients are asking and searching for. They need to help more of your target personas find you online, and encourage them to become a customer.
Coming up with ideas for content is easy… But coming up with GOOD ideas takes a little bit more thinking and leg work.
This template will help you pick winning ideas and push the rest to the side.
Let's get started…
1. Questions From Clients
What are the most common questions your clients or customers ask?
Speak to your sales team, and anyone else who interacts with your customers, and figure out what the recurring themes, problems or concerns are.
There will most likely be a decent sized list of questions, your content strategy should plan to answer all of them.
That way when people have the same question in the future, they may very well answer it themselves by finding your piece of content. Alternatively, you can direct them to it without needing to spend valuable man hours responding to the same request over and over again.
Survey customers
The best way to fill your calendar with content ideas when it comes to asking your customers is to proactively survey them.
Use a tool such as Google forms or Survey Monkey, and build a survey into your email auto responder or customer onboarding process.
In your survey, ask questions such as; What were the biggest questions you had on your mind before becoming a customer? Or, once you became a customer, what questions had we not effectively answered for you?
If you want to skip the queue and discover a whole bunch of really cool questions your customers are most likely asking, check out the FAQ page of your biggest competitors. They have already done the work for you.
Here is an FAQ example from Founder Magazine;
And Zappos;
2. Look for Relevant Interviews for Content Ideas
This section of the template is all about finding people who have already built trust, respect and credibility with your ideal customers. You want to find and interview these people as a part of your content strategy.
Every industry has a group of trusted experts or influencers, and by associating with these experts, you immediately boost your credibility and improve the perception of your brand in the market.
Also, it's most likely these people will have a large following in your industry already, which means you can leverage their network to promote your content once you shine the light on them as an expert.
So how do you find influencers and experts in your industry you can interview?
Here are a few tactics you can use to find influencers and experts in your industry;
Search for hashtags on Twitter and discover "Accounts" with big followings
Ask your customers who they respect and follow in your industry
Once you've found them, how do you interview them?
An expert interview can range from anything as small as a Tweet, a quote, all the way through to a full-blown blog post or podcast interview.
For example, you could create a Round Up post about a topic with quotes from a list of experts, like this one; (Looking for these round ups in your industry is another cool way to find potential experts too!)
Or you could focus on interviewing them one-on-one, like Adam and Toby do on the Web Marketing That Works Podcast, like this interview with Jay Baer;
3. Top Journalists

Much like experts and influencers, respected journalists are good friends to make, because they can mention your business in industry publications.
In this day and age the line between "journalism" and "blogging" is continually being blurred, but the same theory stands. If you can influence those that write for publications your customers care about, and they mention you, your credibility gets a big boost.
You can discover popular publications in your industry using AllTop and see who writes for them;
It's also a good idea to ask your customers what publications, magazines and news sites they regularly read – the journalists for these sites are the ones you want to make friends with.
It's all a big win-win… By reviewing an article by a journalist on your blog or podcast with commentary and a fresh opinion, you are giving them additional exposure to a new audience. For you, you are filling your calendar with more content ideas. Everyone is happy.
As you build a relationship with these people they will happily return the favour in the future. Next time they are looking for an expert quote or example in one of their articles, they will come to you.
Here is an example of Toby being featured in a Smart Company article;
4. Product and Tool Reviews
What common products or tools are used in your industry?
If you have a set of tools that you regularly use with clients, write a series of blog posts with the pros and cons of using each tool. Reviews build trust and help clients understand what it would be like to work with you.
Also, sometimes it works well to create comparison articles that puts your tool of choice against another. This helps your customers make an educated decision on which one is right one for them.
The easiest tools to review are software tools because you can provide screenshots or screencasts that increase the visceral experience for your readers. However, tangible products can easily be reviewed with videos or photos too.
Here is an example of a "tangible" product review by MacWorld;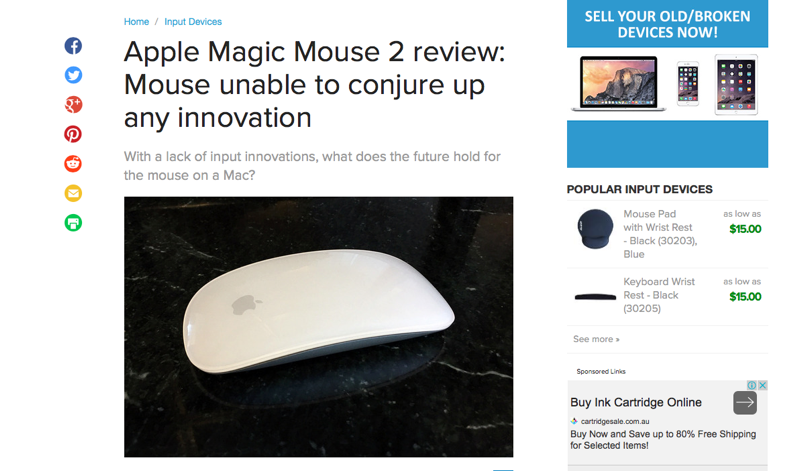 And a software tool review from CRM Marketing Pros on Infusionsoft;
5. Expert Internal Interviews
A big part of growing your presence online is turning your internal specialists into external experts.
The best online businesses effectively grow the personal brands of their brightest stars, and leverage those personal brands to grow the reach and scale of their business.
The easiest place to start with these type of content ideas is to pick the subject matter experts from within your business.  Then prepare them to be interviewed on your blog. Or better yet get them to contribute an expert blog themselves. Sometimes this may just be the Founder, CEO or Director to begin with… But eventually you can spread your wings to department heads and other managers.
People make decisions based on the humans they interact with, and the amount they trust what they have to say. What that means is the more you can build the credibility of your internal specialists, the more trust people will instil in them.  And the more chance they will do business with you.
A great example of using subject matter experts in a content strategy is the "Whiteboard Friday" video series from Moz with Rand Fishkin.
Here is one of their videos.
6. Trending or Controversial Topics
Trending or controversial topics are a great way to stay ahead of your competition and become the "go-to" source of information in your industry.
However, you don't want to rely on this style of content alone because it is usually bound by time constraints and has a short life span. For example, if you were to write an article about an upcoming political election it would become obsolete as soon as the election was finished.
That being said, if there is something going on in your industry that you think your audience should know about, then you want to be the source that tells them first.
Of course when you are filling in this template, there will be certain topics that are "hot" and interesting to your audience right now, but this changes over time more so than the other topics. So make sure to regularly update this section or create a habit of checking trends and new movements in your industry, with someone ready to turn it into content.
Here are a couple of quick ways to figure out what is trending, controversial or "hot" in your industry;
Keeping an eye on popular news sites in your industry to see if anything "new" breaks
Checking out Google Trends and monitoring different search terms
Looking at the Twitter trending hashtags and seeing if they are relevant
The Art of Repurposing for Content Ideas
Having a long list of content ideas is a great starting point, but it can also just add to the pressure of pumping out more and more content. This can be time-consuming, stressful and downright spirit breaking.
Instead of creating lots of low quality blog posts for example, you could try to create LESS posts that are high-quality and repurpose them into multiple formats. Squeeze every last drip out of the work you have done.
Why waste all of that energy by only using it once?
Here are some ways to repurpose your blog posts to capture a wider audience;
Use evergreen social media sharing to share quotes, snippets and statements from your blog posts over and over again
Setup an automated email sequence for new community members that includes content from your blog posts
Create PowerPoint presentations from your content ideas and publish them on SlideShare
Turn your blog posts into videos and publish them on YouTube
Create a downloadable resource like an eBook, template or checklist from your blog posts
Run a webinar or host a podcast with the content you have used for blog posts
What Should You Do Next for Content Ideas?
If you haven't done so already, download the Content Ideas Generation Template below and start building a long list of blog post ideas.
Ask your customers what they care about and uncover subject matter experts and influencers to interview. You can create NEW subject matter experts from within your business, review products and tools, comment on trending topics or top-class journalism. Then milk it for everything it's worth by repurposing your content in any way you can.
What's holding you back from getting started?